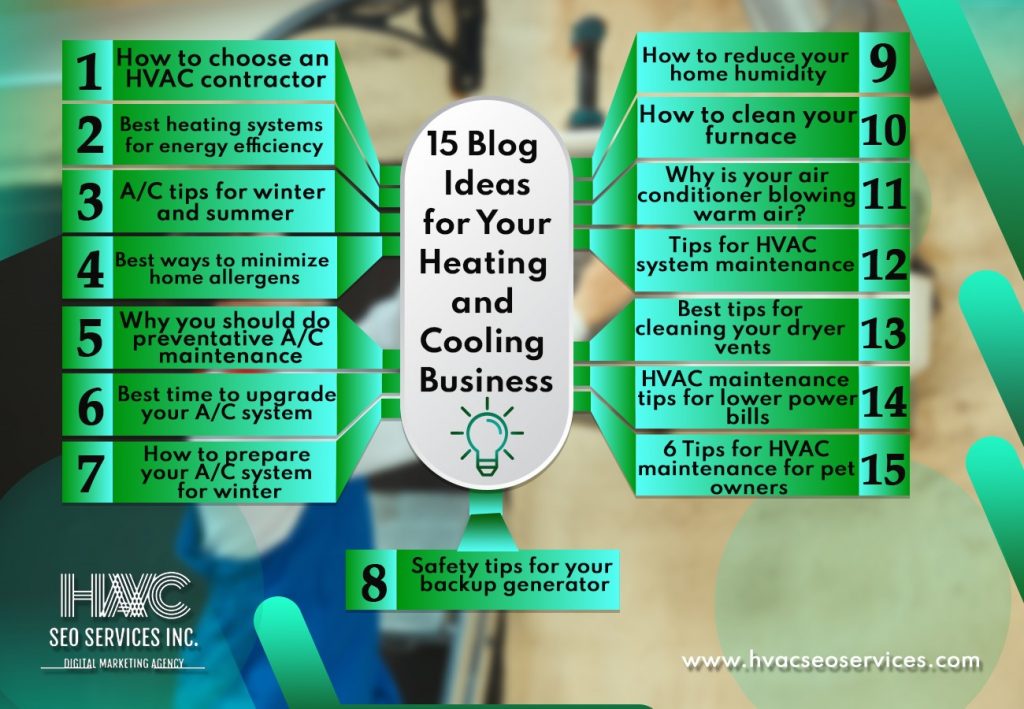 If you find it hard to manage your business and run a blog, you are not alone. You want HVAC blog ideas that can actually drive leads. The rise in demand for ideas on blog topics tells you that most business owners struggle to come up with blog topics. In this article, we will give you 150 HVAC blogging ideas for your heating and cooling business.
For instance, you can write content that guides customers to choose heating, air conditioning, and cooling systems equipment. Also, as a technician, you deal with different brands; you can write a comparison to help customers purchasing the equipment make the right choice.
Additionally, some of your blogs should educate readers on simple DIY tasks like checking a malfunctioning conditioner or changing a filter. Once they get valuable educative content on your site, they will remember you when they have HVAC challenges that require a contractor to fix.
What constitutes a good blog post?
Headline
The headline should be short, engaging, and precise. It should also be relevant and moving. However, you should be careful not to make promises that you don't deliver with your heading.
Content
The content must be unique, relevant, and informative to attract and retain the customers on your page. If you fail to hook your visitors to the page with your opening sentences, you lose them, probably to your direct competitor, with little chance of them coming back.
Display your keyword in the first sentences of your content for the readers to see what the content is about. Let your keywords be relevant and flow naturally throughout your content. Do not forget the significance of your content HVAC SEO.
Center your content around your customers' pain points. Sympathize with them and show them how your content can help solve their problems. Also, perform thorough keyword research that is focused on your readers' search intent. Get to know the common keywords and structure them to target your audience.
Conversational Tone
Make your content conversational by addressing the reader directly. You, your, I, and we are the magic words when creating a conversation in your blog. Addressing your readers directly will help you capture their attention and help you curate high-quality content.
A blog post should not read like an essay. It will resonate with your audience better if it is relatable, personable, and easy to read.
And like in our everyday conversations, questions posted here and there will provoke your readers to critically consider what you are telling them. Use the questions to trigger their emotions so that they can take the actions you want them to.
Reveal Your Identity
The blog may be about your brand, but who told you readers are amused with content from anonymous creators? Have a section on the blog where you talk about yourself as the author of the blog. Do not confuse this with your About Us page on your website.
This is where your readers should know about your achievements, failures, preferences, and opinions about some local happenings. The aim is to give your content a human face. Photos and short videos can also make it to this space.
Authoritative links
High-quality internal and external links are excellent for search engine optimization for an HVAC website and for enhancing your brand credibility. Link building helps you establish your business as trustworthy and authoritative.
Users will trust you more if they know they can trust the information in your blog. For the links to be helpful to your visitors, improve your HVAC web design to accommodate your enhanced leads and give a good user experience.
Images
High-quality images placed strategically in your blog post will add value, summarize some information and increase the visual effect of your content. Images can also help your readers understand complex information easily. Take your time to find unique and eye-catching images that make your readers interested in your content.
Try not to post too many images because they might take the attention of your readers off your content and make your page look cluttered.
Call-to-Action
Close with a statement that encourages users to take a specific action. The aim should be to entice the users to engage more with your business and probably decide to be paying customers.
Shareability
Make your content shareable so that you can distribute it on several social media platforms. Also, open it up for sharing among your online communities on various platforms. This will increase its exposure, and you may generate more leads from the content than when you use it only in your blog.
150 HVAC Business Blogging Ideas for Your Heating and Cooling Business
As a digital HVAC marketing services agency, we have a lot of heating, ventilation, and cooling blog ideas that can be interesting and engaging to readers. Here are 100 HVAC business blogging ideas for your heating and cooling company.
How to choose an HVAC contractor?
Best heating systems for energy efficiency
A/C tips for winter and summer
Best ways to minimize home allergens
Why you should do preventative A/C maintenance
Best time to upgrade your A/C system
How to prepare your A/C system for winter?
Safety tips for your backup generator
How to reduce your home humidity?
How to clean your furnace?
Why is your air conditioner blowing warm air?
Tips for HVAC system maintenance
Best tips for cleaning your dryer vents
HVAC maintenance tips for lower power bills
6 Tips for HVAC maintenance for pet owners
Importance of air conditioning
Air-conditioning health-related risks
What size of HVAC system is ideal for your home?
How to tell your AC unit is energy-efficient?
How often should you service your HVAC system?
8 signs that show you should replace your AC unit
How durable is your HVAC system?
Importance of regular AC maintenance
Why you should regularly clean your filters
Tips to increase the life-span of your AC unit
More HVAC blog ideas you can implement
Benefits of ductless HVAC units
How to improve ventilation in your home?
10 sustainable HVAC technologies
Heat pumps Vs. Furnaces
Benefits of smart HVAC systems
Everything you need to know about smart vents
What are the benefits of a smart thermostat?
How does a geothermal heat pump work?
Emerging technologies in HVAC
Why you should listen to HVAC podcasts
Benefits of zoned HVAC systems
How to reduce your energy costs
Signs that it's time to replace your furnace
How does a heat pump work?
5 signs that spell trouble for your HVAC system
Causes of an air conditioning failure
Should you repair or replace your HVAC system?
Why is your furnace blowing cold air?
The most energy-efficient AC units
The best temperature to use for your AC unit in summer
Trane Vs. Lennox, which is better?
How to tell whether your heat pump is energy efficient
How durable is a furnace?
What is the cost of an HVAC system?
Why you should get an air quality test in your home
Topical HVAC blog ideas to write about
What you should do with a noisy air conditioner
Are AC units recyclable?
How geothermal heat pumps help conserve energy
Are solar-powered AC units energy-efficient?
What is predictive maintenance?
Are hybrid HVAC systems effective?
The best energy analysis software
Importance of an energy analysis software
How to prepare your HVAC system for winter
Effects of low AC refrigerant
Interesting HVAC statistics and facts
What does a leaking furnace indicate?
Can a thermostat malfunction?
What causes HVAC ignition problems?
Factors to consider before buying an HVAC system
Which type of filter you should use for your HVAC system
Are there Eco-friendly types of duct-work?
How to ensure an HVAC system is safe for your health
Tips to enhance your indoor air quality
What is the ideal humidity level for your home?
How to ensure your HVAC system doesn't strain in the summer
History of the HVAC industry
How renewable energy helps you reduce utility costs
Are commercial HVAC systems energy efficient?
Are indoor air pollutants harmful to your health?
General HVAC blog ideas
Is DIY HVAC dangerous for homeowners?
How to choose a reliable commercial HVAC contractor
Do all homes require AC units?
Are window units better than central air conditioners?
What does an HVAC service contract entail?
How much does a ductless HVAC system cost?
Can ceiling fans effectively cool your home?
What is a smart AC?
Which is more suitable between a space heater and a furnace
How to make your AC unit smart
How to connect your HVAC system to your smartphone
Which HVAC systems are compatible with Alexa?
How to choose the best smart AC brand for your home
Are geothermal systems durable?
What does professional filter cleaning entail?
What is SEER rating?
How to inspect your AC unit after a hailstorm
How often should your ducts be cleaned?
HVAC misconceptions that could cost you
10 frequent HVAC problems
Can a high-quality AC system increase the value of your property?
Causes of air conditioner failure
Why your utility bills are skyrocketing
10 things you need to know about HVAC maintenance
Commonly used air conditioner types
Great Ideas to Write About
Benefits of green HVAC systems
Why you need a proper HVAC inspection
What to do when your HVAC system breaks down
What are the benefits of a new HVAC system?
8 smart HVAC automation ideas for your home
Benefits of HVAC automation
How technology has revolutionized the HVAC industry
10 HVAC technologies you should look out for
The future of HVAC systems
Qualities of a reliable HVAC technician
Which are the best air conditioner brands?
How many solar panels can effectively run an air conditioner?
Pros and cons of solar-powered air conditioners
Do you need to clean your solar panels?
How long can a solar-powered HVAC system last?
Which brands have the most energy-efficient AC units?
Are inverter ACs better than non-inverter air conditioners
Is a heat pump convenient for extremely low temperatures?
Do heat pumps consume a lot of electric energy?
Can you use a heat pump to cool your home?
What is a dual-fuel heat pump?
Are heat pumps more durable than AC units?
Is a dual-fuel heat pump more effective than a regular AC unit?
Which costs more to operate between a heat pump and a furnace
More Blog Ideas to Implement
Gas Vs. Electricity which is the most cost-effective
What is the life span of a furnace?
Can a heat pump cool as effectively as an air conditioner?
8 features to look out for when buying a heat pump
The ideal heating system for your home
Can a heat pump effectively heat your whole house?
Which is better for cooling between a heat pump and AC unit?
The most effective heat pump brands
Gas furnace safety tips
Signs that your gas furnace is leaking
Gas poisoning from furnaces
Signs that your heat pump is faulty
Is installing a gas furnace in my attic safe?
Are heating systems a safety hazard?
Importance of gas furnace maintenance
Dangers of a faulty furnace
Differences between a heat pump and a space heater
How to tell that your ducts are dirty
What are the dangers of dirty air ducts?
How to tell that your refrigerant level is low
Can vents cause health issues?
Procedure for cleaning your ducts
Why your air conditioner is leaking
Is a leaking air-conditioner dangerous?
How much does it cost to repair a leaking AC?
6 HVAC troubleshooting tips for homeowners
If you need to blog consistently to get your organic SEO up to speed, engage us for all content marketing services. We do content calendar, brainstorm HVAC business blogging ideas, offer blog writing, blog optimization, publishing, and promotion services.