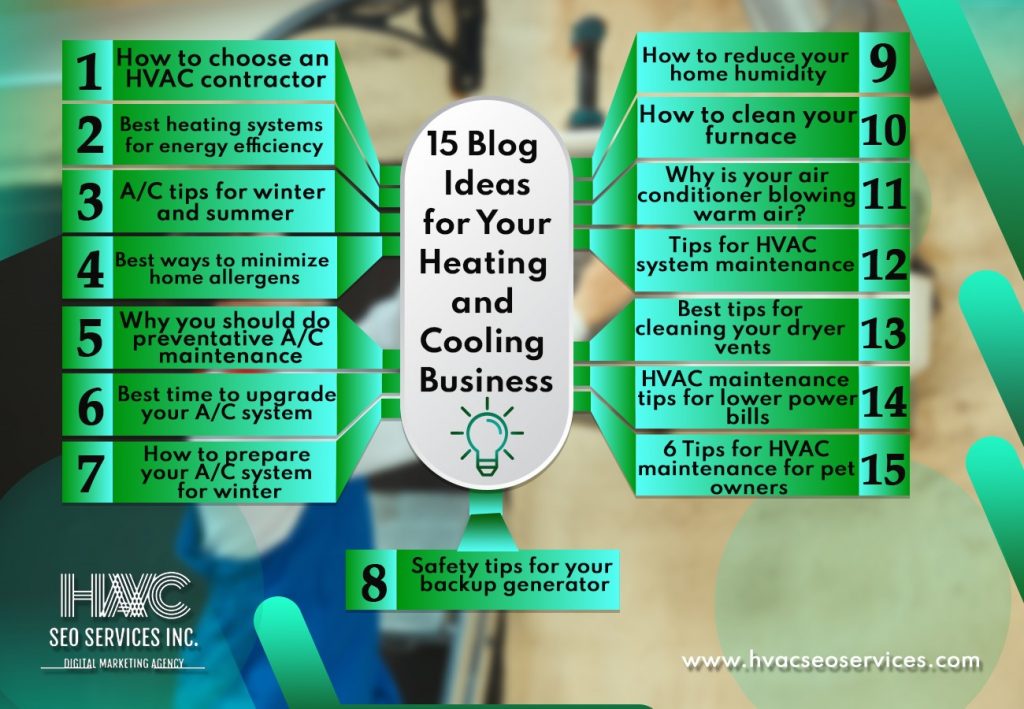 If you find it hard to manage your business and run a blog, you are not alone. The rise in demand for ideas on blog topics tells you that most business owners are struggle to come up with blog topics. In this article, we will give you 15 HVAC blogging ideas for your heating and cooling business.
For instance, you can write content that guides customers to choose heating, air conditioning, and cooling systems equipment. Also, as a technician, you deal with different brands; you can write a comparison to help customers purchasing the equipment make the right choice.
Additionally, some of your blogs should educate readers on simple DIY tasks like checking a malfunctioning conditioner or changing a filter. Once they get valuable educative content on your site, they will remember you when they have HVAC challenges that require a contractor to fix.
But first, let us talk about what constitutes a good blog post.
· Headline
The headline should be short, engaging, and precise. It should also be relevant and moving.
· Content
The content must be unique, relevant, and informative to attract and retain the customers on your page. If you fail to hook your visitors to the page with your opening sentences, you lose them, probably to your direct competitor, with little chances of them coming back.
Display your keyword on the first sentences of your content for the readers to see what the content is about. Do not forget the significance of your content HVAC SEO.
· Conversational Tone
Make your content conversational by addressing the reader directly. 'You, your, I, and we' are the magic words when creating a conversation in your blog. The benefits are immense and you can try this Linguabox tips of conversational writing.
A blog post should not read like an essay. It will resonate with your audience better if it is relatable, personable, and easy to read.
And like in our everyday conversations, questions posted here and there will provoke your readers to critically consider what you are telling them. Use them to trigger their emotions so that they can take the actions you want them to.
· Reveal Your Identity
The blog may be about your brand, but who told you readers are amused with content from anonymous creators? Have a section on the blog where you talk about yourself as the author of the blog. Do not confuse this with your 'About Us' page on your website.
This is where your readers should know about your achievements, failures, preferences, and opinions about some local happenings. The aim is to give your content a human face. Photos and short videos can also make it to this space.
· Authority links
Internal and external links are excellent for search engine optimization for an HVAC website and for enhancing your brand credibility.
Users will trust you more if they know they can trust the information in your blog. For the links to be helpful to your visitors, improve your HVAC web design to accommodate your enhanced leads and give a good user experience.
· Images
High-quality images placed strategically in your blog post will add value, summarize some information and increase the visual effect of your content.
· Call-to-Action
Close with a statement that encourages users to take a specific action. The aim should be to entice the users to engage more with your business and probably decide to be paying customers.
· Shareability
Make your content shareable so that you can distribute it on several social media platforms. Also, open it up for sharing among your online communities on various platforms. This will increase its exposure, and you may generate more leads from the content than when you use it only in your blog.
15 HVAC Business Blogging Ideas for Your Heating and Cooling Business
As a digital HVAC marketing services agency, we have a lot of heating, ventilation, and cooling blog ideas that can be interesting and engaging to readers. Here are 15 HVAC business blogging ideas for your heating and cooling company.
How to choose an HVAC contractor
Best heating systems for energy efficiency
A/C tips for winter and summer
Best ways to minimize home allergens
Why you should do preventative A/C maintenance
Best time to upgrade your A/C system
How to prepare your A/C system for winter
Safety tips for your backup generator
How to reduce your home humidity
How to clean your furnace
Why is your air conditioner blowing warm air?
Tips for HVAC system maintenance
Best tips for cleaning your dryer vents
HVAC maintenance tips for lower power bills
6 Tips for HVAC maintenance for pet owners
If you need to blog consistently to get your organic SEO up to speed, engage us for all content marketing services, including your content calendar, HVAC business blogging ideas, blog writing, blog optimization, blog publishing, and blog promotion services.