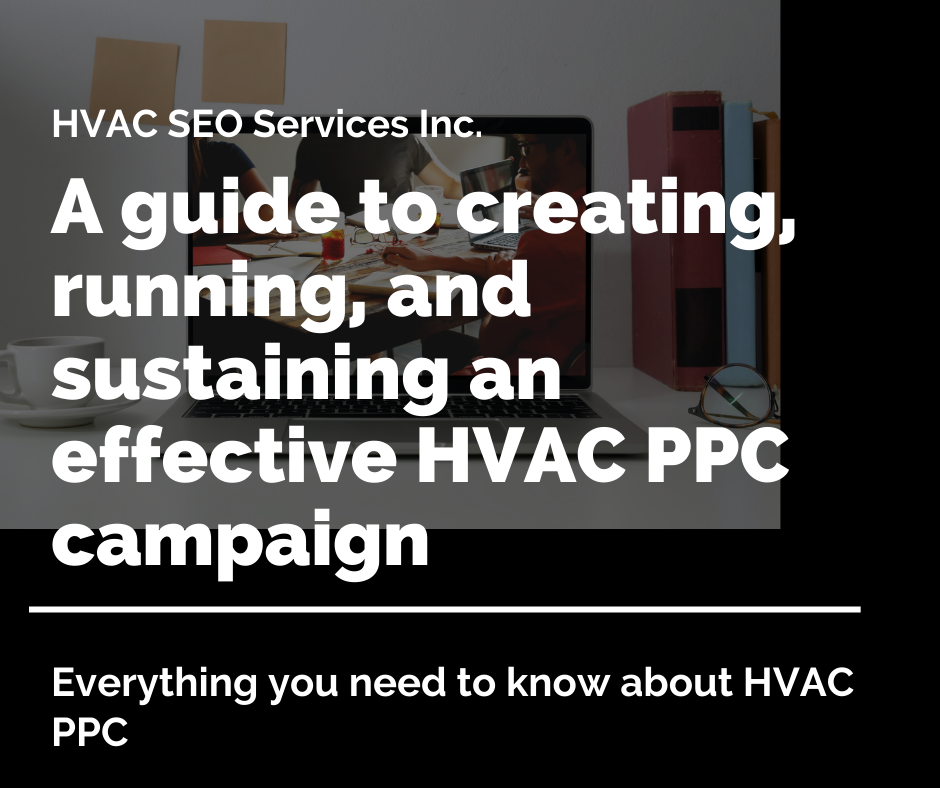 A Comprehensive Guide To Creating, Running, and Sustaining Campaigns. A HVAC

PPC Services Guideline.
Did you know you can easily maximize the return on investment of your HVAC business through HVAC PPC campaigns? But that doesn't just happen overnight. According to an internal research at HVAC SEO Services Inc., you have to resiliently fight to emerge from the shadows veiling your visibility.
One of the biggest hurdles staring at heating and cooling companies is scaling their online visibility on search engines. A homeowner in desperate need of an HVAC technician to fix their broken air conditioner will always consult a popular search engine like Google first.
What if your HVAC business can't be found easily on these search engines? You forfeit your chance of being the first port of call of potential customers. That not only translates to a lost prospect but also a missed sale.
However, as soon as you bring HVAC PPC on board the narrative changes. This advertising strategy helps you leap to the top of search engine result pages (SERPs) and start enjoying an instant boost in visibility and qualified leads.
Keep scrolling to find out what PPC for HVAC is, whether it is worth your dime, and how you can create, run, and sustain a PPC campaign that ticks.
What is HVAC PPC and is it worth it?
Simply put, an HVAC pay-per-click campaign or advertisement is a marketing strategy that places you directly in front of local homeowners who are in search of professional HVAC services. Think of it as a paid search advertisement whereby you pay each time your ad is clicked.
Such an advertisement has a better chance of being seen by potential customers because apart from being promoted, it is specifically customized for the search queries raised by most homeowners in your service area. According to HVAC SEO Services Inc., being highly audience-relevant, a potential customer will click it first before proceeding to the next business (it will hardly come to that).
PPC advertising for HVAC companies is therefore one of the most powerful strategies for maximizing visibility to homeowners by expanding your online search footprint. Consequently, your business attracts only leads that easily convert into sales.
Other benefits of PPC for HVAC companies that make it a worthy venture include:
Tailoring campaigns to specific market segments with better accuracy
Cementing your competitive advantage
Boosting your business revenue
Maximizing your return on investment
Driving immediate results
Generating more website traffic overall
Augmenting your HVAC brand recognition
Driving more local leads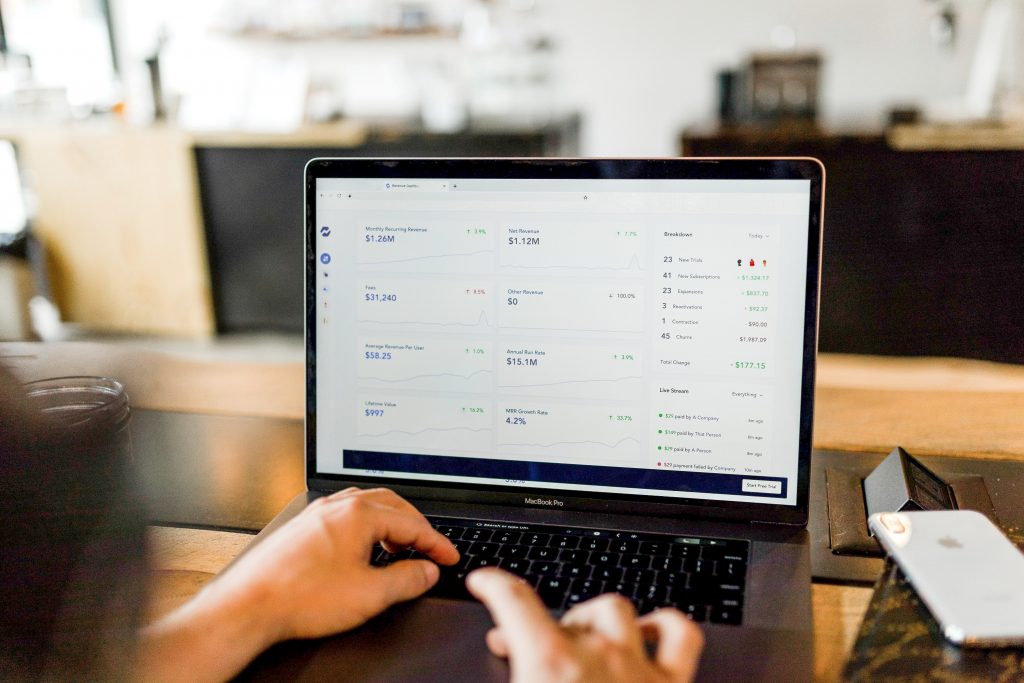 Do PPC ads work for HVAC contractors?
Yes, they do. More than 25% of homeowners click on the first Google search result after their query is returned. And if your heating and cooling business falls within the first page, you have a 92% chance of being seen. That means with a powerful heating PPC or air conditioning PPC campaign doing the talking for you, homeowners in your service area will begin flocking your site for some service calls.
When a potential customer raises a query like 'air conditioning repair', the first few results will feature paid search ads. This is when your PPC air conditioning campaign begins to pay off because it positions your company at the top of search results before organic listings.
For PPC to work for your heating and cooling business, it must be done right and that may include working closely with a PPC for HVAC expert. Then you can sit back and watch your online visibility soar to a whole new level.
Which PPC platforms do I use for my HVAC business?
Instead of putting all your money in one PPC platform, you can diversify your investment by considering several platforms. This will boost your online footprint and give you an opportunity to weigh the best ad network for your HVAC business. The best option is to hire an expert company that specializes in HVAC SEO Services for your PPC campaigns. Why? You want all your campaigns to support each other and SEO is the backbone of any good campaign supported by the relevant content.
Among the top 5 most effective PPC platforms to start with include:
1.      Google
With more than 3.5 billion searches every single day, Google has by far the largest global reach of all search engines. That already gives you an idea of how much visibility you are likely to gain by embracing the Google Ads platform for your HVAC PPC campaigns.
There are several ad formats that you can run on this platform including:
SERPs ads
YouTube ads
Display network ads
Google Play app store ads
Gmail in-app ads
Google Ads campaigns employ different PPC bidding strategies in the different ad formats such as cost-per-click (CPC), cost-per-mile (CPM), targeted return on ad spend, targeted cost per acquisition, target impression share, as well as target outranking share.
CPC for Google Ads may vary from a few cents to several hundred dollars depending on a number of factors like the industry, bidding strategy, or the keywords targeted.
Google HVAC PPC are some of the most wildly used strategies in this industry. When done well, they can be quite effective.
2.      Bing
Bing Ads trail closely behind Google for delivering effective PPC campaigns. While they both share the same PPC package offering, Bing Ads have a lower CPC compared to Google Ads. Therefore, if you are looking for a cheap PPC advertising platform, Bing Ads is a great place to start.
Bing users mostly stem from rich households, and the site has a global monthly search volume of 12 billion and 500 million in the US alone. That's just how much visibility potential you are staring at by using Bing or Microsoft Ads.
The most popular ad formats for Bing are SERPs ads which also display on Yahoo and display network ads that feature on Xbox, MSN, Windows App Store, and Outlook Email. Bidding for Bing Ads can be done through CPC, CPM, targeted return on ad spend, and targeted cost per acquisition.
Combining both Google Ads and Bing Ads does wonders to your online visibility because of the combined global reach.
3.      Facebook
Using Facebook Ads gives you access to better targeting potential compared to other social media platforms. This is because such ads are not necessarily based on search results but rather on demographics, specific interests, as well as location data.
Facebook is the most active social media site with a monthly audience reach of 2.895 billion users. Combined with Instagram, that number soars even higher. All these statistics represent potential customers for HVAC services.
By targeting users based on interests, age, education level, or location, your Facebook Ads can display on Facebook itself, Instagram, Facebook Messenger, and other partner networks. The bidding options available include cost per thousand impressions (CPM), CPC, targeted return on ad spend, and targeted cost per acquisition.
Compared to Google Ads and Bing Ads, Facebook PPC campaigns are relatively cheaper. However, the average click-through rate on Facebook ads tends to be lower than on Google and Bing.
4.      Instagram
While Instagram Ads can be posted through Facebook Ads, they can still be run in isolation. Instagram Ads are a great way to boost your audience because they carry the highest click-through rate of all social media platforms.
With over half a billion in daily users, the reach is great especially when targeting your HVAC brand message to a millennial audience (below 35 years). The ad formats may take either the native ad style or feed ads. Alternatively, you can display your ad over the Instagram stories tab. The trick to succeeding in these ads is shooting and uploading high-quality videos and photos.
The site uses CPC and CPM as the main bidding strategies. The average Instagram ad price hovers in the same region as that of Facebook Ads.
5.      YouTube
YouTube PPC ads share most of the key features of Google Ads because Google owns the video platform. The only difference in the ads is the fact that YouTube ads are videos and Google Ads are mostly text and graphic images.
The ads can appear before, during, or after a video that a potential customer is watching. Some of the ads can be skipped by the viewer while others can't. Depending on the length and placement of the YouTube ads, they can be pay-per-click (PPC) or pay-per-view (PPV).
YouTube Ads are a powerful promotion tool because of the user data shared by Google. Therefore, a wider reach is guaranteed. Imagine your HVAC ad popping up in the middle of a video being watched by thousands or possibly millions of potential customers.
The cost you pay per view may vary based on how you target your audience.
HVAC PPC services best practices
As search engines and users of search engines evolve, your PPC campaigns should also evolve to remain relevant and effective. For the most excellent results, you should adapt your PPC marketing strategy to these best practices.
Make video a priority
Keep video an integral part of your PPC strategy. Video content helps augment your engagement in unprecedented ways. It is one of the best ways to enhance your outreach campaign and reach your target audience faster and practically.
Video ads experience less bidding competition and offer a more flexible way to segment your audience to generate only qualified leads. For best results, make sure you produce top-quality videos supported by clear visuals and audio.
Keep your search ads responsive
As search engines increasingly limit access to data by being more reliant on algorithms, responsive ads are your best bet in aligning with machine learning requirements. That means carefully crafting your brand message in a way that appeals to machine learning by simplifying automation and optimization of your PPC ads. That requires perfect knowledge of the optimal combination of headlines and descriptions for each PPC ad you run.
You can start by uniquely varying each headline and description to avoid redundancy. Redundancy prevents you from knowing which headlines and descriptors will be combined. If you succeed at making your ads responsive, you can expect a boost in your click-through rates.
Understand your customer's journey
This in turn helps you to improve your ad targeting strategy. The success of HVAC PPC rides on how well you can target your audience. Understanding the complete journey your customers undergo before they make that service call is critical in properly channeling your targeting efforts.
This data will help you segment your audience more specifically. You can tell the distinction between those that are still at the initial stages of the marketing funnel and those nearing the end. The data will also reveal one-time customers and loyal ones.
Harness the power of diversity
The more ad platforms you have in your arsenal, the better for your PPC campaigns. Instead of focusing all your resources on Google Ads alone, spread your wings further and reach a greater audience out there. In other words, stretch your targeting efforts beyond search engines; venture into social media ad platforms as well. You will realize that each platform represents a unique visibility opportunity from different market segments.
Automation of PPC accounts
Managing repetitive tasks in your Google Ads account can be time-consuming. However, adding scripts to the account makes automation of such tasks easier. Essentially, PPC automation relies on machine learning and AI platforms to manage, track, and optimize your advertising efforts across all your ad networks. For example, you can adopt bid management across different ads to stay on top of your ad spending or automate report generation to better track your PPC campaigns.
HVAC PPC Services process
Ready to get your PPC ball rolling? Here is how to go about setting up a good PPC campaign.
Hire a reliable PPC for HVAC expert
If you find the entire PPC process daunting and time-consuming, involving an expert is your next best alternative. A PPC expert knows what it takes to grow your HVAC company faster by adding more competitive advantage layers to the business. They will audit your current PPC strategy and account and seek to enhance it or overhaul it completely.
How do you identify a reliable PPC expert? There are several factors you should consider including:
Technology used: This entails the software used to monitor your campaign performance, improve the campaign process, and disseminate campaign results in real-time.
Experience level: Both overall PPC experience and HVAC-specific experience are critical factors here. It should also involve a proven track record of previous successful projects.
Revenue generated: The company should demonstrate how they have grown the revenue of other HVAC companies over their span of operation.
Transparency: The PPC expert must also commit to 100% transparency in pricing and reporting.
Team: Assess the qualifications and prowess of the team to gauge their suitability. Evaluate their PPC knowledge as well as other digital marketing strategies.
Understanding your goals
Once the audit is complete, the PPC expert will discuss your HVAC PPC goals and expectations with you to chart the best way forward. After discussion, the expert sets measurable PPC goals along with a monthly budget.
Keyword research
This involves coming up with a keyword research strategy based on reliable HVAC industry data. The PPC expert will evaluate your competitors' campaigns, search volume, and previous conversion rates just to name a few metrics. Analyzing this data will reveal useful insights on top-ranking keywords.
PPC campaign strategy
The next step is mapping out your PPC account structure and matching the researched keywords to their corresponding ad groups. That is then followed by defining the right bid strategy and audience targeting. The expert will ensure your account and campaign structure are optimized for efficient performance.
Optimizing PPC landing pages
The PPC expert will take the necessary actions to create landing pages that offer the most productive user experience. The goal of this step is to convert as many site visitors into qualified leads as possible. That will entail aligning your brand message with landing page structure, keywords, and call-to-actions. The PPC pro will continue to track the performance of the landing page and make necessary improvements and adjustments to the ad campaigns for a better user experience.
You need professional content writing services to create landing pages that will convert. This is where professional companies such as HVAC SEO Services Inc. come in handy.
HVAC

PPC services

and management
With the PPC ads running, properly managing them is integral in ensuring their success. A PPC expert dedicates their time to manage the campaign throughout its duration. The goal of campaign management is to ensure continuous ad performance improvement. This also involves staying apprised of what fellow HVAC firms are up to.
A/B split tests
Conducting A/B tests for ad copy helps the expert know which campaign strategies and keywords deliver the most conversions. Matching this experiment with other useful HVAC PPC data helps the PPC pro garner insights into the most effective campaign strategies to adopt.
HVAC

PPC services

 results reporting
After implementing powerful ad campaigns you will be expecting some wonderful news. A PPC expert will develop a detailed report highlighting the major wins and opportunities after the campaign period lapses. That will then be followed by a deeper analysis of the performance and a series of recommendations for future improvement. The underlying metrics here are the total number of leads generated and conversions realized over the span of the campaign.
Reliable recommendations
While recommending the best improvement strategies, the expert relies on your concluded campaign data as well as their extensive PPC for HVAC knowledge. That means they are only giving valuable data-backed recommendations to yield tangible results. The expert may suggest targeting different sets of keywords or relocating a campaign's budget to a different PPC ad.
How do I run an effective HVAC PPC campaign?
Did you know you can crush your competition simply by implementing an effective PPC campaign? Well, now the cat is out of the bag. But what makes PPC advertising for HVAC companies effective?
An optimized website
Before launching that campaign, confirm your landing pages are well aligned to your PPC ad. That helps in keeping your lead generation in order to trigger more conversions. Make sure the links to your landing pages are accurate for the prospects to take the necessary actions. If the link is incorrect and leads your visitors to an unrelated page, the outcome is a bounced sale. Additionally, ensure the ad content resonates with the landing page content. You need high quality web design and development to create something that will improve usability and conversions.
The right bidding strategy
Your choice of bidding strategy will depend on your goals, budget, and PPC experience. Should you go with manual or automated PPC? If you are new to PPC, start with a manual strategy because it allows you to set a ceiling on your CPC and is also ideal for low budgets.
On the other hand, automated bidding helps you reduce the time spent managing your campaign. However, this comes at a slightly higher cost. Again, this is a specialist's job, get reliable HVAC PPC services for more about bidding. Otherwise your campaign may never break even.
A sound budget for HVAC

PPC services
PPC campaigns allow you the flexibility of operating a limited budget while still controlling your ad spend. For starters, you can test the waters with a small budget and monitor the outcomes before throwing in more money.
However, the best way to determine how much you should invest in a PPC campaign is by looking at how much profit you generate per conversion.
Relevant keywords
To arrive at the most relevant keywords to use in your PPC campaigns, first understand user intent. User intent is directly tied to your audience's needs and if your PPC ad can address those needs, then you are running an effective PPC for HVAC campaign.
Potential customers may use varying keywords when searching for HVAC services. You have to capture all the possible keyword scenarios in your campaigns for the most visibility. Some of the popular terms to feature in your keywords are near me, reliable, fix, affordable, and emergency just to name a few.
Create a compelling ad
Any HVAC PPC services provider knows that it only takes a couple of seconds to make an impression. Make it count. Now that you have optimized the website, set the budget, and researched the right keywords, launch the PPC ad. Nonetheless, it should not just be an ad, but a killer ad. The trick to creating such an ad is making it short and straightforward because of the limited room and time you have for the ad to display.
Once you have the right goal in mind, look for a way to grab your audience's attention by conveying your unique value proposition in the most interesting way. Try to highlight the benefits of using the service as much as possible.
A magnetic call-to-action
Without a call-to-action button for further action, your ad will just remain attractive at face value. You must drive your prospects in a certain direction for the ad to be successful. Be clear enough about what steps they should take next after viewing the ad. Make the call to action short, sweet, and compelling.
What are the best HVAC PPC strategies?
To become a PPC master, you should discard some age-old strategies and embrace or combine them with newer ones. It is the only way to make the most of your PPC air conditioning and heating PPC campaigns. Stay on top of your PPC efforts by combining some or all of these strategies.
Tap into promotion extensions
Promotion extensions are a great way to provide that extra visibility to your PPC ads. They specifically highlight your promotions and sales offers or discounts for prospects searching for the best deals from your HVAC business. They appear just below your PPC ad and are easily legible to catch the eye of your prospects. HVAC PPC services experts have extensive knowledge, but you better choose specialists.
Focus more on mobile-specific campaigns
Many PPC marketers for HVAC companies are shifting to mobile-friendly ads for the great attention they draw. The trick to making such ads work for you is to make sure your website is well optimized for smartphone users. One great optimization factor is speed. If your website takes forever to load on smartphones, chances are your PPC ad will perform rather poorly.
Target the right visitors in your bid
There is no point in attracting thousands of visitors to your site but only a handful are actually converting into sales leads. That tells you there is something wrong with your audience targeting and it needs urgent optimization. You can use the location bid strategy to channel your resources to only target locations with the best results. Simply head to the bid adjustment tab in your Google Ads account and make the necessary adjustments.
Target your cost per conversion
Optimize your conversion to maintain a steady cost per conversion in your PPC ads. This allows you to maximize your conversions within a specific budget. You can achieve that by setting up the conversion tracking feature in your Google Ads campaign.
How can I improve my HVAC business PPC performance?
Want to supercharge your PPC ad campaigns? Try these simple yet effective tricks or try HVAC PPC services.
Make use of ad extensions
Ad extensions are a great way to boost your ads engagement on the local level. They open up more ways for local leads to reach your ideal conversion goal. You can boost local engagement by adding location, review, and call extensions to the ad. If you have trouble with this, get HVAC PPC services. A little cost doesn't hurt just to be right.
Mobile optimization
With mobile searches accounting for more than 50% of all searches, there lies great visibility potential in optimizing your PPC campaigns for mobile devices. To attract more local leads, improve your user experience by optimizing your landing page and overall site speed. You can also harness the power of Facebook proximity ads and Instagram local culture posts to locally target your campaigns.
Local-inspired ad copy
Stress how local your business is in your ad copy or graphic images as much as is reasonable. Look for some local jargon or cultural icons to leverage in the copy. This will boost your engagement with local prospects. As you become locally relevant in your campaigns, you attract more qualified local leads.
Narrow your ad targeting
If you want to reach potential customers as close to your business's location as possible, refining your audience targeting is imperative. Simply head to your Google Ads account and select the campaign you want to edit. Click the locations tab and then 'targeted'. This gives you the option of selecting a specific region you would wish to target. You can even specify the radius to only target prospects within the radius. You may also use HVAC ppc services from an expert.
How much does a PPC campaign make?
By investing your hard-earned money in PPC ads, you expect to reap a great return on investment. When done right, PPC for HVAC can even surpass your expectations.
According to Google, the investment in Google Ads is a lucrative one to the extent of doubling your investment. That means for each $ 1 spent on the campaigns, you generate an average return of $ 2. Bing Ads have a lower CPC than Google Ads and a higher click-through rate making them a worthy investment to consider as well.
For social media Ads, measuring your return on ad spend (ROAS) is comparatively difficult. Since you are providing a service, most of your conversions happen off the social network platform. Measuring the ROAS becomes harder because of the tracking gap. You would have to manually track the leads that convert to sales to get an accurate return figure.
Generally, however, the ROAS of social media ads will be higher because of the relatively low ad spend compared to search engines.
What keywords can I use for HVAC

ppc services

?
Want your PPC campaigns to rock? Target the right keywords for your specific industry niche. Keywords that target specific customer queries or pain points perform excellently. Such keywords include questions and specific problems. For example, broken furnace, ac not cooling, fix central, noisy blower or 'why is my HVAC not working?'
A phrase like 'local HVAC technician' or 'furnace repair near me' attracts a considerably high search volume because of the location-specific angle. Furthermore, using service or problem-specific keyword phrases such as 'ac not blowing cold air' or 'furnace not heating' produces even better results for your ad campaigns.
Supercharge your online visibility!
Now that you know how to create, run, and sustain a powerful HVAC PPC campaign, get to work. Don't know where to begin? We can lend a hand and help you get noticed faster.
Our SEO content writing services are an all-inclusive package that afford you extensive PPC for HVAC services to scale your digital footprint. Talk to our  hvac ppc services experts today.