How To Run HVAC Facebook Ads That Will Triple Your Conversions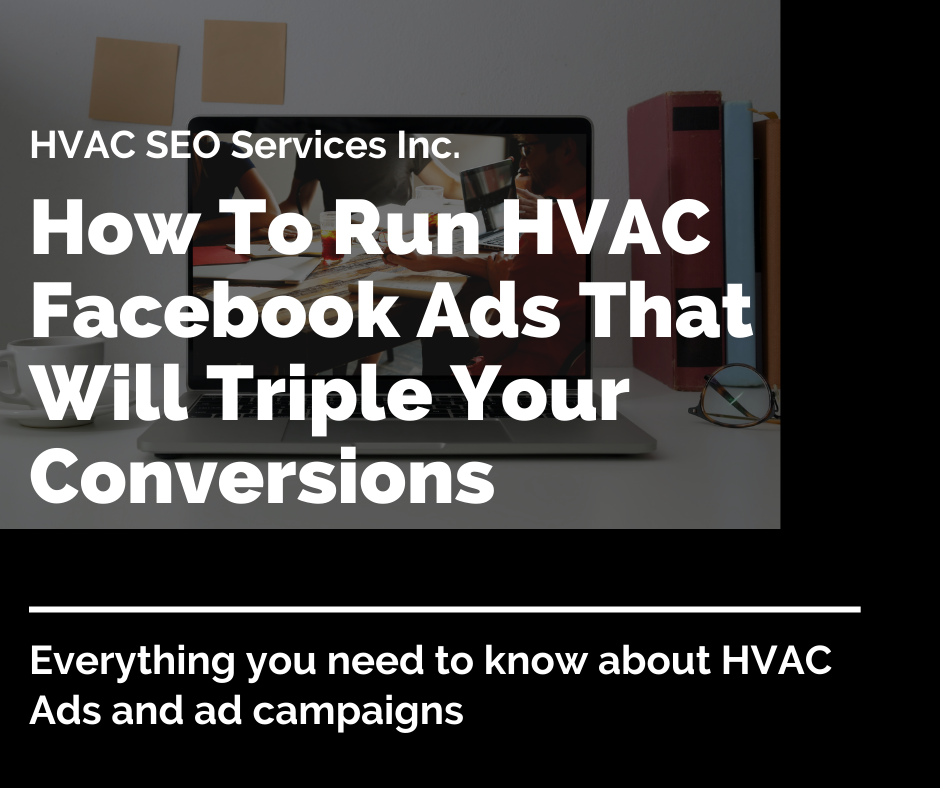 If you run a HVAC business with an online presence, then you need to start making use of HVAC Facebook ads immediately. At HVAC SEO Services Inc., we found out that a big number of successful HVAC brands are using Facebook advertising. Traditional marketing methods like TV ads, direct mail, billboards, and print ads may also work, but they are quite expensive and time consuming.
On the other hand, running HVAC ads on Facebook is more affordable and it gets you faster results. Do you want to learn more about HVAC Facebook ads? Keep reading to learn tips about HVAC ads and how to use them to triple your conversions.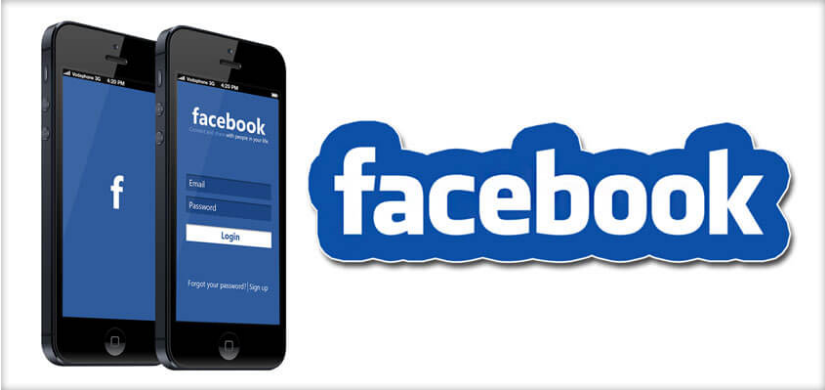 What are Facebook ads?
A Facebook ad is a paid advertisement that you can post to promote your HVAC business on Facebook. The HVAC ad allows you to target a specific group or demographic on Facebook who are in need of your HVAC services.
The best part about running a Facebook advertising campaign is that it allows you to specify the amount of money you wish to spend on the ad, the type of people you think may respond to the ad, and the geographic location of the people targeted by the ad.
Why are HVAC Facebook ads important for your business?
Did you know that about 96 percent of online businesses claim that out of all the social media platforms, Facebook provides the highest ROI (return on investment)? This means that if you are not running HVAC ads on Facebook, then you not giving your business a fair chance in the competitive HVAC industry.
Why does Facebook offer the best ROI to online businesses? Facebook is great when it comes to generating returns on investments due to the following reasons:
With such a huge reach, one might assume that running Facebook ads for HVAC companies is very expensive. However, the rates for advertising on Facebook are very affordable. As we mentioned earlier, Facebook allows you to specify the amount of money you want to spend on an ad.
Perhaps you are already advertising on other social media channels and you do not see the point of advertising on Facebook as well. However, are you aware that on Facebook, your HVAC ad can reach the same number of people that you would reach on any other social media platform, but at a lower cost? So start saving your money and by advertising on Facebook.
To recap another point, we mentioned earlier that Facebook is a great platform to promote your HVAC business because it allows you to target your ads according to any demographic feature of your preference such as:
Age
Interests
Marital status
Gender
Location
Career field
What types of Facebook ads are there?
There are various types of Facebook ads for your HVAC target audience that can help your business page get more followers, likes, comments, and conversion.
Let us have a look at some of the versions of ads on the Facebook platform:
Local awareness ads
Just as the name suggests, local awareness ads are meant to help your business reach more locals on the social media platform. How many local people on Facebook are aware of your business? If your HVAC business is relatively new in the market, then local awareness ads are perfect for your HVAC target audience.
Businesses succeed due to both physical and digital engagement. In your case, Facebook can help you kill two birds with one stone. By adding the physical address and directions of your HVAC business on a local awareness ad, you will rise the chances of your business increasing its customer base.
Page like ads
Perhaps you want to increase the number of likes of your HVAC business on Facebook. The best and fastest way to do that is running page like ads on Facebook. This is important because the more likes your business page has, the more brand credibility it gains especially to new followers.
Besides more likes means more followers for your HVAC business page, which automatically creates a larger customer base for your business. If you recently created a Facebook page for your business, then page like ads are your secret weapon to growth and conversion.
Boosted posts
Have you ever created an impressive and engaging post on your HVAC business page on Facebook only for it to get 4 likes at most and zero comments from your HVAC target audience? How frustrating did it feel? Did you feel like giving up on your business page because of poor engagement? Well, boosted post ads are just what your business needs.
By boosting a great post with poor engagement, you allow it to reach a wider range of people who are likely to respond to the post. Boosting posts is a great strategy of generating HVAC Facebook leads.
Remember that more engagement leads to more visibility for your HVAC business, which in turn results to more growth and conversion.
Lead ads
Facebook allows HVAC companies to create lead ads for heating companies as well as lead ads for air conditioning companies. In fact, lead ads are the best for collecting contact forms from your HVAC target audience.
If you also want to portray your service rates to potential customers, then lead ads are the way to go. Creating connections with your audience is vital for your HVAC business.
Through lead ads on Facebook, you can carry out email marketing campaigns, newsletter campaigns, and personalized brochures to inform your audience about the new deals and offers of your business.
Poll ads
Businesses looking to create engaging ads for heating companies or ads for air conditioning companies may want to try out poll ads. Poll ads allow the target audience to interact with your business even though they are coming across it for the first time.
Why? Because everyone feels special when their opinion about a certain topic can actually make a difference. Also, if you are struggling to create more content about HVAC issues, then a poll ad can help you collect a ton of information from the public that will tell you what people need.
Do Facebook ads work?
If you are about to promote your HVAC business on Facebook for the first time, you may have wondered whether Facebook ads really work. Do they really convert? And as a good business person, you are right to have these kinds of questions. After all, you are planning to invest your money on Facebook.
The simple answer is yes. Facebook ads do work. They do yield results.
After Google and YouTube, Facebook is the 3rd most visited site in the world. With more than 2.89 billion active users, there are bound to be millions of people in the platform who are in need of your HVAC services.
Facebook provides free tools like Facebook Ads Manager to help you create and view the following analytical reports of your ads:
In order for your HVAC business to yield desired results from a Facebook ad, you need to ask yourself the following questions:
Do you want to generate more leads for your HVAC business?
Is your motive to secure more sales?
Does your business need to expand the reach of its brand on Facebook?
Do you want to drive more traffic to your business page?
Is your goal to get more potential customers to engage with the content on your business page?
Factors that determine the success of an ad
Ad blindness is a global phenomenon. A huge number of people still ignore paid ads in the search results section. If your paid campaigns are not optimized for success, you will not get results. HVAC SEO Services Inc. found that most HVAC companies are actually enduring middling results. Even companies that are purposely selling these services still brag about mediocre results.
The clearer you are about your advertising goals; the better results you will achieve. In addition to that, your Facebook ads need to be based on the following factors in order to produce more conversion:
The campaign goals of your HVAC business
The niche your HVAC target audience belongs to. Are they interested in ads for air conditioning companies? Or will they be more attracted to ads for heating companies?
What your business has to offer
Since you are pulling people to your business through the ads, you need to ensure that your page has something great to offer. Do you have high quality content that your new audience will find informative and engaging? Are there any deals or offers that you wish to give your new found potential customers? What great tips does your business page have that your new followers will appreciate and most likely convert into customers?
The industry your business is in
Do you have a good understanding of the HVAC industry? What kind of ideal customer belongs to your industry? What are the most probable pain points of your ideal customer? Answering the most important questions is important. It will help you nail the ideal prospect.
What are Facebook ads used for and what makes them effective?
 Facebook ads for HVAC companies have a lot of use. There are many benefits associated with advertising on Facebook. They include:
Micro targeting ideal HVAC audiences
Facebook ads allow you to narrow down the demographic information about your ideal HVAC audience. The platform is very rich in data about your potential HVAC clients, and all you have to do is focus on the type of audience you want the ad to target.

Other demographic categories that you can specify on your Facebook ads for HVAC companies to generate more HVAC Facebook leads include:
Income
Major life events
Interests
Spoken languages
Education level
Recent purchases
Behaviors
Political affiliation
Job title
The above specific targeting options allows you to build the perfect client avatar, and Facebook helps you to reach them on social media.
Customizing messages that will provoke your ideal audience to engage
Facebook offers the widest variety of ads that may not be found on other social media platforms and paid channels. This suggests that if you market your business on Facebook, you will not be limited to specific types of ads. There are many options to choose from and tailor your message to attract your HVAC target audience.

Some of the types of ads you can take advantage of on Facebook include:
Photo ads- made of single static images accompanied by meaningful captions.
Video ads- they can vary in length, and can appear in stories, user feeds, and live streams.
Playables- consist of demo games that are very interactive to users and allows them to see the preview before they download a particular game or app.
Carousel ads– are made up of about 10 images that allows the user to peruse through and learn more about a business.
Messenger ads– these ads pop up in between conversations within the Facebook Messenger.
Collection ads– they allow you to showcase multiple HVAC products or services in one ad. Additionally, a user can interact with each product or service individually.
Slideshow ads– are made up of short video clips that consist of text, motion, and sound.
Generating fast HVAC leads and conversions
Whether you have a long term or a short term digital marketing strategy for your HVAC business, Facebook ads are ideal for your business because they tend to generate conversions as soon as they are live.
After setting up your HVAC ads for heating companies or ads for air conditioning companies, Facebook will first review the ad to ensure it meets all the set guidelines of the platform. Once it is approved by Facebook, the ad will go live on the platform and be pushed out to reach thousands of people instantly.
From that moment onwards until the period of the ad campaign comes to an end, your HVAC products or services will reach hundreds or thousands of potential customers on Facebook. Those who are in need of what your HVAC business has to offer will immediately convert and request for more details about prices.
You may also gain many new followers during the ad campaign as well as more interactions on your Facebook page.
What are Facebook ads essentials?
In order to create worthy HVAC ads on Facebook, it would take a considerable amount of planning and strategizing. Some would even agree that setting up a Facebook page is easier than setting up an effecting HVAC ad campaign.
So, what are the essentials to running a successful HVAC Facebook leads ad? Let us have a look below.
Facebook ad strategy
As your HVAC business grows, the advertising strategies will change as well. Before you set up an ad, you need to determine what the goal of the ad is.
Do you need to spread more brand awareness? Are you targeting about 500 new likes and follows for your business? Do you need to drive the sales of a particular HVAC service or product?
Whatever the objective of the ad is, you need to identify it, then create an ad that will meet the set goal.
Facebook pixel
On Facebook, the ads that have high pixel/ high quality pictures, tend to generate more engagement than ads with low pixel images.
Another thing you need to consider when creating an ad is the size of the image that you intend to use. Images with incorrect sizes may cause the engagement rate of your ads to sink.
We highly recommend that you optimize images before you use them for ads. Always check whether the pixel and size quality are approved in the Facebook Ads Manager.
Targeting
As we mentioned earlier, Facebook allows you to micro target your audience. Ask yourself what kind of HVAC audience would find your ad more useful. Then use the demographics on Facebook to narrow down to your perfect audience.
Ad settings
The ad settings simply allow you to determine various factors about the HVAC ad such as:
how long the ad will last
the demographics of your target audience
the kind of action you need people to take from the ad (comment, like, follow, message, or purchase)
how much the ad will cost
the payment method you will use
whether the ad will run on other platforms such as Instagram as well
What is Facebook ads retargeting? Is it important for HVAC companies?
Facebook ads retargeting are a gold mine that your HVAC business cannot afford to miss out on anymore. Picture this, new people stumble upon your HVAC Facebook page, scroll through it for a while, but then, they leave without making a purchase. How devastating is that?
Facebook ads retargeting is a pay per click (PPC) strategy that allows you to show your HVAC ads to people that are already familiar with your brand. For instance, all those people who visit your page, scroll through it, spend some time on it, then leave without making ant purchase. Retargeting ads focuses on those leads.

A study shows that retargeted audiences have a 70 percent chance of converting, compared to targeting cold audiences with your ads. This means that your potential customers are already lurking somewhere on your HVAC page right now.
Some of these tasks require professional help. You can spend tons on money and fail to get any meaningful results. Consulting a PPC management company of HVAC Facebook ads management company can significantly increase your success rate.
Take action today
Would you like to see some real change in your business using HVAC Facebook ads? Reach out to us today. We will help you create impressive, engaging, and attractive HVAC ads that will generate more HVAC Facebook leads for your business. Get more sales by calling us today.