Local SEO services aim at improving the visibility of your website on search engines. A local SEO services provider uses several local SEO tactics to help your business rank on local searches. Some of these tactics include claiming and optimizing your Google My Business listing, technical optimization, content optimization, and other strategies that we will address in this article.
Expert local search engine optimization services use ethical SEO tactics to place you ahead of your competitors. These services help boost your sales by increasing foot traffic to your store. This makes it easy to convert a prospect into an active customer. Below is how your business will appear on local search.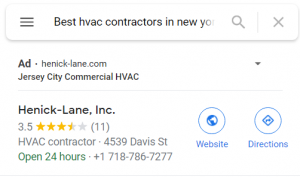 Local SEO Vs SEO
You might have heard of SEO and are wondering how it relates to or differs from local SEO. This is how the two compare.
Optimizing for local search focuses on a specific geographical area while regular SEO aims at increasing website traffic globally.
While both share several similar strategies, local SEO has unique strategies that are defined to suit a local target.
For instance, using location-specific keyword phrases like "best HVAC SEO services in New York" will help your website gain traffic from the specific area.
Local search engine optimization aims at increasing foot traffic to your business while local SEO services mostly aims at increasing website traffic.
Benefits of Local SEO
Optimizing your HVAC website for local search comes with several perks. They include the following:
Enhances visibility on local search
Local search engine optimization lets your website appear more frequently on local search results. This is because around 46% of web searches have local intent. In 2021, 21% of consumers in the USA used the internet to search for local businesses daily.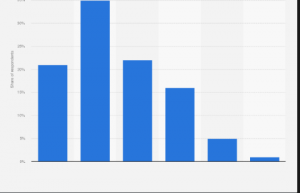 https://www.statista.com/statistics/315709/online-local-business-search-frequency-us-canada/
Drives more foot traffic
Apart from organic traffic, local SEO services also drives foot traffic. Most consumers who conduct a local search end up visiting your store on the same day. The probability of a prospect purchasing your product or service after visiting your store is high. This increases conversion rates.
Who benefits from local SEO and Why?
Local business owners are more likely to benefit from local search engine optimization since they target a target audience in a specific area. For instance, a customer is likely to seek HVAC services in their area of residence as the first option. Therefore, if you own an HVAC store in that area, you are likely to acquire more customers from there compared to other locations.
Optimizing for local search helps drive sales in your locality other than general sales from a wider target audience. Other local businesses likely to benefit from optimizing for local search include medical services, legal services, and restaurants. Hence the importance of local SEO services.
Importance of Local SEO to small businesses
If you are an owner of a small HVAC business, embracing Local SEO might be a wise investment. The following are some benefits that your small business gets from a sustainable Local SEO strategy.
Attracts relevant website traffic
A prospect looking for a specific product or service locally is most likely ready to purchase it. For instance, a customer looking for "reliable HVAC systems in Brooklyn" is probably in need of an HVAC unit.
Helps you maintain a competitive edge
Local search engine optimization places you ahead of your competitors who might be using a regular SEO strategy. This is because local SEO services helps you capture more relevant local clients compared to your competitor.
Local SEO checklist
To make sure your HVAC business is properly optimized for local search, there are several factors you should take into account.
Claim and optimize your Google My Business Listing
Google My Business is a free online tool that lets you manage your HVAC website to draw local traffic. Your profile shows your prospects where your business is located and how to find it.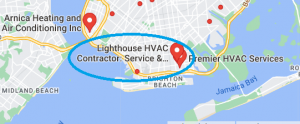 Claim and improve your GMB listing by doing the following:
Create a Google Account specifically for your HVAC business
You can use your email address to create your account
Type the name of your business
Make sure you check whether there are duplicate business names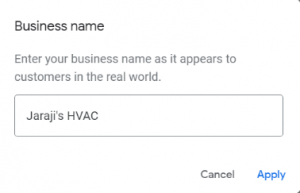 Choose your business category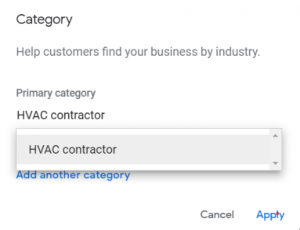 Add your address
This can be your store's physical location where potential customers will find you.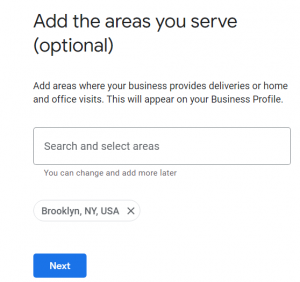 If you don't have a physical address, you can add the region that your business serves.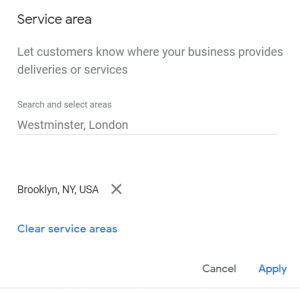 Enter your contact information
Include your phone number and website URL to make it easy for customers to find you.
Make sure your contact information is updated and consistent
In case you alter your contact, ensure that you update the current information promptly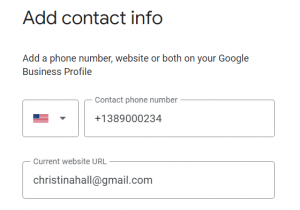 Verify your business
Google will require you to verify your business either via email or postcard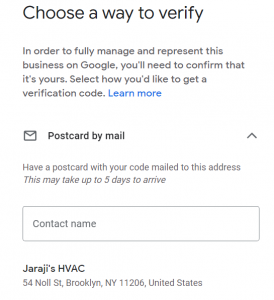 Customize and optimize your profile
Once you are done creating a GMB profile, you can customize and optimize it for local search.
Include your hours of operation
Ensure that the hours you add are accurate and make the necessary updates in case of any changes.
Your hours of operation provide your customers with the most ideal time to shop for your services.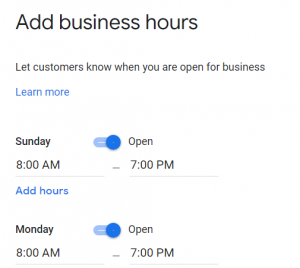 Include photos and videos of your HVAC business
Ensure you post real photos of your products, work surroundings, or even your team
For instance, you could post a photo of you installing an air conditioning unit or the different types of units you sell.
This creates trust in your prospects and establishes your business as reliable.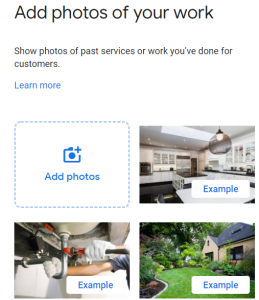 Write a detailed business description
Include a brief and unique description of your business that sets you apart from your competitors.
This information could be your mission or the core values that you believe in.
Your business description convinces your customers to choose you over your competitors.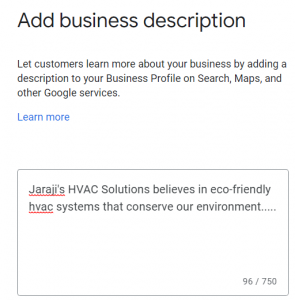 Optimize your keywords
Try to include relevant keywords in your business description. We recommend you use tools such as Google's Keyword Planner to discover the search intent of your potential customers.
For instance, you might discover that "best HVAC contractor" ranks higher than "best HVAC services".
Don't stuff your keywords as it could attract a penalty.
Optimizing your keywords helps your website rank high on local searches and helps your customers find you.
Add your products and services
You can add a list of HVAC products or services that you offer
This provides your customers with an idea of the products or services you offer and also serves as a ranking factor that Google can use to rank your business.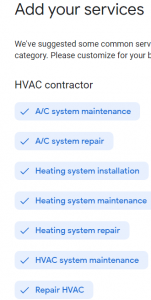 Acquire and post customer reviews
Try to request reviews from customers directly using your GMB profile
A client is more likely to purchase from you when they read positive customer reviews compared to when there are none.
Try to respond to customer reviews professionally and humanely to show that you care about their experiences.
Google will also rank you higher when you have several positive customer reviews.
Below is an example of how customer reviews appear on your profile.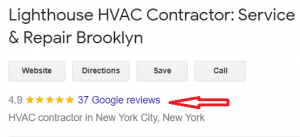 List your site on reputable local directories
To gain more local website traffic, consider listing your site on popular local directories. These directories include:
Bing Places
Yelp
Foursquare
Facebook
Yelp
Moz
Local business directories can help you acquire quality backlinks that help your business rank highly on search engines. Higher visibility in turn leads to increased web traffic which could mean more potential customers.
Local directories also help promote brand awareness. When your brand is visible, more individuals are likely to come across it. A prospective customer is likely to remember your brand when they have already seen it on top searches. When they are ready to buy, they might have a sense of trust once your brand pops up again.
Listing your business in local directories helps build citations. You could be wondering what citations are. A citation is a mention of your entity's name, address, and phone number on local directories, apps, or websites. You should ensure that your details are consistent on all online platforms.
Inconsistent information can result in lower rankings and reduced traffic. For instance, you can misdirect a potential customer with the wrong operating hours which leads to mistrust and a damaged reputation.
Proper citations can also help your business appear more accurately on Google maps. There are two ways that you can add your citations.
Manually
This is where you add your details on one site after the other by hand. You can opt for this option if you want to gain control.
Automatically
This is where you submit your business information to companies that use data aggregators. These data aggregators distribute your data across different online platforms.
Get high-quality content with local intent
Consider hiring an expert writer to create high-quality HVAC blogs and articles for your website. Your content should revolve around topics or keywords with local intent. When you optimize your content for local search, you are likely to draw local traffic.
For instance, your content creator can write about HVAC challenges that affect a specific location. It could be that the place experiences harsh weather conditions which results in high energy costs.
Your writer should perform extensive keyword research to identify the ideal keywords to rank for. They could opt to optimize for longtail keyword phrases. For instance, they could use something like "the most energy-efficient air conditioners" or "how to repair a faulty air conditioner". Below are some popular HVAC keyword phrases.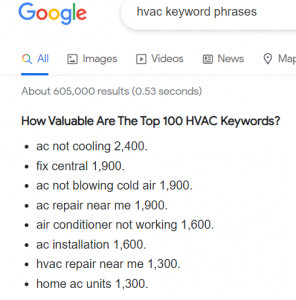 Your content should not focus on keywords alone but also on users. Most business owners tend to optimize their content for search engine purposes forgetting that their primary goal is to attract visitors. When your content is written for search engines, it makes little or no sense to readers.
When your articles and blog posts are keyword-stuffed, your HVAC website could be penalized. On the other hand, content with keywords that flow naturally proves to be appealing and interesting to the reader. Your content should also focus on solving your customers' pain points. For instance, you can get a piece that informs your clients on how they can lower their utility bills with your HVAC units.
The content on your website should also be optimized for readability. Your writer should include short, clear, and concise sentences and paragraphs that add value to readers. Where possible, they can include bullet points to help your reader grasp the main points easily.
Your writer can also incorporate captivating infographics to break the monotony of texts. The human brain processes visual content 60,000 times faster than text. High-quality infographics can in turn generate natural backlinks to your content. Below is an example of an infographic design from VectorStock.com.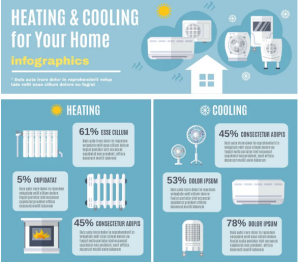 Acquire local backlinks
Backlinks establish your site as an authoritative and trustworthy source of information. Consider coming up with an effective link-building strategy to drive local traffic to your website. Look out for influencers in your locality and get them to link back to your website. such influencers include individuals with a large social media following.
You can approach them by trying to establish a relationship first. Making your demands directly might make them hesitant to give you an audience. Begin by commenting and sharing their content on your social platforms. You can then request them to link their content to yours.
You could also source bloggers with reputable websites in your locality and request to guest post on their sites. Use that guest post to link back to your website.
Try to reach out to local press such as local news sites and get them to write about your business. Getting a backlink from a reputable news source will help your website gain traction and also increase brand awareness.
Another way that you could acquire backlinks is by reclaiming lost links. These are links that point back to non-existent web pages on your site. Redirect these links to your existing web pages with the help of an SEO expert.
Think about acquiring links from sponsorships or scholarships. For instance, if you offer sponsorships to educational facilities, they might link back to your website to provide updates on the sponsorships. programs.
Ensure your site is responsive and mobile-friendly
Consider hiring technical SEO services to improve the performance of your HVAC website. You can hire a professional SEO expert to improve the speed of your website. When your site takes too long to respond, a user might get impatient and opt to look for information elsewhere. This could increase bounce rates and reduce website traffic.
Your website could have the perfect content, and several backlinks but lacks one factor; mobile-friendliness. Your website can also be responsive but when a user tries to read information, they can't gain access. Ensure your site is mobile-friendly because most internet users use their mobile phones to conduct a search.
Use schema markup
This is structured data that helps search engines understand your website content better. The data prompts search engines to provide your users with more accurate and useful information. An example of Local SEO structured data includes contact information, addresses, or dates.
Structured data helps a user view your information before they decide to click through your website. Schema markup also helps Google rank your website higher on local search results. Consider employing an expert HVAC SEO service provider to incorporate schema mark-up into your website.
Optimize your social platforms
Consider optimizing your HVAC website for local search by creating business pages on social media platforms such as Facebook, Twitter, or Instagram. Facebook provides suggestions of a target audience based on the geographical location you enter. You can therefore target prospects from your location.
Try to post photos and videos of your HVAC products and services. You can also create an interactive segment where you engage your prospects. For instance, try to answer questions in the comment section and provide additional information to your prospects. This helps create a good relationship between you and your prospects.
Engaging your audience helps present yourself as a trustworthy business which could result in more conversions and customer retention. Try to link your social media platforms to your website to create more opportunities for potential customers to find your business.
Include your contact information and location on social media platforms. You could also include relevant keywords on some platforms such as Facebook to enable search engines to rank your business. Reviews from online platforms are also used by Google to rank your business. This means that a positive customer review from Facebook can convert several prospects into paying customers.
Consider using online platforms to direct your audience's attention back to your blog posts or articles. You can write something like "Check out our latest blog on How To Ensure Your Air Conditioner Lasts Long!"
Local SEO services involve much more than a regular SEO strategy. These services encompass tactics such as Google My Business optimization, writing content with local intent, and much more. Your local HVAC business can reap numerous benefits from Local SEO. If you require expert HVAC SEO services, don't hesitate to contact us today.