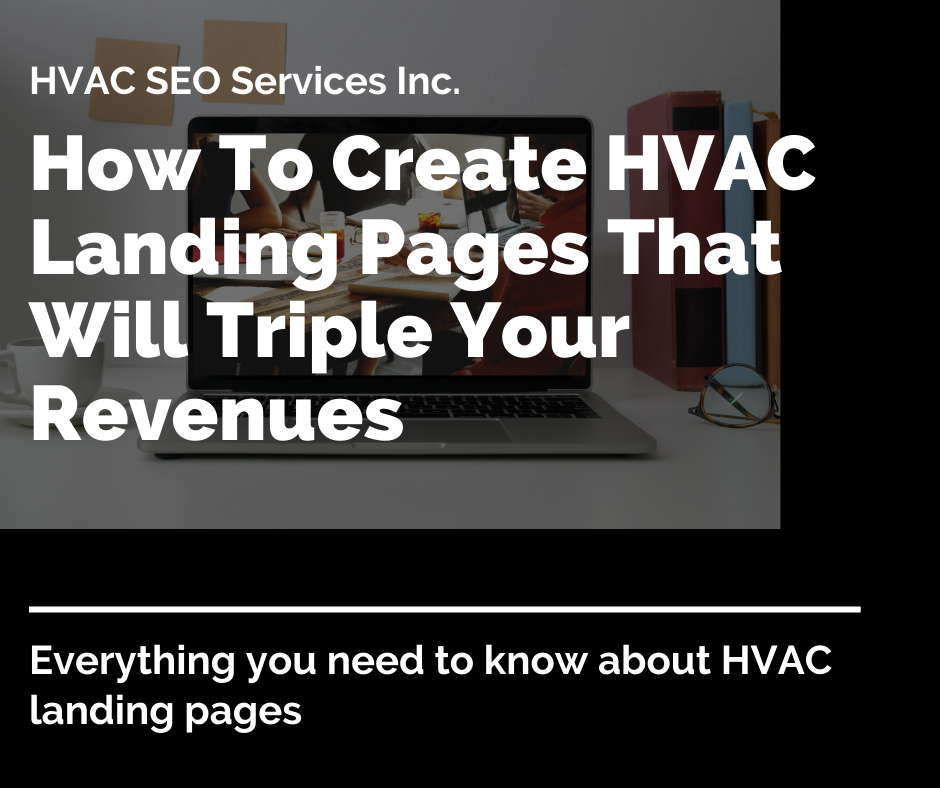 What good is a killer HVAC PPC campaign if it's not backed by equally killer HVAC landing pages? Yes, you have done well by investing a lot of your money in an online ad campaign in the hope of driving more traffic to your site and hopefully closing more sales.
But that's not guaranteed if the landing page these same leads end up on is not compelling enough to convert. To triple your HVAC sales, you must create a landing page that convinces your prospects to give you a service call or fill out a contact form. If that doesn't happen, you might as well have thrown your money down the drain.
Landing pages for HVAC companies should be given the same amount of attention you give to your website because the two complement each other in boosting your revenue. It's almost like building an elegant house and failing to equip it with a proper HVAC system. However beautiful the house looks, the indoor air quality will remain terrible and deny you the chance for an enjoyable stay. A great landing page is what makes your website interesting to visit. It should therefore be set up for success.
Read ahead to find out what a landing page is, why it matters in your business success, and how to create a landing page that converts.
What is a landing page and why is it important?
If your HVAC or appliance repair business is conversion-oriented, then your digital marketing strategy won't be complete without a compelling landing page. A HVAC landing page is a distinct page designed to act as a follow-up channel to any promotional promises or offers you have made to your audience. Whether it is a free trial offer or a coupon promise, the landing page helps the audience complete the process of claiming the promise or closing a sale.
Landing pages for appliance repair companies serve one main purpose-conversion. Although the page is connected to your main website, it only highlights essential conversion elements and lacks features like links and navigation bars found on websites. When visitors fill out the form on your landing page, they automatically become a lead, and depending on how convincing the information on the page is, they can convert into a direct sale.
Essentially, your landing page is the key mediator between your prospects and ultimately, your customers.
Why is a landing page important?
A compelling landing page not only boosts your visibility but also accelerates the lead conversion process bringing you closer to your revenue target faster. When used as sign-up forms, landing pages for air conditioning companies result in the highest number of conversions compared to other forms.
Apart from visibility and conversion, a great landing page helps you:
Better target your promotion outcomes
Grab attention faster
Customize content for different market segments
Reinforce your PPC advertising
Improve your persuasion skills
Create a strong first impression
What makes a good landing page for an HVAC company?
To create an impression that converts, landing pages for HVAC companies must abide by certain best practices. Weaving some or all of these actions into your landing page guarantees a lucrative return on investment from your PPC campaigns
Some of the elements of an HVAC landing page that converts include:
·         Clarity
You must always provide clear directions on the action you want your visitor to take. If your intention is for them to sign-up, clearly indicate to them, 'sign up here' or 'click here to sign up'. If your goal is to drive them to fill out a contact form so as to receive an offer, tell them, 'fill out this form'. This may seem elementary but it helps a lot in reducing confusion and eliminating guesswork in the conversion process.
·         Logical flow of information
Logically structured content on your HVAC or appliance repair landing page helps boost audience engagement by making it easier for your visitors to follow your thought process.
Typically, a well thought out landing page logic should flow like this:
Headline
Subheading
Benefits
Social proof
Call to action
By the time the reader gets to the call to action button, they are persuaded enough to convert.
·         Emotional trigger
Beyond its functional significance, your HVAC service also has an emotional aspect to it. Find out how it solves your prospects' emotional needs and highlight that in your landing page copy. Does the copy elicit emotional pleasure? If it resonates with a reader's emotions, then you might just end up with emotional buyers adding up to your list of conversions.
·         Powerful call to action
This is the most important element of your HVAC landing page. It's the final step toward conversion. When a prospect crosses this bridge, it is almost a guarantee they are going to convert into a sales lead. But what makes a good CTA?
First of all, it must be big enough to be legible and attention-grabbing. Secondly, it should be compelling-your CTA copy must be energizing, intriguing, and exciting. Lastly, make sure you use a contrasting color on the CTA button to make it stand out from the rest of the colors on the screen.
·         List of benefits
To steer clear of assumptions about how attractive your landing page is to the reader, wear their shoe. Ask yourself the main question a visitor would ask like 'what's in it for me?' From this angle, you can define what the visitor stands to gain from your service by making sure the benefits listed answer this question clearly.
Center the benefits on the user as much as possible and use lists and bullets to highlight them
·         Attractive offer
You may design your landing page in the most appealing way but it takes more than that for your visitors to convert. Unless they are inspired by some specific gain, they may never get to the conversion stage. Requesting your visitor to sign up for a newsletter doesn't sound so rewarding without offering something in return.
To boost your conversion rate, offer something attractive enough to trigger more clicks on the call to action button. You can offer something for free such as free annual appliance maintenance, draw your visitors to a contest, or offer a personalized service.
·         Killer headline
The very first thing that your visitors see on your HVAC landing page is your headline. It summarizes what the reader expects to gain from your copy. The headline must therefore check a few boxes to make your landing page stand out. It must be short, informative enough to persuade the reader to convert, and appealing enough to grab the visitor's attention.
What should I add to my landing page?
Not sure what to include in your landing page to consistently drive those leads? Check out what successful landing pages for appliance repair companies contain.
An effective intro
Want to draw more traffic to your landing page and drive more engagement? Make your introduction effective. To achieve that, you can use any of the most popular copywriting formulas such as AIDA, PAS, ACCA, and 4 Cs.
1.      The 4 Cs
The 4 Cs represent a clear, concise, compelling, and credible introduction. This formula helps you focus on the goals of your copy and the benefits the reader derives from it. Make sure you write the copy from all these angles to establish trust right from the onset of audience engagement.
2.      AIDA
AIDA stands for attention, interest, desire, and action. When writing your HVAC landing page introduction, get the visitor's attention first. Next, spark some interest by appealing to them and then inspire desire by highlighting the benefits of your service to the reader and back that up with some proof. Lastly, request an action from them-a desired response.
3.      ACCA
This copywriting formula has been coined from the words awareness, comprehension, conviction, and action. ACCA presents a persuasive way to diagnose the pain points of the reader right in front of them. First of all, you make them aware of the problem, help them comprehend how the problem affects them, and show that you have the solution. Next, convict the reader in their hearts to embrace and use your solution. Lastly, show them how to begin using the solution by adding a clear call to action.
4.      PAS
The PAS copywriting formula is equally effective in producing a persuasive landing page intro. You start by identifying the problem, followed by agitating it, and lastly solving it in the eye of the reader.
About us
In this section of the HVAC landing page, you must make the prospect understand why they should choose you. What is your main competitive edge? Make sure you highlight it here. Is it experience, expertise, license, insurance, bonding, customer service, transparency, honesty, or diligence? What is it that people need that you have?
That extra distinction is what makes you stand out from the pack. When your value proposition is unique enough to solve a particular pain point better, that translates into an instant conversion.
Our services
To elaborate your 'why' for the landing page, add the services you provide. Be as specific as possible. If you only specialize in appliance installations, be clear. If you combine both appliance installations and repairs, let it come out naturally as well.
Highlight the main features of your services and show how they address certain customer problems. What makes your services better than the competition? Is it innovation? Stress that. One important thing to avoid in this section is the use of jargon. This will throw your audience off course and miss your conversion target.
Our process
This section requires conciseness and well-thought-out logic. Is your process flowing? Avoid being too wordy and desist from using the passive voice as much as possible. To enhance the clarity of the process, use lists and bullets to document the service process. Where possible, provide service timelines to help the reader decide whether they can accommodate them or not.
Social proof
To prevent your landing page from appearing or sounding braggy, adding some social proof is paramount. That extra proof is what makes your brand message meaningful to your audience. People attach more value to what other people are saying about your business than what you say about the business. Therefore, to persuade your prospects that you can address their pain points effectively, allow your existing customers to do the announcement for you.
Adding customer reviews and testimonials on your landing page make it more compelling by painting a picture of what using your service is really like. If possible, get your testimonials from influential sources, add more business details to cement authenticity, and don't forget to include visuals.  Using a quote with a picture or a video testimonial does a better persuasion job than just a quote alone.
What are the types of landing pages?
Whether you want your audience to submit a contact form or make a purchase, the type of landing page you work with plays an integral role in ultimately persuading them. Each landing page type offers its unique benefits based on your end goal.
For conversion success, you can begin your landing page selection from these types of Landing pages for HVAC companies.
Click-through landing page
This type of landing page doesn't necessarily require your visitors to fill out a contact form. It provides just enough context to convince them to head to a transaction page where they can book a service call, schedule an appointment, claim a service discount, or request a free quote. It is more like a warm-up page aimed at driving more conversions.
The page carries sufficient details about the offer with a special focus on the benefits and a general explanation of the service itself. It shouldn't be excessively lengthy but only detailed enough to persuade the visitor about your 'why' of the advert. Mostly the page only has a catchy headline, a visual presentation, a list of benefits, as well as a call to action button. Check out this example.
Lead generation landing page
Also known as a lead capture landing page, this page primarily focuses on HVAC lead collection through a data capture form. Such pages are rather versatile in design and are ideal for advanced stages of the marketing funnel when your prospects are almost on the verge of converting or abandoning your service offerings altogether.
It combines both a request and reward at the same time. In other words, you set up an enticing offer to generate sales leads in exchange for critical prospect information such as their contact details. Try as much as possible to make the offer worth the information you are requesting. Here is a good example.
Squeeze landing page
This is almost similar to the lead generation landing page except it is ideal for prospects at the top of the marketing funnel when you are just starting to build your email list. As the name suggests, it is used to squeeze information out of your visitors and is also called an opt-in page. The information targeted may be the visitor's name and contact information. In exchange for that valuable information, the visitor could receive a free trial, downloadable assets such as eBooks, or an email list sign-up.
The visitor information collected may be used for text message marketing, email marketing, and social media campaigns. The page should have a convincing copy along with an easy-to-find and fill-out form. Here is a sample.
Service details landing page
This HVAC landing page is perfect for giving out detailed information about your install or repair service. Visitors read all the available information about your service and can either complete the buying process or contact your sales team to find out more about your offer. The page may feature a visual representation of the service coupled with critical details about the offer. Additionally, you may also include some testimonials or other forms of social proof to the service offer. Here is a good example.
Do HVAC landing pages actually work?
Yes, they do but there is a caveat. Only landing pages optimized for conversions actually work. Remember the singular goal of HVAC landing pages is to convert your visitors into sales leads and that will only work if you understand what it takes to create a landing page that converts. You can revisit the section on what makes a great landing page to begin optimizing your landing page.
According to HubSpot, the average conversion rate of landing pages stands at slightly below 10% presenting you with a worthwhile opportunity to nurture and grow more HVAC leads. Landing pages for heating companies are therefore a critical pillar to your digital marketing strategy and should be treated as such.
Can you have more than one HVAC landing page on your website?
Yes, you can. The age of creating a visually appealing website and sitting back is far gone. With the vast sea of company websites out there, you need more than just a great website to survive. Making the most of your website requires adding more visibility layers to it and that includes multiple landing pages.
Because landing pages thrive on tailored offers, you can use multiple landing pages for different services within the same business. For example, HVAC companies offering plumbing services can create a special landing page for plumbing services to make the process of locating the service seamless for visitors.
You can also separate commercial from residential services in your PPC campaigns to better segment and target your audience. Essentially, creating multiple landing pages helps you maximize your lead conversions by targeting only qualified leads.
What is the difference between a HVAC landing pages and a website?
While both a HVAC landing page and a website are good for first impressions, they differ in certain respects. The key differences may be viewed in form of:
Goal
HVAC Landing pages are more action-oriented whereas websites focus on giving your audience a great user experience. A website looks at and promotes your brand in general by providing detailed brand information to boost engagement. On the other hand, landing pages for heating companies only have a single focus-promoting a single offer.
For example, you can create a HVAC landing page to encourage your audience to sign up to get a free demo for a new heater in the market. That single action is what maximizes your return on ad spend (ROAS) as more and more prospects sign up.
Qualified leads
Driving advertising traffic to your landing page results in more qualified leads than website traffic. The visitors on your landing page come there with a specific goal in mind and converting them is much easier. However, website visitors may be drawn from other unpaid sources as a result of your brand awareness efforts, organic searches, or social media content shares. Their goal may be just to learn more about your brand without a commitment to convert.
While your website generally stays the same throughout, a HVAC landing page may be customized to target different target customers and achieve maximum conversion.
Page navigation
Your main website should always be user-friendly for a better SEO experience. That requires it to be 100% navigable. For that reason, a website comes with a top navigation bar to allow your audience to visit many different pages on the site. A landing page on the other hand doesn't have that luxury. It should be kept as simple as possible and straight to the point to minimize deviation from the main goal.
When should you use a website?
A website becomes a good fit when:
Telling your brand story
Providing more details about your service
Creating additional functions such as scheduling a service or providing a quote calculator
Building relations with your audience
Implementing search engine optimization
When should you use HVAC landing pages?
Landing pages for appliance repair companies are applicable when:
Running a PPC campaign for a new product, discount, event, or new location
Capturing and nurturing leads through eBooks, free trials, guides, or webinars
Targeting audience attention
Testing ads for user-friendliness and general appeal
Targeting several market segments
Are HVAC landing pages bad for SEO?
Depending on the end goal you have in mind when creating a landing page, the outcome may favor your SEO efforts or not. Is your landing page optimized for conversion or ranking? Striking the right balance here is usually the elephant in the room.
There is never a guarantee that your conversion-oriented landing page will rank well on search engines neither is there a guarantee that your ranking-oriented landing page will achieve your conversion target. Because a conversion-focused landing page has a singular goal of persuasion, adding too many words that would otherwise help you rank better may detract your visitor from the ultimate conversion.
An SEO-optimized landing page focuses on the main goal of ranking rather than conversion. It relies on targeting the right search keywords to attract organic traffic to your marketing funnel. The page will therefore contain more content and inbound links a fact that is counterintuitive to the conversion goal.
As a best practice, therefore, you can combine the unique aspects of both forms of landing pages to avoid sacrificing conversion to rank higher and vice versa.
What is the benefit of a landing page?
Landing pages for HVAC companies are a powerful digital marketing strategy to boost your business revenue. The first impression they create could make or break your promotion efforts. However, their significance goes beyond making an impression.
When you adopt this marketing strategy, you can expect to reap these benefits.
Lead generation and conversion
Pairing some user-inspired promise with a form fill seems like a fair tradeoff. In exchange for contact information, you end up with more qualified leads not to mention higher conversion rates. Thanks to HVAC landing pages, you can easily tell your most promising sales leads from this simple exchange.
Value addition
Landing pages provide more value to your brand message. Because they are direct and to the point, it's easy for the site visitors to obtain the value from the brand at first sight. If they were in the process of comparing different HVAC companies, you might just get the job simply for clarity in your value proposition.
Dedicated service promotion
If you have introduced a new service in your HVAC or appliance repair company and want to get the word out faster and profitably, a HVAC landing page might be the best promotion tool to use. Creating a dedicated page for that particular service highlights its value in your business and your prospects. It gives you room to emphasize the benefits of the service and make it shine.
Building brand credibility
Weaving some social proof into your landing page largely propels your brand credibility. This shows that your business is capable of solving your prospects' pain points. Display a few customer testimonials or satisfied clients on the page to hammer the point about your expertise home.
Growing your contact list
If your landing page has a contact form that requires both phone numbers and email addresses, you have a great chance of growing your email list. This information will further boost your newsletter campaigns to nurture and retain the leads you have generated.
How do HVAC landing pages work?
The sole purpose of creating landing pages for air conditioning companies is to convert your visitors into sales leads. But how exactly does that process happen? It is simple, check out the steps involved.
A prospect notices your PPC campaign with interesting information and a compelling call to action
By clicking the call to action button, the prospect ends up on the landing page accompanying the ad
The landing page has a form that the user fills to convert from a visitor into a lead and in exchange, they gain access to your ad's offer or purchase prompt
The data collected in the form is stored up in your leads database
From there you can begin marketing to that particular lead based on what you have learned about them
Following up on your leads helps nurture them. A nurtured lead is highly likely to become a qualified lead and transition through the marketing funnel faster. On that basis, you can begin tracking the return on investment of your PPC ad efforts.
Maximize your HVAC landing page returns!
Working with a team that is well versed in both SEO services, content marketing, and conversion best practices to create your landing page is the fastest way to maximize your conversion. Before pumping any more money into those nonresponsive landing pages, give us a call. We'll help you match your business goals with the most effective PPC ads that will instantly turn your landing page into a conversion hub.