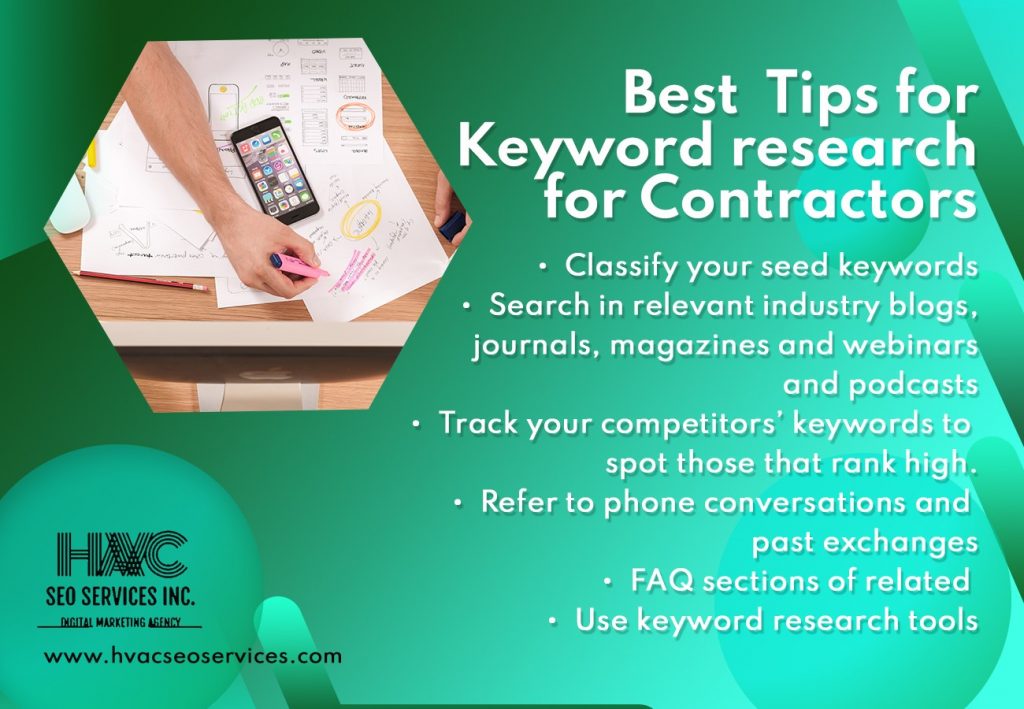 If you want your conversions to match your marketing budget, optimize your content for keywords for HVAC industry. As more people turn online to search for products, services, and answers, you want to position your brand where they can find and choose you.
That way, you will be sure to have contracts and incoming customers all year round. Here are some tips to help you choose suitable keywords.
Avoid Jargon
Most contractors use industry jargon that makes their content hard to understand. Your customers enter specific phrases related to the product, service, or brand they are searching for.
If your keywords are jargon-heavy, you will miss in their searches. Also, the jargon will deflect them from your site as they imagine the content is also overloaded with hard-to-understand words.
Research Your Keywords
Look for keywords with high conversion potential, but not necessarily those with a high search volume. A phrase like 'how to clean a furnace' may be popular with searchers looking for information, but it may not generate leads. Choose keywords that enhance your website's SEO for HVAC.
Also, avoid stuffing your page with keywords as this may hinder the flow of information and ruin the readers' experience. Strike a balance between readability and keyword placement. For your information, keyword stuffing is not acceptable on Google, and your site may be flagged down for doing so.
How to Research Your Keywords
Classify Your Seed Keywords
Your seed keywords are the basic words that define your services, products, or business type. As an HVAC technician, your foundational keywords may be heating, cooling, and air conditioning. Your other keywords will stem from these seed keywords.
Don't make the mistake of targeting your seed keywords. You will be extremely disappointed since they are short-tail keywords that post poor ranking results. Use them as the base for your long-tail keywords.
Keyword Research Tools
You can purchase online keyword research tools for your keywords research or look at the search engine search bar to see what people are searching most. Some companies have developed their keyword research tools.
Most of them are free, but you have to pay to use some. Your HVAC marketing services provider should advice you on the most effective and pocket-friendly keyword research tools.
Track Your Competitors Keywords
If your competitor is outranking you, find out the keywords they are using and borrow them. Even though plagiarism is unacceptable, it does not deter you from borrowing ideas on the appropriate keywords.
A digital HVAC marketing expert may help you identify these keywords; they know the keywords different companies use in their HVAC marketing strategies.
Phone Conversations and Past Exchanges
Listen to your customers and pick your callers' most common challenges. That should give you a hint of what you can write about in your blog post and the keywords to use to address the customers' concerns.
Scanning through your past exchanges can give you keyword ideas. These may be your old emails, customer support queries, and questions they asked during appointments or chats on your social media pages.
Question Your Sales Team
Your sales team is likely to hear different concerns from your first-time callers. The people meeting with your sales teams are mostly more informed and may therefore ask deeper questions. Pick some keywords and craft content to address their common issues.
FAQs
If you allow visitors to comment on your website, you can note their frequent questions. You can also get these questions on your social media pages. Pick keywords from those questions for your web and social media content.
Explore Your Niche by Focusing on Keywords for HVAC
As you may have noted, the methods discussed above limit you to what is within your circle. Still, admittedly, your niche stretches beyond what you and your direct competitors do. Take your search to industry journals, forums, and groups, and you may find new HVAC SEO keywords ideas relevant to your customers.
Some of the top keywords with high buyer intent include:
Air conditioner repair near me
Heating and cooling repair
Ac installation near me
Home ac repair
Fix air conditioner
HVAC repair
Air conditioner near me
Air conditioning services
Heating and cooling services
Furnace repair
Ductless cooling and heating
Ac services
The air conditioner not working
Heating repairs
Air conditioner technician
These keywords have obvious buyer intent and may generate high leads. However, you should also select some with a high search volume and a moderate conversion or buyer intent. If the content is excellent, the keywords may generate leads. They include:
Heating and air conditioning repair
Home AC units
Ac not cooling
Ac installation
The air conditioner not working