Who is a digital content manager?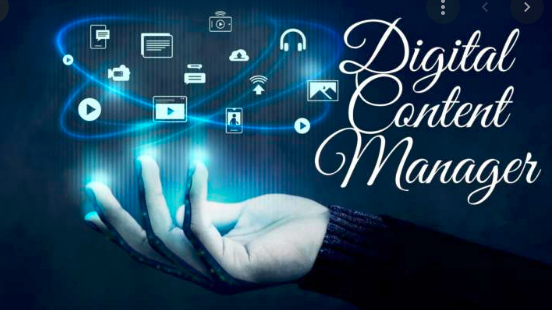 A digital content manager is a digital marketing expert responsible for steering the attainment of a company's goals and objectives through effective content management. Product marketing is gradually taking a different twist from the traditional direct product marketing to integrating advanced digital tools. With this advancement, the role of a digital content manager emerges.
As most brands are rushing to outsource managing digital content, we need to take some time and understand who these professionals are and what they do.
These professionals are tasked with creating high quality promotional content with the objective of driving traffic, generating leads, and, increasing brand awareness. They endeavor to establish your brand's online presence and give it a unique identity to set it apart from the crowd.
As the professionals in their field, they research and identify fundamental industry best practices and develop a digital content marketing strategy that aligns with these practices. They build and grow robust customer engagement, ensure a consistent branding message, as well as create unique and exciting customer experiences for their brand's prospects.
With your content marketing propelled by a professional who knows what they are doing all the time, you can confidently rule out the element of guesswork in your content creation. Professional content is top quality content and will always attract new prospects with every online upload.
Digital content managers understand the best composite for your digital marketing mix and will always strive to produce just the optimal content appeal that is ideal for most prospects.
Should I hire a content manager? Yes. Looking at all the endless benefits they bring to the table, it is indeed a noble investment to hire the services of a content manager to steer your digital marketing campaigns.
What is the role of a content manager?
Not sure how the day-to-day life of a content manager looks like? Well, here is a snapshot of their role: These duties are best done by an expert, which is why your business will develop with the assistance of one.
·         Coming up with a digital content strategy
Effective content production and management sprouts from a well thought out content strategy. The strategy serves as a launch pad for digital campaigns as it provides the content manager with the right content structure and outline.
In this strategy, the content manager will incorporate the company's goals, its needs, its key challenges, source of digital data, and the content calendar to be adopted for publishing.
·         Drafting and posting new digital content
This entails planning for new content creation, and coordinating the posting process. Here, the professional can work either alone or with a team.
They are fully responsible for planning written, graphical, picture, and video content before uploading it. Depending on their skill set and magnitude of work, they may do all these in one sitting, or outsource help from other team members.
·         Content optimization
A content manager is also a SEO expert. Before publishing content, they ensure it is fully optimized for search engines. That means, the content is made top ranking on popular search engines. Content that is not properly optimized with the right key words may never reach your target audience.
·         Tracking and controlling digital content
The expert monitors your content activity online and can edit, hide, or delete the content depending on the arising audience needs. A content manager also tracks and analyzes the effectiveness of your content in meeting your brand goals using web analytic tools.
·         Audience engagement
A content manager is responsible for creating highly interactive content that keeps your audience engaged consistently. They always look for the best mix of content to trigger more online engagement. The more the audience engagement, the higher the chances of conversion.
What tools do digital content managers need to do their jobs?
A professional may require a set of tools to manage content as outlined below.
·         Engagement tools
The most flexible and highly effective tool of such nature is social media. Social media platforms are a great way to track and measure performance of your content.
To understand what works best for you, constantly measuring the performance of your content is crucial. Performance is measured by evaluating the level of engagement sparked by your posts.
The ease of integrating social media platforms with other external sites makes it a central engagement management point.
·         Analytical tools
Without analytical tools, tracking your content statistics becomes impossible. A professional manager needs to stay on top of performance by constantly monitoring the progress of the digital platforms directly under his purview.
These tools cover both the website stats and the social sites stats. The most popular analytical tools are Google Analytics, Facebook insights, and Twitter Analytics. The more a digital content expert is able to track content metrics and variables, the more they can effectively optimize content for maximum engagement.
·         Design tools
Digital content management is never complete without incorporation of creative design elements. For digital content to be appealing enough to your prospects, integrating design tools in your content creation is not a question of if but when.
Your ads and blog posts must appeal visually to your readers for effective engagement.
·         Email marketing tools
Apart from tools that directly boost social media, blogs, and website functionality, a digital content expert need not lack email marketing tools to complete the package.
These tools include email marketing sites like Constant Contact that allow digital content managers automate their email campaigns as well as providing advanced ways of creating subscribers mailing lists. Using such tools an expert may also perform detailed analytics of the emails' performance.
Do I need a digital content manager for my business?
A professional manager is one of those indispensable assets your digital marketing team cannot function without.
Your branding message is your greatest selling point. But how do you get across to your prospects with a jaw-dropping branding message? By producing high quality content for your digital campaigns.
Now, as easy as that may sound, it is not a job for just anyone who can write! Quality content creation is much more than writing. It is communicating to the right prospects with the right message.
Actualizing your digital content strategy demands the input of a professional, unless you want to veer off your marketing goals or derail your business success by missing goal deadlines. A digital content expert being a dedicated professional knows how to prioritize your content more than anything else despite the day-to-day happenings of your business.
You or your team may have the right zeal for writing, but you may never match a professional manager in consistency, knowledge of industry best practices, understanding of industry analytical tools, digital content technical know how, and digital marketing integration landscape. So, yes. You do need a manager for your business. As soon as a decade ago!
If you are looking for a professional to implement your content marketing strategy on the internet, be sure to look for someone with broad content managerial skills.
 How can I hire a digital content manager for my business?
To keep up with heavy demand for high quality digital content, most companies are outsourcing the expertise of professionals. But how can you hire one?
Over and above understanding what a digital content manager does, supplement your in-depth research with the following tips:
·         Check out their social media presence
Having conducted your research and concluded your fact-finding mission, it is time to put practicability to the test. A great digital content manager always has a social media presence, or else they would not be digital!
Always begin your search here by checking out their professional connections, and their extent of content engagement. Additionally, check their content specialty, as well as the following they command online along with reviews they get on their content.
·         Check out their websites and blogs
Once you have shortlisted a few desired candidates, dive into their websites and blogs. This will give you an idea of what they specialize in, their consistency, and the level of quality of their digital content.
Also, understanding their expertise in blog and article writing in a given field is a great criterion for selecting the best of the best.
·         Analyze their clients' reviews
Any exceptional work does not go without praise. Check for authentic users and reviewers of your ideal expert and analyze their strongholds. What are they hyped for mostly? How do they do it differently from the rest?
Compare that analysis with the requirements of the niche you are looking to fill. That should produce the ideal candidate for the job.
·         Ask for direct referrals
Beyond reading the online reviews, request for direct referrals from other companies. We highly recommend companies that seem to be doing well on their digital campaigns. They do not have to be your competitors, but companies that have sustained a consistent branding message throughout their platforms.
·         Check freelancing sites
For most digital marketing freelancers, their portfolios can be found online under a singular platform. However, ensure you are consulting an authoritative site.
Once you are certain it is an authentic site, browse through the various profiles to identify the ideal ones. Get in touch with them and request samples of their previous high-rated publications. This way you can gauge the level of quality they put into their content. And their consistency in producing quality content.
How much should I pay my digital content manager?
In case you are wondering. How much should I expect to part with by hiring an expert? Here are some facts and figures for you.
According to Glassdoor, the average base pay of a digital content manager is $ 73,612 annually in the U.S.
However, depending on the experience and scope of work, this figure can rise as high as $127,000 annually. Consecutively, it can drop as low as $43,000 annually. Expect to pay at least $100, 000 for a decent digital content manager.
The beauty of hiring a professional is that it is all worth it in the end. If you think about it, it is actually a win-win for your brand. Not only do you end up with high quality brand message, but also great value for your investment. Give us a call today.