HVAC lead generation is your first step toward dominating not only your service area, but also the larger HVAC marketplace.
Your HVAC company excels in all matters heating, ventilation, and air conditioning. And that's absolutely amazing!
But do you also excel in business growth strategies such as lead generation?
This is where you need that extra hand to ensure you keep winning on both frontiers of your business-successful marketing and efficient service delivery.
To ensure you continually generate more HVAC service leads, book more service calls, and close more deals, you need a powerful HVAC lead attraction strategy. Such a strategy will entail several action plans like crafting funny taglines or catchy heating and air slogans that will draw faster attention to your brand and service offerings.
Beyond HVAC slogans and taglines there are still more ways to launch a successful lead generation strategy for your HVAC business.
Take a look.
What are the top 6 tips for successful HVAC lead generation? 
Want to rake in more qualified leads for your HVAC business? How about implementing these cool tips:
Harness the power of pay-per-click (PPC) advertising in HVAC lead generation
Want to drive your website's traffic faster? Try the PPC magic! Why is it magical?
Because PPC ads produce instant results as opposed to relying on organic website visits alone that may take a while to materialize.
PPC ads allow you to bid for certain keywords related to your HVAC business. When you run the ads campaign on popular search engines like Google, your customers can instantly find your business when they search for the keywords bid.
For example, if an online consumer searches 'HVAC repairs Brooklyn' on Google, businesses optimized for that specific keyword phrase will appear first on top of the others. That means, they will stand a high chance of being selected by this particular consumer without even browsing other options in the lengthy list.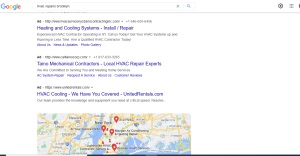 Therefore, PPC is a great way to get discovered easily and draw in relevant traffic to your website. You just need to master the trick of right keyword research, keyword selection, and how to place those keywords in well-organized ad campaigns.
You should also never forget to optimize your landing pages for maximum conversions whenever running PPC ads.
Optimize your website for SEO
A fully optimized website is a conversion-centered website. That means, to generate more HVAC leads having an SEO-friendly website is not at all negotiable. Such a website carries a greater potential of drawing solid inbound leads to your site.
The advantage of inbound leads is that they are naturally drawn to your site without any external compulsion. Therefore, they are more likely to convert once on the site.
So, what can you do to optimize your site for SEO? There are plenty of strategies to implement on the site including:
Creating content rich in HVAC-related keywords such as HVAC repair, maintenance, and installations
Publishing high quality, unique, and valuable content frequently
Incorporating both internal and external links
Improving page loading time
Simplifying the navigation process
Making it more mobile-friendly
Enhancing its security
Constant updates
Remember, the principal goal of SEO is to improve your site rankings. Therefore, the strategy chosen should align with the current SEO best practices.
Since full website optimization is a rigorous process, you might want to consider partnering with a professional HVAC SEO team for a full-range implementation of this powerful lead generation strategy.
Tap the influence of local SEO in HVAC lead generation
Through local SEO implementation, you can easily dominate local searches as well as drive more local leads.
But what does a local search look like?
A local search query is a query with local intent. For example, a location-specific query like 'Brooklyn furnace repair'.
The presence of the location phrase alone can make all the difference in your online visibility. How?
First of all, your business is ranked among the top three listings and displayed on the first page of search engine result pages (SERP). Secondly, your business information is displayed in detail including business hours, map location, and driving directions, making it easier for online consumers to get in touch with you instantaneously.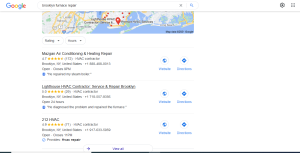 To fully optimize your site for these local SEO benefits, you can implement certain strategies including:
Claiming your Google My Business listing
Featuring in more local directories such as Yelp and Angie's List
Localizing your website content
Building more local links
Optimizing the site for voice search
Manage your online customer reviews
Targeting more local leads in your service area?
Well, you should know that most of them rely on other customers' experiences to make a conclusive buying decision. They treat such reviews as personal recommendations. That raises the question of customer reviews management.
You may rank higher on SERP but still make a poor first impression especially if your star rating reflects badly on your brand's reputation. This star rating is shaped by the kind of customer reviews you get.
These reviews are aggregated beyond just search engines. Reviews from other popular social sites like Facebook, Yelp, and TripAdvisor are also factored into the ranking algorithm and may significantly affect your brand personality.
Managing these reviews therefore entails requesting authentic testimonials from your customers and also asking them to post these reviews on industry-relevant sites such as Angie's List. The more your brand is painted in a positive through customer reviews the more HVAC lead generation you are likely to garner.
Master your target audience
Knowing your target audience will not only help you serve them better, but also reach them better. Understanding their typical behavior and purchasing patterns helps you create their personas more accurately.
With the right personas you can then segment your target audience appropriately and create audience-specific content to resonate with their unique needs.
For example, you can tailor newsletter marketing based on maintenance clients, repair clients, and replacement clients after segmenting your email subscribers' list. This will help you remain relevant in your email marketing based on the needs of each market segment.
You cannot therefore send a repair message to a client who just installed a new furnace a few weeks ago. Instead, a few furnace maintenance tips would do them a lot of good.
When deciding on these customer segments always check their age group, geographic location, and what matters to them most when buying.
Right branding with catchy heating and air slogans
Branding your heating and cooling business essentially gives your brand personality a voice. And one way to effectively brand the business is through a compelling slogan. Of course the slogan has to be merged with your business name and logo.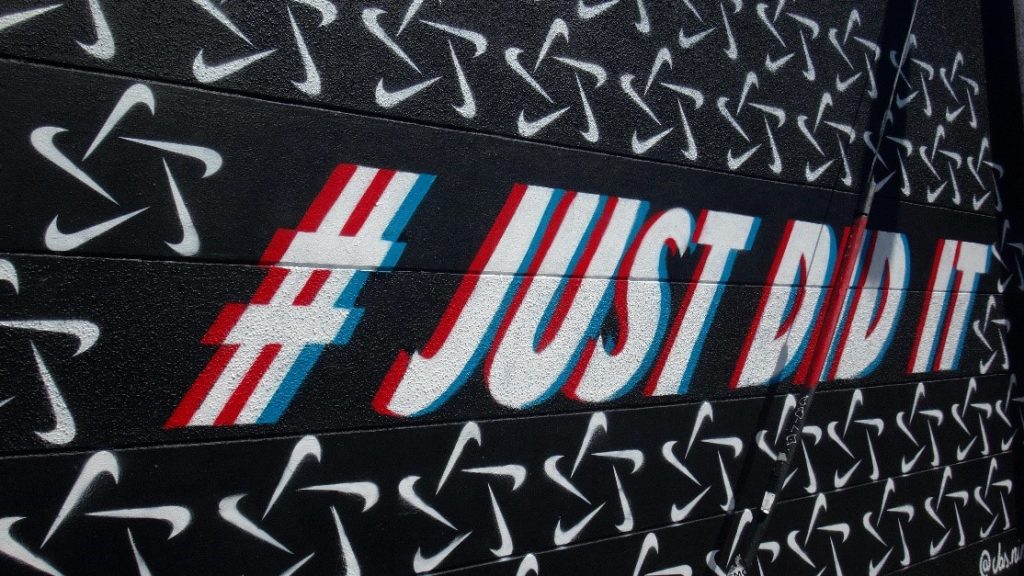 To shape your customers' perspective in a positive light, you need the right catchphrase to act as your slogan. You may choose from a broad selection of funny taglines such as 'Our service is a breath of fresh air' or any other industry-relevant phrases like 'Air or Heat, We can't be Beat'.
Either way, ensure the slogan clearly communicates what your brand stands for. That right there is what will make or break your HVAC lead generation efforts on-site and off-site.
Once you draw enough attention to your business through right branding, you can expect better brand recognition and positioning, better customer relations, as well as more demand for your heating and cooling services.
Let's begin the HVAC lead generation!
Now that you know the tricks to generate more qualified leads for your heating and cooling business, it's time to get to work.
By work we mean you continue focusing on delivering efficient and timely heating and cooling services, while our HVAC SEO experts focus on generating these leads for you!
Since you cannot go another day without thinking about HVAC lead generation for your business, call us to hear more!
We guarantee you enough lead conversions to keep your service phone ringing all day long!