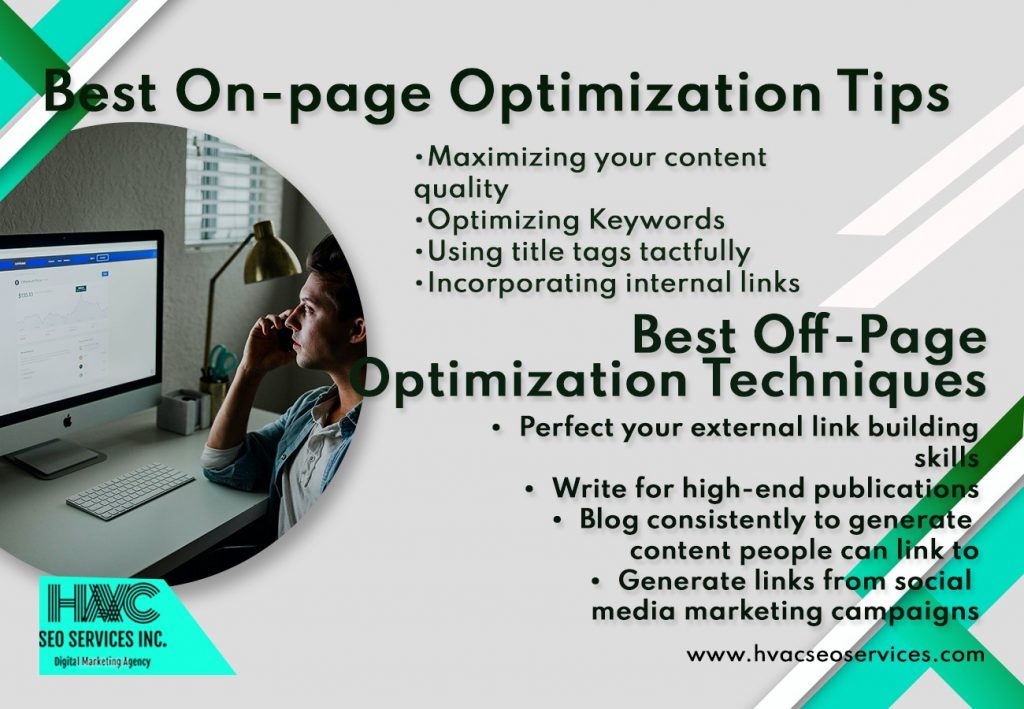 Are you wondering what is on-page and off-page optimization? Are you eager to address your on-page and off-page SEO? Let us help you out with that. We will start by explaining what on-page and off-page SEO is.
What Is On-Page Optimization?
On-page or on-site SEO constitutes all the tasks you undertake on specific website elements. Your on-page search engine optimization for a website will include all the measures you take directly on your website and web pages to improve its ranking.
On-page optimization is concerned with page performance, content quality, and content structure. These are HVAC website design elements that you can control.
What are the Major On-Page SEO Factors?
Content Quality
The quality of your content is the most significant factor in your HVAC SEO performance. If it sucks, all other elements like internal links, keywords, and descriptions will not be sufficient to keep visitors on the page and earn conversions.
Keywords
Keyword optimization remains one of the significant HVAC marketing strategies. Today, the focus is now on quality long-tail keywords and not keyword stuffing. In the past, keyword stuffing was accepted. However, it is now prohibited on search engines and websites using this technique are flagged.
Title Tag
This is the heading that appears on search engine results pages or your web page. An optimized title tag should not exceed 65 characters, meaning you have to select your words carefully.
Bear in mind that your title tag will draw your visitors' attention and indicate to them the relevance of your content. Make it eye-catching and clickable.
Internal Links
Internal links keep visitors on your site longer as they navigate different pages you have linked to, and making it easier for search engines to crawl your web pages. You should only link to pages with relevant and similar content. Links should fit in naturally with your content flow. Linking to your older articles increases their chances of ranking high on SERPs. You can keep old content relevant by adding some internal links.
What is Off-Page Optimization?
This refers to all the efforts you put away from your website to improve its ranking on search engine results pages. Off-page optimization sends a signal to Google that your HVAC website design is valuable. It includes mentions, citations, references, and backlinks that point to the value people attach to your site.
You may earn those links, mentions citations, and references organically if you are a high authority brand or promote your website and request industry opinion shapers for them.
Why Does Off-Page SEO Matter?
Off-page SEO matters a lot when it comes to page ranking. First, each algorithm depends on a set of factors that they give prominence. For example, the Google algorithm and other search engines consider the value of links your site has to rank your website. In short, it decides where to place it on SERPs, meaning you need to put more effort into getting quality links to your sites.
With most businesses striving to be on-point with their on-page SEO, off-page SEO becomes the tie-breaker. If your website's on-page SEO matches that of your competitors, you will outsmart them if your off-page SEO is better. This will rank your site higher, giving your brand better exposure on SERPs.
Best Off-Page Optimization Techniques
External Link Building
Generating natural backlinks is the most cost-effective off-page optimization technique. However, you only earn the links when you become an industry leader. To achieve this level, simply add valuable content on your site that others can direct visitors to.
External links can be from social media pages, online magazines, and journals. You can request for them or earn them naturally if your site is valuable to those linking to it.
Blogging
This is an easy way of establishing your authority in the HVAC industry if you select your topics carefully. To ensure you are posting relevant content, research your blogging keywords.
One way to get relevant keywords is to explore those used by high-ranking competitors' websites. Consider the questions that frequently feature on your social media chats, customer queries, or your old emails and use them as the basis of your content.
Blogging will help you to create linkable content. It is much easier to generate mentions and links by facilitating readers to comment and share your content.
Social Media Marketing
Social media marketing is among the cost-effective HVAC marketing strategies, and you may get better results if you outsource it to an expert. Doing so will free up your time and devote it to your heating and cooling projects.
Writing for Publications
You present yourself as an industry authority when you write for major publications across your industry. It is an excellent way of marketing your business and generating links. You can also submit your content to reputable sites like Reddit, Stumble Upon, and Tumblr to increase the number of websites where your brand is mentioned.
What is on-page and off-page optimization? This is the sum total of all the on-page and off-page efforts aimed at bringing you closer to the target audience.
On-page and off-page optimization efforts are part of SEO services. Before hiring an SEO company, it is always good to know which of these services they will be offering you. You can reach out to us for more information about all your website optimization efforts. We are particularly happy to serve home service companies, specifically HVAC contractors.