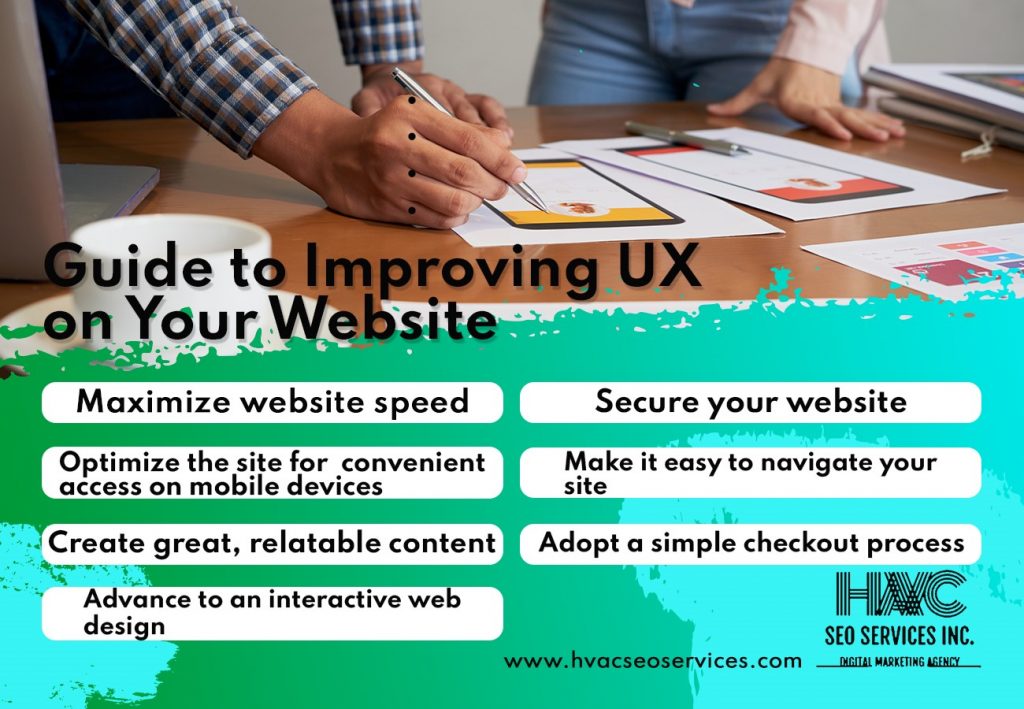 Are you struggling to fathom what user experience is? What it entails? Is it helpful to your website and business? How it impacts your leads generation and sales? Read this article till the end to learn what it is and its importance to your website.
What is Website UX?
User experience refers to the perceptions, feelings, and attitudes that people develop when interacting with your website and its content.
It constitutes the things that encourage a user to visit your website, scroll through several pages, understand what your website is about, and get what they are looking for.
What Influences User Experience?
The elements that influence your user experience also impact how your website ranks on search engine result pages. They include:
Value: The quality of the content, services, and products they find on your website should be worth the time they spend on your website. This will determine if they will engage further with your business, order your services, or return to your site. If the site and its content are of valuable them, they may recommend it to other users.
Usefulness: Your website should meet the users' requirements. The first requirement for most modern-day users is a fast loading time. And when they open the site, they expect to find organized content with clear pointers to where each kind of content is located on the website.
Usability: The website ought to be easy to use.
Findable: The website, web pages, and content should be easy to find. The website and web pages must be visible and navigable.
Accessible: The website should be accessed from any digital device. This means you have to optimize the site for mobile devices. Also, people with disabilities should access it with ease.
Credible: The users have to develop trust in your site, services, brand, and products. Besides increasing the security of your site, including external links raises your credibility. You can also display awards, certifications, and reviews as social proof of your brand credibility.
How Can You Improve Your Website User Experience?
Maximize Website Speed
People will abandon a website with a pathetic loading speed as they anticipate swift responses during their searches. Studies show that bn  a delay by even a second reduces users' satisfaction by 16%. Optimize your HVAC website design, images, videos, and infographics as your HVAC SEO raises your site loading time.
Optimize for Mobile
50.88% of internet traffic comes from mobile devices. Avail your website to multitasking users who conduct searches on the go. As you ensure your site pops up on mobile devices' search results, configure it so that the content display is consistent regardless of the device used.
Make It Easy to Navigate
Help your site visitors to find information fast. The easiest way to make your site navigable is to divide content into clearly marked categories and ensure it is clickable. For example, if you use drop-down menus, their titles should be clickable and accurate.
Personalize User Experience
You can establish a more significant relationship with your site visitors by providing suggestions based on their past searches. You can also save interrupted searches so that they pick up from where they left. Digital marketing is all about creating a flow that your readers can follow before deciding whether to place an order.
Create Great Content
Online shoppers rely on the information you provide to determine the value of your services products. Provide credible content and images to help choose what you are offering.
Advance to an Interactive Web Design
You may have started with a simple design, but to enhance your UX, upgrade to a more interactive web design.  An interactive site design allows you to automate customer experience, engage actively, and interact with the customers through comments and reviews.
Adopt a Simple Checkout Process
Once your site visitors decide to procure your services or products, make it easy to seal the deal. 27% of the customers will abandon a website if the checkout process is problematic.
Secure Your Website
Ensure your website is safe from malicious users wanting to access, delete, steal or distort data stored on your site. Find out from your digital HVAC marketing services agency how you can best secure your site.
Is UX Important?
User experience is significant for your business as it affects your conversion and sales rate. It is also helpful for users as they want a worthwhile experience during their searches.
Your website is significant for your digital HVAC marketing strategies and everything related to HVAC branding. You will succeed in any digital marketing strategy if you give your visitors a great UX. After all, they are the people you are targeting as potential or repeat clients. Entice them with a memorable UX.