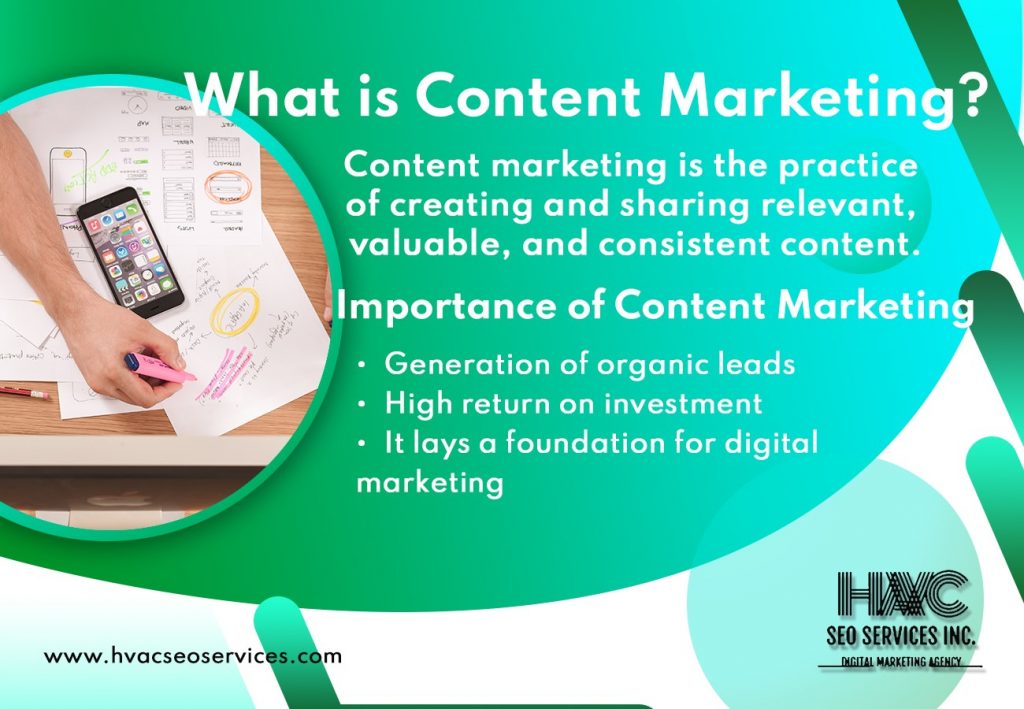 Do you know what is content marketing? Have you ever heard of it? If not, this information is meant for you. In this article, we will tell you everything you need to know about content marketing and how your business can benefit from it. We will help you discover how you can attract more clients, increase brand awareness, and boost your ROI using content marketing. Read on to find out more about content marketing.
What is Content Marketing?
Content marketing involves creating and sharing relevant, valuable, and consistent content to entice and acquire your desired category of audience. The primary objective of content marketing is to drive profitable customer actions using your HVAC SEO content.
Content marketing is a long-term marketing strategy that you can use to cement your relationships with your defined audiences. Your content has to be of high quality and aligned with your customers' needs.
Content should focus more on the client and not your brand to succeed in your content HVAC marketing strategies. Speak to your audience in a language they understand, touch their pain points, and use techniques that hook them to the content.
Great content and excellent storytelling techniques will determine how your content marketing campaign performs. No one will stop to listen to you unless you attract their attention tactfully.
The same applies to the story of your brand. You have to dress it well to capture a sizeable audience and use techniques that will make them choose to stick with you. One of these techniques is your SEO for HVAC which will help them locate you quickly on SERPs.
Of course, you know content marketing is not a downhill, one-off task, but now that you know its potential to spike your business growth, can you afford to bypass it? No way.
Considering the low cost associated with content marketing and the loyal traffic it can generate for you, consider it one of your must-have HVAC marketing strategies.
Types of Content Used For Content Marketing Strategies
Below are some types of content you can use when implementing your content marketing strategy.
Web Pages Content and Social Media Posts
Website content and social media posts are effective content types you can use to reach out to your audience. Your company's web pages should offer valuable resources accessible to users for free as the first step toward an effective content marketing campaign. The same case applies when using other platforms such as LinkedIn, Twitter, etc. Provide all the information the target audience ought to know.
High-quality content will draw more traffic to your website, and ultimately, the readers will choose your brand over your competitors.
But for them to do this, they have to find value in your content, and your HVAC web design has to offer them an unmatched user experience. Your content should educate, entertain, inspire, or inform your readers. Consider acquiring content SEO services to increase your website traffic.
Your social media posts can also form part of your content marketing strategy. These are posts you create to give your brand exposure, connect with current and potential customers, and share helpful information with your followers. Consider outsourcing social media marketing services to expand your reach and attract more qualified leads.
Videos
More companies are turning to videos to showcase their brands. These videos may be used on YouTube, Facebook, Instagram, or other platforms.
Videos are gaining popularity since professional video shooting equipment is now more affordable.
You can post educational content like "how-to" videos that provide value to your clients. You can also post customer testimonials to build your brand's reputation and increase the trust of your prospects.
But you do not want to compromise your brand image with unedited amateur videos. Outsource this function to an HVAC marketing services agency for high-quality video shoots.
Podcasts
Podcasts are a great way to share educative content with your audience. They help sustain the loyalty of your customers and drive more leads to your brand.
By giving your brand a voice, you help build the trust of your prospects and clients. This is because podcasts create a human touch that your prospects can identify with.
You can try to link your podcasts to other social media channels like Facebook, LinkedIn, or Instagram. Post your podcasts on popular podcast directories like Spotify to increase engagement.
Infographics
The use of infographics can be an effective marketing strategy since the human brain processes visual content faster than textual content. High-quality infographics provide your readers with the most crucial information that they are looking for. They also engage your audience which creates a positive website user experience.
You can set up your infographics on Pinterest to attract people to your website. Infographics are also acceptable on blogs and social media. They may include graphs or statistics charts. However, infographics are effective only if they are widely shared.
Books
Whether you are using e-books or hardcopy books, your aim should be to turn your readers into paying clients. To achieve this, the content should address the readers' needs and be memorable.
Your content should focus on providing useful information that solves your prospects' problems. If you want to demonstrate thought leadership, e-books could be your best bet. This is because if a reader gets value from your information, they are more likely to seek guidance from your books again.
Blog posts
Another effective content marketing strategy you can use is writing high-quality blog posts. These posts should address your readers to provide valuable information. Thin and duplicated content will only drive your readers away.
Ensure you post quality content that covers the selected topic in depth. Focus on relevant HVAC SEO topics to capture your readers' attention. Your content should be fresh and unique to avoid being penalized by search engines.
Conduct proper keyword and topic research. Discover what your readers are looking for. You can also focus on long-tail keyword phrases to capture intentional clients. You can use tools like Google's Keyword Planner or Google Search Console to get appropriate keywords for your blog posts.
After selecting your keywords, incorporate them naturally into your content. Content that is stuffed with keywords makes little or no sense to your readers which creates a negative user experience and results in low rankings.
Adopt an effective link-building strategy to increase the value of your content. Add quality internal and external links to your content. Internal linking helps search engines discover more of your content and rank you for it.
Linking your content externally to authoritative sites helps establish your website as authoritative and trustworthy. You can try to guest post on other authoritative websites to attract natural backlinks to increase your ranking.
Is Content Marketing Important for Your Business?
In this section, let us tell you why content marketing is significant for any business.
Increased brand awareness
Content marketing increases the visibility of your brand on social media platforms and search engines. More people are exposed to your brand which creates a lasting impression on your prospects' and clients' minds.
With a reliable content marketing strategy, you can showcase how you stand out from your competitors. You can show your readers how your products and services are unique and what problems they can help solve as opposed to those of your competitors.
You can alternatively use your core values and unique selling proposition as a content marketing strategy to increase brand awareness. Customers are more likely to identify with your brand when they relate to your values and beliefs.  
Generation of Organic Leads
Content marketing takes advantage of people's buying habits from knowledge, through interest, to decision-making to buy. Once a buyer is aware of a need, they research the available options. Modern customers will first turn to the internet to search for a solution to their needs. Your content will dictate if they find you first or your competitor. 
You can use it to highlight a need in your audience. Have you ever inspected a heating and cooling system and identified a problem that the owner had noticed but did not know its potential danger? Your content can point out such faults, prompting clients to call you to rectify them.
Besides, it can provide information on a new way of solving challenges. This way, you generate organic leads with the potential of remaining as your loyal customers.
Customer conversion and retention
Content marketing helps you increase conversion rates and retain your customers. A customer testimonial video is likely to convince a prospect to try out your products or services. E-books help establish your business as a thought leader which most customers are likely to identify with.
When a customer trusts your brand, they are more likely to be loyal. Consistent interaction via social platforms like Facebook or Instagram helps you build long-lasting relationships with your clients which promotes customer retention. About 82% of organizations state that customer retention is less costly than customer acquisition.
Regular and fresh content that resonates with your customers is likely to promote their loyalty to your brand. For instance, you can post a blog post centered around your clients' concerns in a particular field. Several customers might have asked you about the problems they are likely to encounter with their AC units. You can write a topic like "Common HVAC problems you are likely to encounter" and provide solutions.
High Return on Investment
If you have a good content marketing strategy, you will generate traffic at no cost. This will benefit your business as the strategy will give you a high ROI. The more traffic you attract, the more conversions you are likely to get leading to more sales and ultimately a high ROI. Always check the numbers that matter when looking at each case study especially when you decide to hire a marketing agency.
Digital Marketing Support
Content marketing is significant in supporting your digital marketing plan. It contributes to your HVAC SEO efforts and provides internal links that help your website rank high on SERPs. Content marketing also helps you acquire backlinks from other authoritative websites and build your brand credibility.
Through content marketing, you also improve your local SEO and attract more traffic, generate more leads, and increase conversions in your locality. Content marketing helps you network with other contractors and grow your brand in the long run.
Knowing what is content marketing is one thing, doing it successfully is quite another. In most cases, you will need more than one professional to help. It can be a copywriter, graphic designer, content manager, or a full HVAC digital marketing company, such as HVAC SEO Services Inc. Either way, you will need help. Lucky for you, we are always ready to help with all your marketing efforts. Talk to us!
FAQs
How do I do content marketing?
Content marketing is a gradual process that requires careful planning and implementation. Below are the steps you should follow when executing a content marketing campaign.
Identify your goals
Record your content marketing metrics
Research and understand the needs of your audience
Select relevant content types
Create your content
Distribute your content
Measure your results and make improvements
What are the different types of content?
There are several types of content you can use depending on your goals and the needs of your target audience. Your potential customers might prefer some forms of content over others. Below are the various types of content you can use.
Blog posts
Infographics
Videos
Ebooks
Podcasts
Whitepapers
Social media posts
Case studies
What are the best tips for content marketing?
Content marketing is not just about creating any kind of content and distributing it on your website and social platforms. Rather, content marketing requires careful consideration and planning. Below are helpful tips that can help you execute an effective content marketing strategy.
Focus on your customers' pain points
User long-form content
Incorporate visuals in your content
Repurpose your content
Solve your customers' problems
Utilize analytics to track the performance of your content
Update your content regularly
Be original