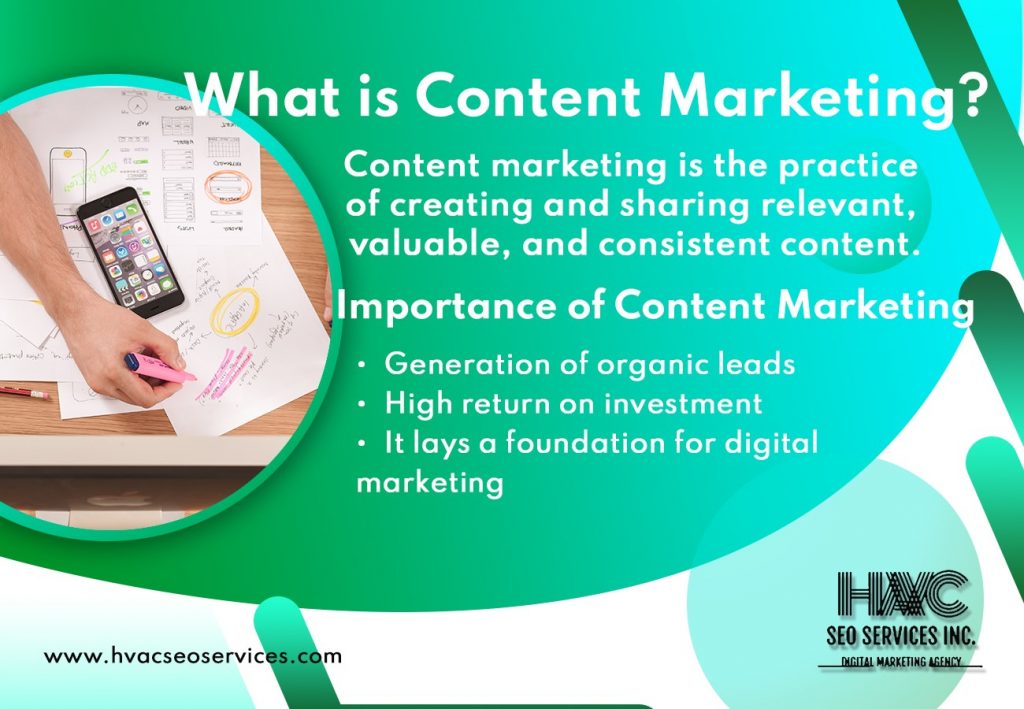 Do you know what is content marketing? Have you ever heard of it?  Well, in this article, we will tell you everything you need to know about content marketing.
What is Content Marketing?
Content marketing is the practice of creating and sharing relevant, valuable, and consistent content to entice and acquire a desired category of audience. The primary objective of content marketing should be to drive profitable customer actions using your HVAC SEO content.
Content marketing is a long-term marketing technique that businesses use to cement their relationships with their defined audiences. The content has to be high quality and aligned to the customer needs.
Your content should focus more on the client and not your brand to succeed in your content HVAC marketing strategies. Your content should speak to the audience in the language they understand, touch their pain point, and use techniques that hook them to the content.
Great content and excellent storytelling technique will determine how your content marketing performs. No one will stop to listen to you unless you attract their attention tactfully.
The same applies to the story of your brand. You have to dress it well to capture a sizeable audience and use techniques that will make them choose to stick with you. One of these techniques is your SEO for HVAC that will help them locate you quickly on SERPs.
Of course, you know content marketing is not a downhill, one-off task, but now that you know its potential to spike your business growth, can you afford to bypass it? No way.
Considering the low cost associated with content marketing and the loyal traffic it can generate for you, consider it one of your must-have HVAC marketing strategies.
Types of Content Marketing Strategies
Web Pages Content and Social Media Posts
A company's web page should offer valuable resources accessible to users for free as the first step towards effective content marketing campaign. The same case happens when you are using other platforms such as LinkedIn, Twitter, etc. Provide all the information the target audience ought to know. The high-quality content will draw more traffic to your website, and ultimately, the readers will choose your brand over your competitors.
But for them to do this, they have to find value in your content, and your HVAC web design has to offer them an unmatched user experience. The content should either educate, entertain, inspire, or inform them.
Your social media posts can also form part of your content marketing. These are the posts you create to give your brand exposure, connect with current and potential customers, and share helpful information with your followers.
Videos
More companies are turning to videos to showcase their brands. The videos may be used on YouTube, Facebook, Instagram, or other platforms.
They are gaining popularity since professional video shooting equipment are now more affordable.
But you do not want to compromise your brand image with unedited amateur videos. Outsource this function to a HAVC marketing services agency for high-quality video shoots.
Podcasts
Podcasts are a great way to share educative content with your audience. This helps sustain the loyalty of your customers and drive more leads to your brand.
Infographics
You can set up your infographics on Pinterest to attract people to your website. Infographics are also acceptable on blogs and social media. They may include graphs or statistics charts. However, infographics are effective only if they are widely shared.
Books
Whether you are using e-books or hardcopy books, your aim should be to turn the readers into paying clients. To achieve this, the content should address the readers' needs and be memorable.
Is Content Marketing Important for Your Business?
In this section, let us tell you why content marketing is significant for any business.
Generation of Organic Leads
Content marketing takes advantage of people's buying habits from knowledge, through interest, to decision making to buy. Once a buyer is aware of a need, they research the available options. Modern customers will first turn to the internet to search for a solution to their needs. Your content will dictate if they find you first or your competitor. 
You can use it to highlight a need in your audience. Have you ever inspected a heating and cooling system and identified a problem that the owner had noticed but did not know its potential danger. Your content can point out such faults, prompting clients to call you to rectify them.
Besides, it can provide information on a new way of solving challenges. That way, you generate organic leads with the potential of remaining as your loyal customers.
High Return on Investment
If you have a good content marketing strategy, you will generate traffic at no cost. This will benefit your business as the strategy will give you a high ROI. Always check the numbers that matter when looking at each case study especially when you decide to hire a marketing agency. A typical case study can look like this, but indeed the numbers need to be substantiated further.
Digital Marketing Support
Content marketing is significant in supporting your digital marketing plan. It contributes to your HVAC SEO efforts and provides internal links that help your website rank high on SERPs.
Knowing what is content marketing is one thing, doing it successfully is quite another. In most cases, you will need more than one professional to help. It can be a copywriter, graphic designer, content manager, or a full HVAC digital marketing company, such as HVAC SEO Services Inc. Either way, you will need help. Lucky for you, we are always ready to help with all your marketing efforts. Talk to us!