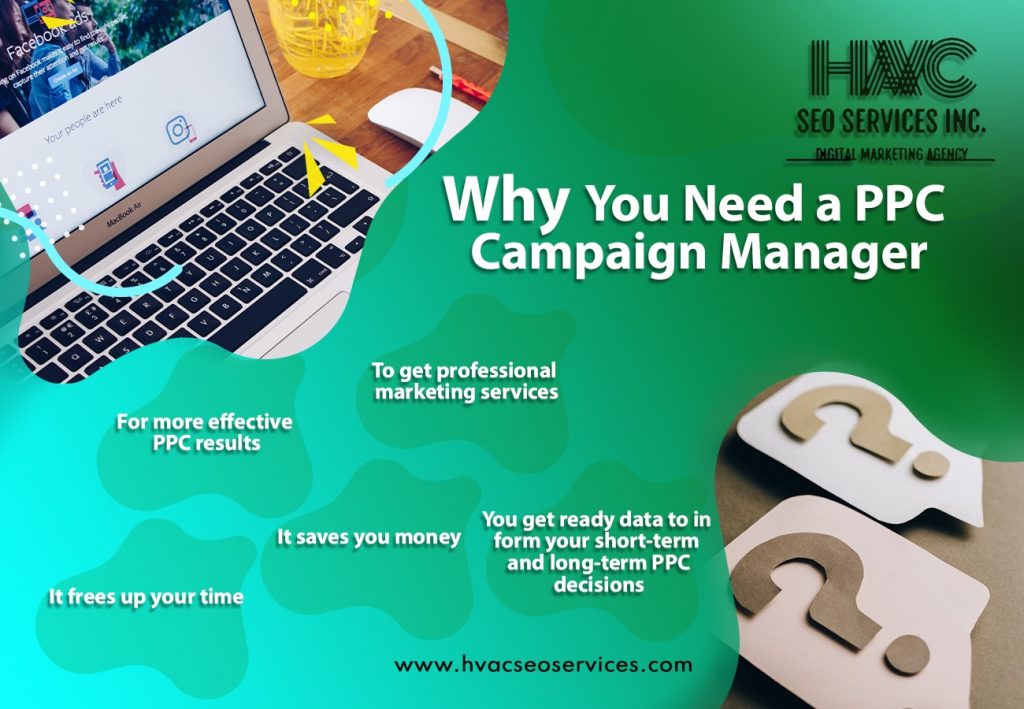 Our answer to your question of whether you need a PPC campaign manager is yes, you do. Having a great business website is inevitable, but it takes more than your website to drive leads and conversions in today's competitive business environment.
In marketing, you cannot adopt a wait-and-see approach where you wait for other businesses to implement a strategy and wait to see if it works or not.
The strategy that works wonders today may soon be obsolete. Take advantage of what works before it is taken by events in this highly dynamic digital marketing era.
Who is a PPC Campaign Manager?
A PPC campaign manager is a person skilled, experienced and conversant with paid adverting methods, including channel choice, budget setting, ad creatives, launching, measuring, tracking, and improving paid ads.
Since your PPC ads will generate a lot of traffic, are you sure your site has the right HVAC web design to accommodate huge traction and still give a good user experience to your visitors? You may need to combine it with good content marketing to provide value.
Why not let a PPC campaign manager look at it so that you do not invest in Your PPC, only for the traffic to be disappointed by your site design?
Here is how your business will benefit from contracting a PPC campaign manager:
You Get a Professional Touch
A PPC manager is a professional who knows his way around PPC campaigns.  Unlike a business owner attempting PPC campaigns for the first time, PPC campaign managers are experienced.
The manager will help you be more specific in your targeting. He or she knows the most effective combination of PPC HVAC marketing strategies for better results. A manager will guide you to understand your audience. This knowledge will help you can choose keywords, posting times, and configurations for various devices that customers use to search.
It Yields Results Faster
Your PPC campaign manager will not waste time testing what may or may not work. They have the experience and skills to design a PPC campaign to yield instantaneous results. This is helpful as you will present high-quality ads.
If your PPC ads have a low-quality score, they will not rank on the top of search engine result pages. This will work against you since your click rate will be low, meaning your campaign will not generate the traffic you desire.
Work with a PPC campaign manager so that your ads can rank high when you launch the campaign.
It Frees Up Your Time
As a business owner, you probably have a lot of things demanding your attention and time. You may not want to overlook your core business purpose as you devote your time to your PPC campaign management.
Remember you are launching a PPC campaign to get more clients to offer your services to. Your revenue comes from the clients' HVAC projects that you complete.
Focus on that and outsource HVAC marketing services to experts in the field. It will be a blow to you if you focus on PPC campaign management and neglect the core business.
It Saves You Money
An expert PPC campaign manager knows where to invest for a good ROI from your PPC campaign. This is unlike an inexperienced business owner who may use trial and error and waste money on tactics that bring no results.
You also save money since you will only invest in bids with the highest potential of driving traffic. Your PPC manager will guide you on the best time to place your bids, which devices to target, and the keywords to invest in.
To increase your chances of succeeding, select keywords with HVAC SEO for a better ad quality score and ranking.
Hiring a PPC manager also allows you to focus on your other operations. You may have to employ additional staff to carry out those operations as you concentrate on the PPC campaign management. This means spending money on a worker to do what you are an expert in. 
You may lose on both ends as the worker may not do the job how you like it. And you may not manage the PPC campaign as well as a professional PPC manager.
It Provides Ready Data
Even before the launch of the PPC campaign, your PPC manager will assess your site and ensure it has proper SEO for HVAC in readiness for increased traffic that your PPC will drive.
He will also collect data and prepare reports to help you make marketing decisions. Some of the data you need is your ads quality score, budget, sales accruing from the PPC campaign, and the number of followers the campaign is earning.
Without a PPC campaign manager, you may not have the time and expertise to get this data, forcing you to base your marketing decisions on assumptions. That may be a recipe for failure for your HVAC business since business decisions should always be based on statistics.