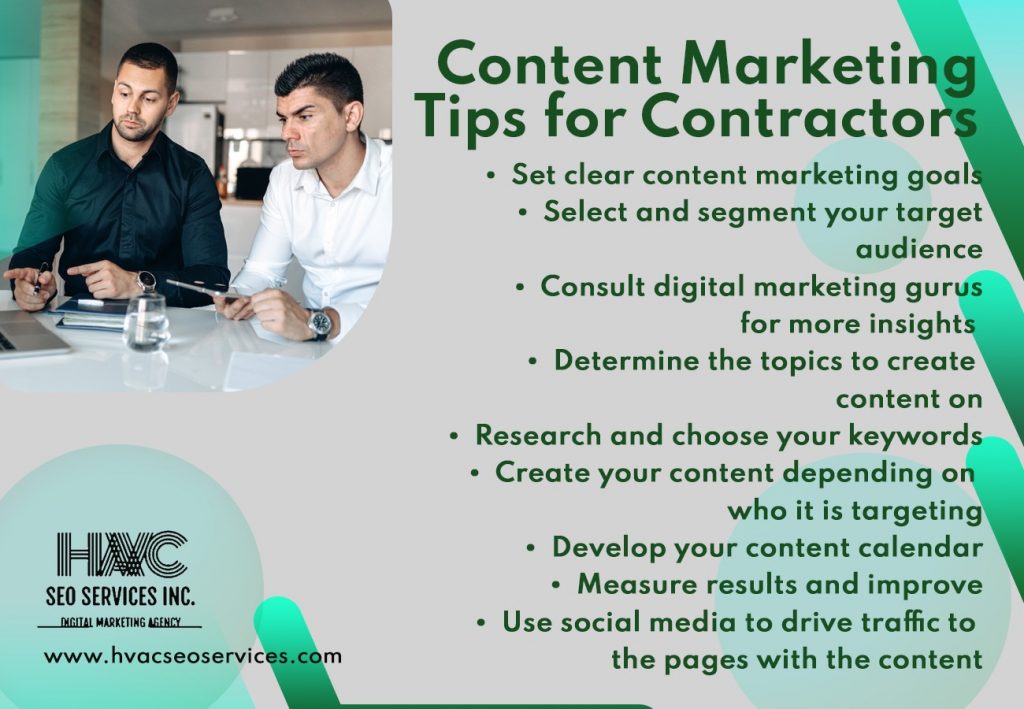 Even though many people are posing as contractors, customers have a hard time identifying a professional contractor. You can use content marketing and make it easier for customers to identify your brand by showcasing your quality HVAC services. If you are just starting out, these content marketing tips can help you get started.
That way, you create a win-win situation. You earn loyal customers and a steady flow of revenue, and they identify their go-to contractor for their HVAC projects. Follow the following content marketing tips, and you will succeed in your content marketing efforts and campaigns as a heating and cooling contractor.
Set Your Goals
Before you begin creating your content, note down what you want to achieve with the content. The ultimate aim should be to convert users to paying clients, but you have to strategize how to win them. Find out what they are struggling with and create relevant, valuable content.
Select Your Target Audience
As a contractor, you probably work with property owners and managers. Maybe you operate in a particular location. Think about the content they would appreciate, where you can find them, and the style they would most appreciate.
With this information, you will design content they resonate with. Remember that your content should be customer-centered without over-emphasizing your achievements, qualifications, experience, and what you stand for. You will do better if you know your audience's pain points and address them.
Determine Your Topics
Content marketing gives you the flexibility to choose any topic. Whatever content marketing tips you decide to use, topics will be inevitable and you will need ideas. Vary your topics from those that educate homeowners and property managers on common issues in your locality. For example, you can educate them on selecting a contractor or demonstrating how they can do simple HVAC inspections.
Research and Select Your Keywords
Suppose you want your content to feature on search engine results pages. In that case, you have to use the exact phrases your target audience is likely to use in their searches. These are long-tail keywords, and they post better results than short-tail, two or three-worded keywords.
A single keyword may not drive your desired results. Have more keywords with the potential to attract less traffic and gain from the collective traffic they will drive. This is better than relying on one keyword with the potential to drive high traffic as it may not reach the number that several lower-traffic keywords can drive.
Create Your Content
You cannot compromise on the quality of your content. Pack it with valuable, educative information. Besides, create a schedule for the content since your customers will expect fresh content now and then. This requires time and dedication.
As a contractor, your schedule may not accommodate the added responsibility that comes with content creation. Outsource this to an HVAC marketing services agency that will select relevant topics, create and distribute content for your audiences.
Vary your content to include videos, images, infographics, and written content.
Measure and Improve
You may not master content marketing on your first attempt. Monitor the performance of the content and adjust based on your analytics. Tools like Google Analytics help track and measure your content marketing campaign.
But in our opinion, this is better left to digital HVAC marketing services experts who are knowledgeable in such matters. The experts are good at their jobs and know the metrics to measure, how to measure them and can determine which metrics are effective.
While at it, they will show you how to curate your content for HVAC SEO and inspect your HVAC web design to align it to your content marketing needs.
Get into the habit of hiring digital HVAC marketing agencies since they are a one-stop shop for all the content marketing specialists you may need to run a successful content marketing campaign.
This way, you will only be dealing with the team leader instead of when you have to contact several independent specialists.
We know your peace of mind matters to you, and what better way of guarding it than passing on the responsibility of supervising your digital marketing contractor to someone else.
Make a Name for Your Brand on Social Media
With over 4 billion active users, social media has evolved into a powerful platform for brand exposure. Your clients will also look up your social media pages to determine your credibility. Use social media to announce new content, for your PR, and to stay in touch with your customers.
You can also use social media to display the human side of your brand by sharing your videos, photos, and relevant personal stories with your follower.
Social media marketing should form part of your public relations management techniques. Depending on the publicity your brand is receiving, respond to comments and posts thoughtfully to prevent it from escalating to an ugly PR crisis.
For all your content marketing efforts, talk to out team at HVAC SEO Services Inc. We take content marketing as the general fabric of modern-day marketing campaign.