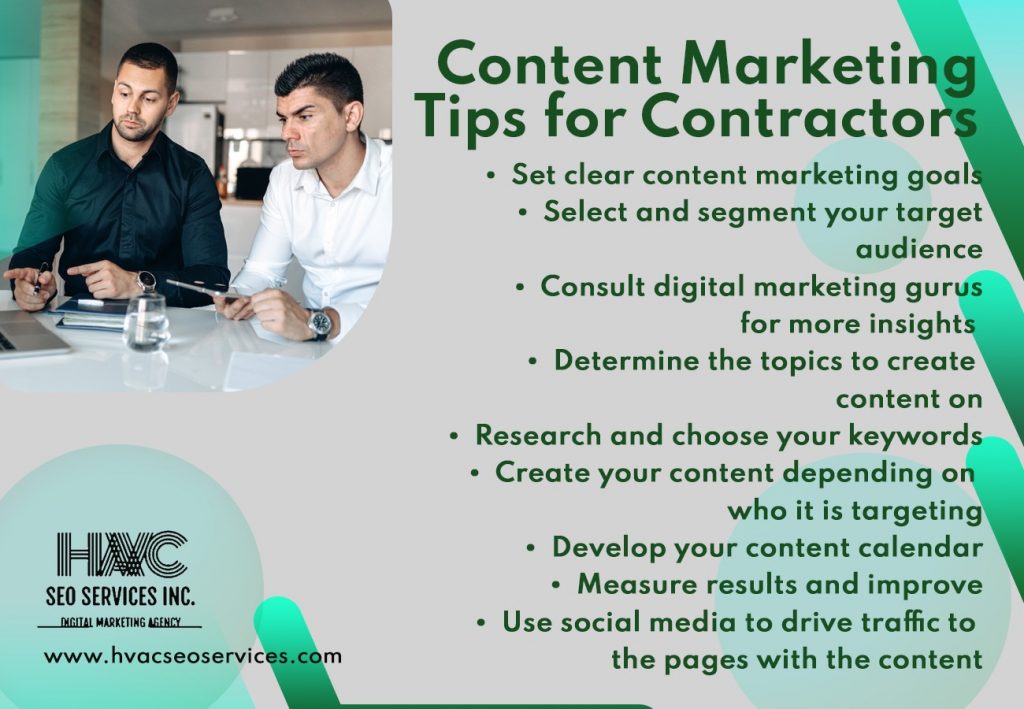 Even though many people are posing as contractors, customers have a hard time identifying a professional contractor. You can use content marketing and make it easier for customers to identify your brand by showcasing your quality HVAC services. If you are just starting out, these content marketing tips can help you get started.
That way, you create a win-win situation. You earn loyal customers and a steady flow of revenue, and they identify their go-to contractor for their HVAC projects. Follow the following content marketing tips, and you will succeed in your content marketing efforts and campaigns as a heating and cooling contractor.
Set Your Goals
Before you begin creating your content, note down what you want to achieve with the content. The ultimate aim should be to convert users to paying clients, but you have to strategize how to win them. Find out what they are struggling with and create relevant, valuable content.
Select Your Target Audience
As a contractor, you probably work with property owners and managers. Maybe you operate in a particular location. Think about the content they would appreciate, where you can find them, and the style they would most appreciate.
With this information, you will design content they resonate with. Remember that your content should be customer-centered without over-emphasizing your achievements, qualifications, experience, and what you stand for.  You will do better if you know your audience's pain points and address them.
Profile your target audience and create buyer personas to better understand their needs and buying habits. You can classify them according to the following demographics.
Age
Find out the standard age of your target audience to help you figure out what content marketing strategies you can use to reach them. For instance, you are likely to find older individuals on platforms like Facebook. Alternatively, you can find younger people on Instagram, Snapchat, and TikTok among others.
Gender
Discover the gender that is most dominant in your target audience. Women are more likely to be influenced by emotional factors when making purchases. On the other hand, men are more practical and will most likely purchase an HVAC unit that has more functional benefits other than consider its beauty.
Location
Where is your target audience located? They could be located in remote areas or large metropolitan areas. If they are located in metropolitan areas, you might want to amp up your marketing strategies to wipe out several competitors. If your target audience is located in remote areas, chances are that there is reduced competition. Remote areas could however mean limited customers.
Income
Find out the average income that your target audience receives. For instance, if a property owner receives a high income, chances are they will require high-quality HVAC products and services regardless of the cost. A homeowner with an average income will most likely consider the quality and cost aspects. If your target audience mostly receives low income, they will probably need inexpensive HVAC services.
Educational level
Highly educated individuals will most likely take their time to conduct proper research before buying your products or services. In this case, your content marketing strategy should be effective enough to convince them to acquire your products or services.
Individuals with lower levels of education will most likely require little convincing to purchase a product or service. You should however not disregard their needs. Try to guide them to acquire a product or service that suits their needs.
Other factors you should consider include your audience's:
Interests
Beliefs
Values
Hobbies
Personality
Lifestyle
Study your competitors
Identify your competitors and find out what marketing strategies they are using. Discover the audience they are targeting. You might find an opportunity to target an audience that they could have left out. Analyze your competitors' strengths and weaknesses and use them to reinforce better strategies to place you ahead.
For instance, you could discover that your competitor's products and services are overpriced. You can use this as an opportunity to provide your prospects with affordable services that would still provide an increased ROI. If their branding is poor, you can focus on branding your products and services in a manner that attracts potential customers.
Analyze the threats that your competitors pose to your business and devise marketing strategies that can counter those threats. For instance, if they notice your prices are low, they might also lower theirs. If so, would you still have strategies that make your brand stand out from your competitors'? 
Determine Your Topics
Content marketing gives you the flexibility to choose any topic. Whatever content marketing tips you decide to use, topics will be inevitable and you will need ideas.
Vary your topics from those that educate homeowners and property managers on common issues in your locality. For example, you can educate them on selecting a contractor or demonstrating how they can do simple HVAC inspections.
Select topics that help you connect with your target audience. The example stated above shows that you identify with your target's needs and pain points. Posting a video demonstrating how to perform inspections serves both property managers and homeowners.
By providing reliable solutions to their problems, your prospects will most likely return for more information.
Research and Select Your Keywords
Suppose you want your content to feature on search engine results pages. In that case, you have to use the exact phrases your target audience is likely to use in their searches. These are long-tail keywords, and they post better results than short-tail, two or three-worded keywords.
A single keyword may not drive your desired results. Have more keywords with the potential to attract less traffic and gain from the collective traffic they will drive. This is better than relying on one keyword with the potential to drive high traffic as it may not reach the number that several lower-traffic keywords can drive.
You can use Google's Keyword Planner to help you choose the relevant keywords to incorporate into your content. Try to find out which keywords your competitors are using. You can use them to get ideas on how to make your keywords better.
Know more about common keywords for HVAC contractors on the "People also ask" section on Google. This section provides insight into what consumers are looking for. You can focus your topics and keywords on those questions.
Create Your Content
Another content marketing tip you should consider is creating valuable content. You cannot compromise on the quality of your content. Pack it with valuable, educative information. Besides, create a schedule for the content since your customers will expect fresh content now and then. This requires time and dedication.
As a contractor, your schedule may not accommodate the added responsibility that comes with content creation. Outsource this to an HVAC marketing services agency that will select relevant topics, create and distribute content for your audiences.
Below are some types of content you can include in your content marketing strategy.
Videos
Most clients prefer to watch a video before making a purchase. By 2021, there was about 90% of online video usage reach. Creating high-quality informational videos could be the key to generating leads and active customers. You can post your videos on your website and social media channels like YouTube, TikTok, or Snapchat.
Try to create interesting and engaging content to keep your website visitors longer on your site and also increase shares on social networks. You can post demo videos to focus on your customer's challenges. For instance, a video on "how to properly clean an AC unit".
You can also create informational videos to capture your visitors' attention. For example, you can inform them why they need highly energy-efficient AC units in areas with extreme weather conditions.
Blogs
High-quality HVAC blog posts will attract viable leads to your website and increase your ranking. After formulating relevant topics and keywords, you can now use them to create valuable and engaging blog posts that focus on user intent. Let us guide you on some tips for your HVAC blog.
Cover the topics exhaustively to minimize the chances of creating thin content. Try to create content within the scope of the topics that you choose. You can also incorporate images to capture the attention of your reader and break the monotony of textual content.
Try to write short and clear sentences and paragraphs that provide value to your readers. Runny sentences and bulky paragraphs can confuse the readers. Try to include bullet points to enhance readability.
You can also try to make use of the white space to declutter your content and create a positive user experience. When your page is overcrowded with content, your reader will be less likely to get the information they intended to get from your blog regardless of its high quality.
An HVAC marketing services agency like HVAC SEO services Inc can undertake your blog content campaign and save you the trouble of outsourcing writers.
Infographics
A reader's attention is most likely to be drawn to an infographic before text content. You can use informational and engaging infographics to draw website visitors. Furthermore, high-quality infographics attract natural backlinks from other websites. This helps you exert authority and attract even more website visitors.
Try to include the most relevant information on your infographics that summarizes the content of your blog posts. You can also add factual research in the form of graphs or charts. You can also link your social networks to your infographics to reach a wider audience.
Podcasts
Some homeowners or property managers might not have enough time to read your blog posts or concentrate on your videos. In this case, you could create high-quality HVAC podcasts to reach them. For instance, a prospect might listen to your podcast while they are on their routine morning jog.
Try to discuss educational, engaging, and interesting topics that your target resonates with. You can even repurpose your podcasts into blog posts which would save time and let you focus on other content marketing tips.
You can also invite industry influencers as guests to your podcasts and exchange ideas while also increasing your influence in your niche.
Podcasts help you establish meaningful connections with your target audience. When listeners consistently listen to your podcasts, they feel like they actually know you which is a step further to earning their trust.
 For instance, you might have a regular morning radio segment that you listen to while driving to work. In case they change the broadcaster, you will notice because you already identify with a certain voice.
Measure and Improve
You may not master content marketing on your first attempt. Monitor the performance of the content and adjust based on your analytics. Tools like Google Analytics help track and measure your content marketing campaign.
But in our opinion, this is better left to digital HVAC marketing services experts who are knowledgeable in such matters. The experts are good at their jobs and know the metrics to measure, how to measure them, and can determine which metrics are effective.
While at it, they will show you how to curate your content for HVAC SEO and inspect your HVAC web design to align it to your content marketing needs.
Get into the habit of hiring digital HVAC marketing agencies since they are a one-stop-shop for all the content marketing specialists you may need to run a successful content marketing campaign.
This way, you will only be dealing with the team leader instead of contacting several independent specialists.
We know your peace of mind matters to you, and what better way of guarding it than passing on the responsibility of supervising your digital marketing contractor to someone else. Discover more about HVAC webmasters.
Make a Name for Your Brand on Social Media
With over 4 billion active users, social media has evolved into a powerful platform for brand exposure. Your clients will also look up your social media pages to determine your credibility. Use social media to announce new content, for your PR, and to stay in touch with your customers.
You can also use social media to display the human side of your brand by sharing your videos, photos, and relevant personal stories with your followers.
Social media marketing should form part of your public relations management techniques. Depending on the publicity your brand is receiving, respond to comments and posts thoughtfully to prevent it from escalating to an ugly PR crisis.
For all your content marketing efforts, talk to our team at HVAC SEO Services Inc. We take content marketing as the general fabric of modern-day marketing campaigns.