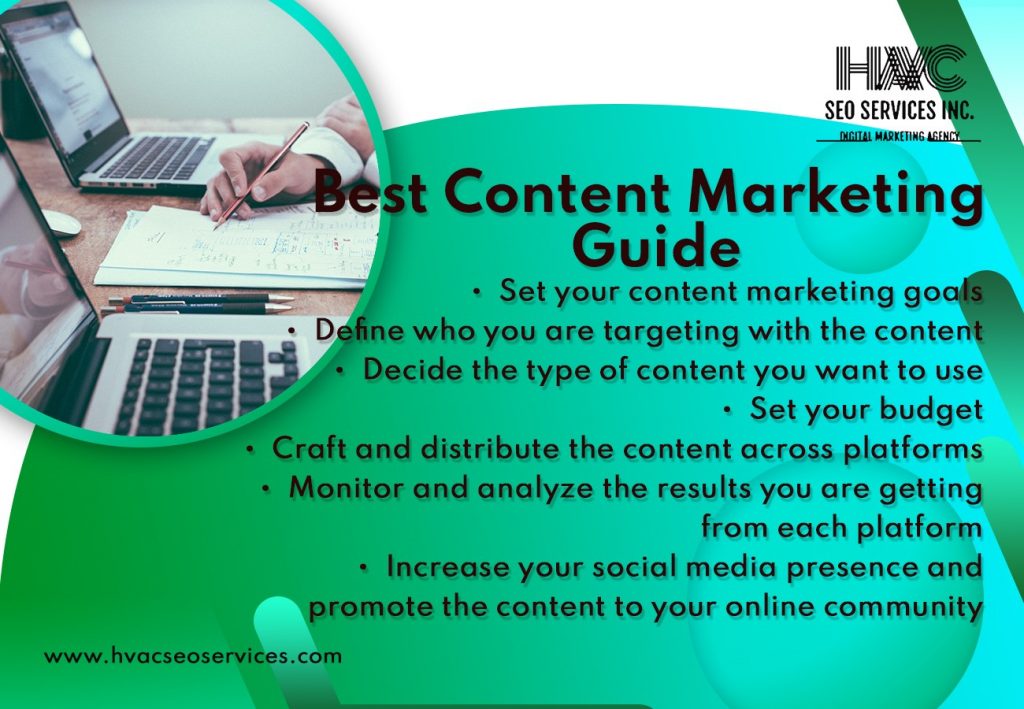 This is your article if you want to know the go-to techniques for creating content that converts. The starting point for any content marketing guide is that you need to create valuable content for your audience. It should also reach the audience in a natural and undisruptive way. Your content marketing strategy helps you attract, engage, and entice your target audience so that you can convert them to paying customers. Here is the best guide for your content marketing:
Set Your Content Marketing Goals
Your content marketing should boost your brand awareness, leads, sales interaction, and loyalty. Aim to educate your prospects about your business and what you offer. Show them how you can solve their challenges and build a gradual relationship with them.
Use the content to build a community that is loyal to your brand. That way, you will boost your conversions for your services and products.
Define Your Target Audience
Your target audience is the people you want to convert to paying clients. Before choosing your topics and writing style, consider your target audience's preferences, buying behavior, and lingo. A younger audience would be impressed by humorous content, but you may have to be a bit formal with older clients. The audience will also dictate the channels you will use since you want to put the content where they spend their online time. You must try to find the right target audience for you message.
Decide Your Content Type and Channels
Consider the buyer persona and type of audience you are targeting before creating your content. Think about what they need from you, the problems facing them, and the services you can offer to solve their challenges.
In some instances, written content works but sometimes, a video or a podcast would be a better choice. Think about the message you want to pass, the results you aim for, and what you are willing to invest in creating the content.
Do not forget the content will be your point of contact with the audience. As such, you have to go out of your way to make a good impression with your content.
You are always safer hiring a content marketing expert to be sure your content is excellent and has exceptional HVAC SEO. Additionally, the expert will check on your HVAC web design and advice if it is appropriate for your customers' user experience.
Set Your Budget
Your content marketing guides starts by understanding that you will need resources to create and distribute content. Apart from hiring experts, you may need to purchase some technology or software to create your content. This may include graphic design software, cameras, and video editing gadgets, as well as tools to monitor the performance of your content marketing plan. You will need to hire a digital marketing expert or agency to design, write, edit and track your content marketing strategy.
Craft and Distribute the Content
Once you begin creating and sharing content, continue doing so consistently. Having an editorial content calendar will help you to stick to a schedule. This will make your site a reliable resource for your audience, which helps gain their loyalty and attract more traffic.
You may have heard that content marketing is a cost-free HVAC marketing strategy, but this is not the entire truth. By now, you know that anything valuable, including content marketing, comes at a cost.
Figure this out: you may fail to invest in quality content and spend years before gaining traction to your website. Do you have an idea how much business you would lose within that time?
On the other hand, you may invest some money to get quality content, suitable search engine optimization for an HVAC website, and a workable content calendar. You can also use paid advertising methods to promote your content.
Within a short time, you will recoup your investment from the traffic your HVAC marketing campaign will generate, and you may continue to earn revenue from this strategy for longer. Do not underrate the benefits of working with an HVAC marketing services expert in your content marketing bid.
Monitor and Analyze Results
Measure your results against your goals and make any necessary changes. There are several online tools you can use to do this. However, for accurate results, contract a digital HVAC marketing professional.
This is a professional with the expertise in evaluating, calculating, and determining what should be changed to make your content marketing plan more effective.
Increase Your Social Media Presence
Social media is evolving into a platform for forming and strengthening business engagements. Customers want to know what is going on in your business almost in real-time. Initiate conversations and participate in their chats so that they can stay connected with your brand.
You see, HVAC clients are more at ease contracting technicians who are familiar to them or someone they know. Use your social media accounts to nurture this familiarity.
Distribute your stories on social media to stay connected with them. This is also a perfect way of humanizing your brand and winning the loyalty of your customers.
If you are uncomfortable doing any part of this content marketing guide, we are always ready to help. Every HVAC company owner should focus on serving customers while you allow the experts to do the leg work to bring you leads. Why? Service businesses are very competitive and margins continue to shrink, if you provide less than exemplary customer experience, there is always another contractor ready to take your business. Lucky for you, we are the best when it comes to bringing in leads through reliable content marketing.