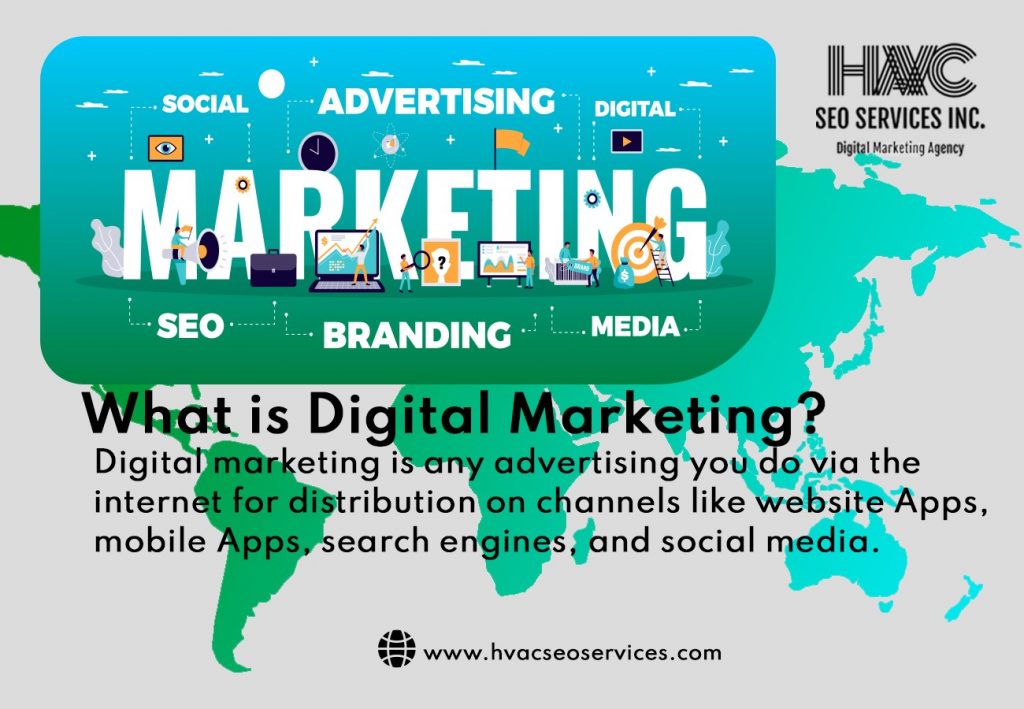 What is digital marketing? It is all advertising that a business does on the internet, delivered on digital channels like search engines, web applications, mobile applications, social media, and emails.
You see it everywhere, but you may not have realized what it is. Think about your favorite blog or social media page. It may not have sales content, but it fits in with the owner's wider marketing scheme.
The content is strategic to make you a regular visitor and an easier target the day they will want to sell a service or product to you. Here is how you can use digital marketing for your heating business:
What is digital marketing? What does it entail?
Here is a guide of how to approach it.
Assess the Heating Business Digital Marketing Landscape
Look at this as your way of spying on your competitors to unearth information about which HVAC marketing strategies are effective. While at it, you will learn about your potential customers purchasing behavior to know how to target them.
Besides, you will get a clear picture of the expected digital marketing budget to mount a successful digital HVAC marketing campaign.
Consult and Outsource
If anyone told you digital marketing is a simple DIY task, they lied to you. Your brand cannot afford to overlook it. Its effectiveness in generating leads and revenue has been proved, but you cannot do it alone.
Talk to digital HVAC marketing services professionals, and you will get it right on your digital marketing plan, implementation, and monitoring its performance.
Yes, your budget may be tight, but it may get worse if you do not dedicate a part of it to digital marketing consultancy. Worse still, you may lose more money if you blindly invest in digital HVAC marketing strategies.
Should they fail to work, you will only have yourself to blame. Avoid falling into this trap by hiring a digital HVAC marketing services agency to get good results in your first attempt.
As an HVAC technician, you want to market your business to get more service orders. You cannot entangle yourself with complex digital marketing tasks at the expense of working on your clients' projects. Leave digital marketing to marketing experts and concentrate on your technical HVAC tasks.
Make Your Website Mobile-Friendly
About 64% of heating, ventilation and air conditioning clients do their searches on mobile devices. Make your site visible to them.
Google is all about businesses giving good user experiences to their customers. That is why mobile-friendly websites rank higher on search results pages.
Focus on Generating Leads
A conversion-friendly website will guide visitors to engage beyond the internet by making an order, subscribing to a service, booking an appointment, or calling to discuss their project. A call-to-action, contacts, and a contact form may help with your conversion strategy.
Secure Your Website
Moving your site to HTTPS is an effective way of boosting its security.  Besides securing your website from malicious access and manipulation, the site will rank higher as Google policies give prominence to secure websites.
Increase Your Website Loading Speed
40% of HVAC customers abandon the search on a website that does not load in 3 seconds. That is super-impatient, but that is the reality with digital-age consumers. They are looking for quick results. Your website should meet their loading speed expectations by optimizing content, images, and plugins.
Create a Healthy Social Media Reputation
Use social media platforms to drive traffic to your website, raise awareness for your services and run marketing campaigns. Influencers in your neighborhood may help you more with social media campaigns as they have a huge fan base.
Invest in HVAC SEO Content
Web pages, images, blogs, social media posts, and videos are some of the HVAC SEO content to invest in. Your content should aim to create awareness for your heating business. Consider posting work-related videos and photos. And you are at liberty to post blogs that position you as an authority in the heating industry.
Facilitate Customers to Post Reviews
Reviews will prompt your visitors to order your services. You can get many reviews by asking your website and social media audience for them. Include a review form on your website to facilitate your visitors to leave a review.
Blog Regularly
Identify topics that interest your clients and blog about them. Your blogs should answer their most frequently asked heating questions. You can also enlighten them on HVAC trends.
The big picture should be to make the customers view you as a credible resource on matters pertaining to HVAC and see you as the go-to heating solutions provider. Use your blog content to enhance SEO for your HVAC business website.