Local search ranking is when your business website appears in local search results of potential customers. The result pages of local search engines usually have a local 3 pack at the top with the most relevant map results. If you have a plumbing, HVAC, construction, or remodeling business, then you should utilize local search ranking to increase the discoverability of your business.
Do you want to know how your business ranks in local search results? Search the products or services that your business provides in your area on Google e.g. if you own a plumbing business.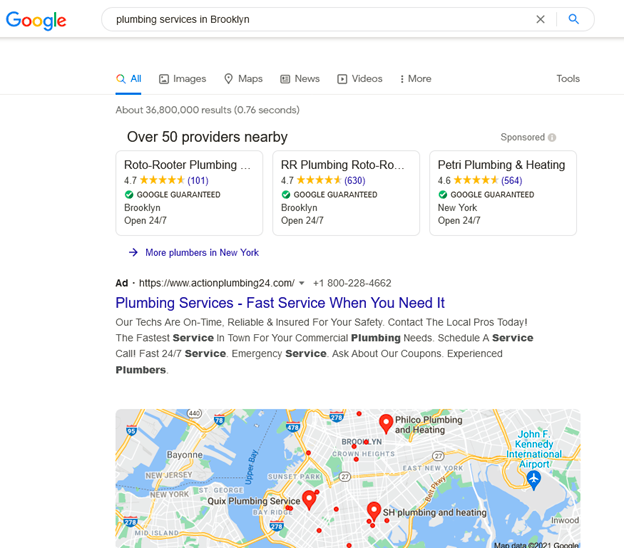 Did your business show up in the local 3 pack? How about in the first page of the search results? If your business did not appear in either category, this indicates that you need to work on the local search ranking of your business.
How to improve local search ranking for your business today
There are certain actions that you can take to improve the ranking of your business in "near me" or local search results.
Optimize your GMB profile
A GMB (Google my Business) profile is the key to ranking in local search results. the profile forms the Google Map listing of your business, which tells people the physical location of your business. If you have never created a GMB profile for your construction, HVAC, plumbing or home remodeling business, then you will never show up in "near me" searches. Additionally, you will lose a lot of potential local customers.
When we start a business, we are always aiming for the future, planning how the business will expand and attract customers from all over the state or globe. Although these are great plans and goals for your business, ensure that during the initial stages of your business, you are attracting local clientele as well. How will your business expand if local customers are not aware of the existence of your business?
Stay ahead of the competition by creating a GMB profile. In addition to that, insert important details like the exact address, phone number, and working hours of your business. The profile will allow your business to get more reviews on Google and generate more traffic for your website.
Utilize local directories to create listings
If you are starting a new business, there may be some useful information about SEO that you are not aware of. Do you know that your website is not the only way for your business to appear in local searches? Directories and popular reviews sites like Yelp can boost the ranking of your business in local searches.
In case the listing of your business is complete and its ratings are high, a page with relevant information from your site may rank highly in "near me" searches. In some cases, if the page content is optimized for SEO, the review site may list it in its "10 Best HVAC, Plumbing, Construction, or Remodeling Businesses in (location)"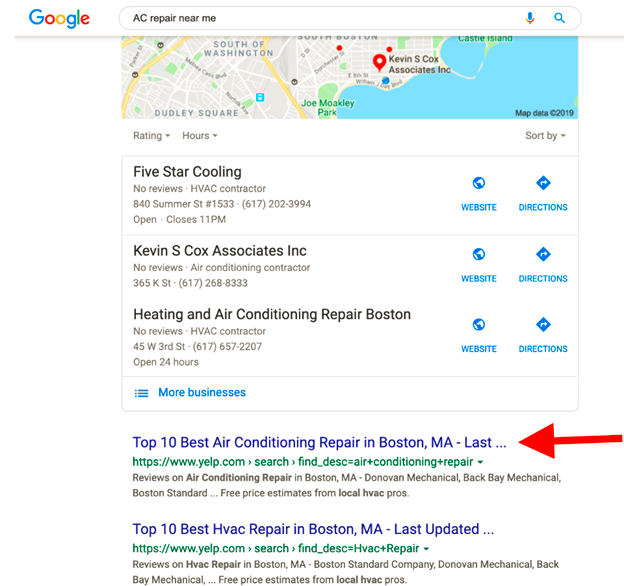 So, to increase the chances of your business ranking highly, we recommend that you list your business in as many local directories as possible. In each directory, make certain that the contact information and address that you provide is consistent.
Add photos to your GMB profile
To increase the website traffic to your page, you need to add several photos related to your business on the GMB profile. Whenever you upload a photo, add your location in the alt text and file name of the image.
Get local backlinks
Another way of getting your business to appear at the top of search results of potential local customers is by using backlinks. Get other local businesses to add links to your website on their website content.
As a HVAC, remodeling, plumbing, or construction business, which businesses do you partner with? You could reach out to them and ask them to mention your business in some of their posts. These local backlinks will boost Google's local ranking of your business. Also, encourage the other businesses to emphasize the location of your business in the anchor text.
Do you want to learn more ways of ranking highly in local searches? Reach out to HVAC SEO Services today via phone call. We create SEO worthy GMB profiles for clients like yourself. Call us today and start attracting your local clients.