Local SEO checklist helps your business to be visible in local searches when a person seeks your services and products. Even in the presence of bigger or international companies online, local SEO helps you to show up because your company is relevant and of closer proximity to the searcher compared to the bigger or more established international company.
The following is a checklist for local SEO for your business. To improve your search engine ranking, and increase your web site and foot traffic to your physical location you need to:
Create a GMB profile
This is among the top things in your local SEO checklist. It will bring back immense value and yet it requires you to follow just a few steps to create. It enables Google to show your business in Google maps and as part of search results in your location.  
For instance, the results for construction companies Brooklyn show these top three companies with a GMB profile on Google maps, and also presents their GMB listing. A searcher finds this convenient because they get all necessary information about the business in one place, the GMB listing.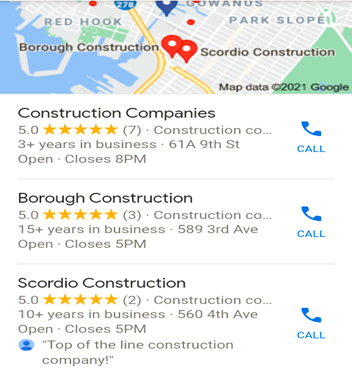 Google shows you the percentage of your profile as you keep updating it, you will know you have all information needed to rank on searches when your profile is 100% updated.
To show up among the top three results, you need to have accurate information about your business on your profile. You also need to write about the services you offer in details.
Create business citations
Aside from claiming and updating your Google My Business profile, having business citations in other local directories is helpful in building trust with search engines. It is a local SEO technique not to overlook. The information you have here should be consistent with the company information present in your website and Google My business profile.
Since some local search results include local directories, you improve the chances of your business being visible to consumers even if your website is yet to rank on search engines. Choose relevant and high quality directories to list your business.
Citations are also a way to build high authority backlinks as one of the factors to include in your local SEO checklist. Google recognizes your website is mentioned in established and trustworthy local directories.    
Perform Keyword research
Geo-specific keywords in your content are a great way to hyper-localize your website pages. Always mention your location on your service pages and home page.
Strategic places to include your location information:
Title tag
In your content
Meta descriptions of pages
Headings
Page footers
Your URL
When describing your services in your service pages, it is important to understand how people in your location search for these services. In addition to that, keyword research tools give you insight on the kind of keywords trending in your industry and for your location. Find the keywords which accurately describe your services or company and which consumers mostly use.
Encourage Reviews
Have you ever made a service or a product purchase because someone else did it? Or someone told you they got a product or service form a provider and it was worth it, and you felt more confident making the purchase yourself? Reviews work exactly this way.
Customers are online looking for confirmation about the truthfulness of your service provision. Getting reviews and ratings on google and other sites is an important factor to tick on your local SEO checklist. Therefore, encourage your customers to leave reviews on review sites and business directories like Google My Business
Build Schema mark up
Schema markup provides information to the search engine to use to understand your website content and improve the searcher's experience by providing additional information from their understanding of your content. Additionally, the extra information can be service prices, your business ratings, discounts, a review, etc. Google provides a guide on how to use Schema markup.
Call us today for SEO services that will boost the online performance of your business and help you build brand authority.