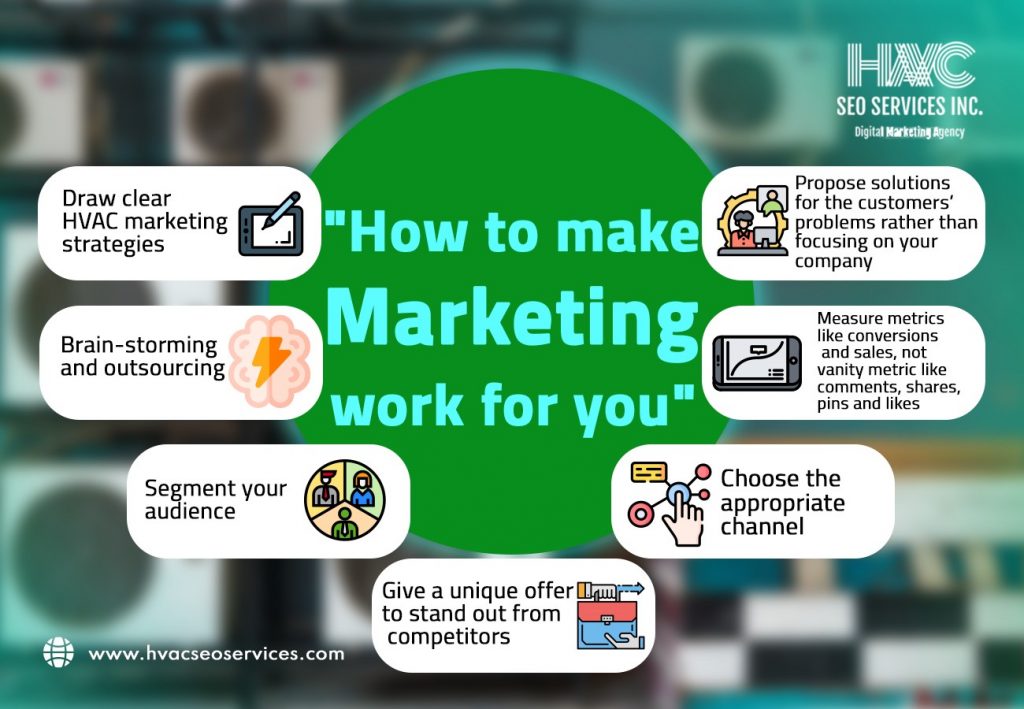 I get this question a lot. My marketing is not working. I have done everything, and nothing seems to work. Have you really done everything? Most people think they have. When I start asking questions about what they have done, I am surprised.
If your marketing strategy is not working, maybe you are not doing it right. Do you have a clear idea of what your customers are looking for in the market? Do you know where they go when they need the services or products you are offering?
What about an idea on what to do to get the attention of the customer? We will tell you how to make your marketing effective.
Things derailing your HVAC marketing

Lack of consistency in messaging and branding across all marketing channels.
DIY approach to marketing without professional expertise or execution.
Inadequate investment in high-quality, professional marketing materials.
Irregular or insufficient budget allocation for marketing efforts.
Lack of coordination and alignment between different marketing campaigns.
Draw Clear HVAC business Marketing Strategies
If you have borrowed your strategies from another business, you could be heading in the wrong direction. Be specific to your industry, your services, your products, and your local market.
Ensure you have long-term and short-term marketing goals. These goals should be specific, measurable, achievable, relevant, and time-bound (SMART). To draw your marketing plan, you need to understand your target market to avoid working on assumptions.
You can achieve this by carrying out market research and analysis of your audience. Visit any site that provides reviews for HVAC companies and contractors in general. Filter out top rated contractors. Read their reviews. What do customers say about them?
They say the company staff are courteous—make sure that your staffs are courteous. They say the pricing is transparent—make sure your pricing is clearer than a transparent glass. Pick all the good attributes from the top sellers.
If the customers are looking for knowledgeable and skilled staff, put your effort on perfecting your specialization. Do the same for your staff.
Now that you know the good stuff, review the bad reviews from poorly performing contractors. The staff was rude, the technician was late, the free inspection turned into a $350 repair job, unclear communication between customer rep and technicians, guys left the place cluttered and dirty, and such things.
Here, pick the DO NOT list for your business. You may also check out customer preferences, consumer behavior, and notable competitors.
Put your strategies together into a coherent document
Marketing plays a significant role in generating leads for your company. You want to get it right from the initial stage, meaning your marketing strategies have to be well thought out. Entrust them to a qualified and experienced digital HVAC marketing services agency to get value for your money.
While you can work on it alone, it is good to brainstorm the marketing plan with an expert marketer. One thing that you can be sure is that you may not know all the existing opportunities. A marketer will know some of the most effective strategies you can try.
The marketer might also know places where you can find value for your budget. For example, gone are the days when a website would cost you $5000 and content was never given much attention. Today, focus on getting value such as buying a good website theme for less than $500, web content for less than $1000, and getting SEO for under $500. However, you will continue to say that your marketing is not working if you don't bring everything together.
Brain-Storming and Outsourcing
You cannot put together an effective marketing strategy single-handedly. Do you have the time and expertise to design your HVAC marketing strategies? Even if you did, you may not be updated on current fast-changing marketing trends. Sit with experts and pick their minds on the marketing trends with a high return on investment.
You will have better chances of succeeding with your marketing if you involve those who have been in the game for longer. Hire a digital HVAC marketing services agency to get your desired marketing results.
Also, your marketing will rely on complex search engine algorithms that change from time to time. As an HVAC technician, I don't expect you to pay attention to changes in search engine algorithms or changing consumer search behaviors. You may not know how to develop a HVAC website design.
How will you calculate your marketing strategy's quality score or get the time to monitor your mentions, citations, and references to manage your online reputation and claim your local listings?
Besides, you may not know how to generate HVAC SEO content to rank on the top pages of SERPs. Outsource your marketing tasks to a digital marketing agency and watch your leads grow as you serve your customers.
Segment Your Audience
Segment your target audience based on parameters like age, gender, and location. This will help you to craft targeted marketing messages with suitable search engine optimization for an HVAC website.
Moreover, it will help you to choose the right language to resonate with your audience. Your target audience also forms part of your considerations when selecting your marketing channel. How you target seniors will always be different from how you target millennials.
Be very clear in the messaging, channels, and timing. If you are targeting seniors, analog media such as fliers still work. With millennials, dynamic media is the sure thing. Smartphone marketing, including in app advertising, social media, voice search, and digital marketing as a whole works better than traditional media.
Choose the Appropriate Channel
Why would you post your content on a channel that your audience does not frequent? Who would you intend to reach with that content? In business, each action has to be well-considered.
Carry out a baseline study to know your customers' preferences so that you can put up your marketing content where most of them search for businesses. For instance, if you are targeting homeowners, most of them are middle-aged and the elderly who search for and share home improvement information on LinkedIn, Facebook, and neighborhood WhatsApp groups.
Pick a channel that your target audience uses to increase your impact and overall return on investment.
Change Your Focus
Your marketing message should target your customers' pain points. It should not be about your credentials and achievements but more about how you can solve your customer's heating and cooling problems. 
Show the client that you understand their pain and struggles and that you have effective solutions for them. The aim should be to create a need for your services and convert them to procure your services.
A typical customer will search for specific problems. Why is my furnace producing a funny sound? Why is my AC unit producing a lot of water? My unit is cycling often. Answer this and many other questions that the person is likely to ask. While at it, sneak in your services as conclusive solutions.
Do Not Focus On Vanity Metrics
Most internet users get excited when their content receives many views, likes, clicks, mentions, shares, and comments. The bad news is that these are vanity metrics. They do not indicate your business performance. They indicate the level of your brand popularity, but they may not translate to business growth. You might think that marketing is not working if you are not measuring the correct metrics.
NB: though vain, you can harness them to provide social proof or milk them as good will to show other clients. Use them to understand client issues.
More importantly, measure the impact of your posts based on digital marketing metrics that translate to conversions. This may include purchases for your services, positive reviews from customers, or the number of clients who sign up for your annual HVAC maintenance program.
Stand Out from Similar Brands
If your audience does not find anything unique about the services you are marketing, they are likely to ignore your adverts. Figure out something you can offer to differentiate your services and draw customers from your competitors to your business.
Customers will go where they can get value. If your value is not markedly superior or reliable, customers will stick to their present providers. Distinguish your services. Let customers reference your work in all the positive ways.
Include a Clear Call-to-Action
All your adverts should end with a simple call-to-action where you direct the audience to your signup form, call for an appointment, sales page, or subscribe to your email list.
Make sure it is clear enough. You may also need to spare some time to check your user experience.
At HVAC SEO Services INC., we offer a comprehensive marketing package for heating, cooling, and plumbing businesses. We also serve similar businesses such as electricians, roofers, remodeling, and construction businesses.
Every aspect of marketing requires skills and experience. You don't have to worry anymore when your marketing is not working. We have a team capable of delivering a full marketing campaign. Shoot us an email if you are stuck with any aspect of digital and paid marketing.