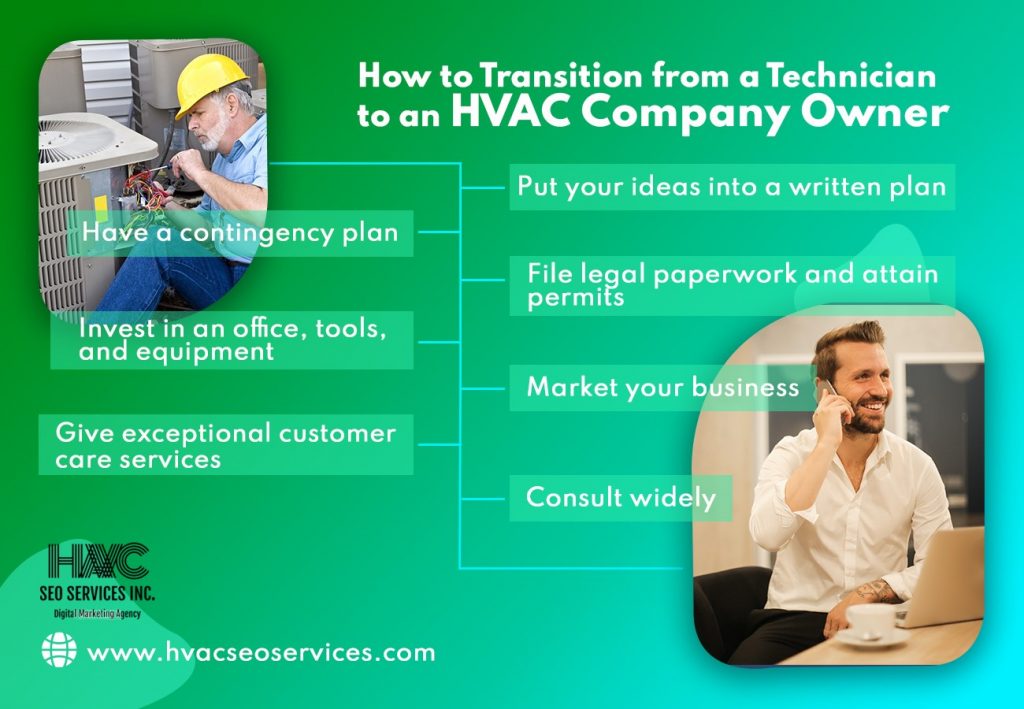 How do you like the transition from technician to a HVAC company owner? Do you want to one day own a successful HVAC business? Like most people, you have probably toyed with this idea for a while. But you could be afraid of starting and failing. We want to tell you that you should be afraid unless you are ready to follow the right steps.
You see, many technicians started and are now making $580-1.2M each year because they listened to sound advice like what we are giving you here. Unlike being a technician, starting a HVAC business requires more than certification.
It requires you to think like an entrepreneur. Think about capital, marketing, customer service, business development, bookkeeping and so on.
As an HVAC digital marketing services agency, we have worked with so many heating, ventilation, and air conditioning companies that we know what works and what doesn't. Here is our take on how to transition from technician to a HVAC company owner:
Plan Your Start-up
If you fail to write your business plan, you will be operating like a rally driver without a roadmap, and for sure, you will end up not going where you intended or wasting too much time before getting there. As you can see, the business plan will help you conceptualize your ideas to workable milestones.
You don't want to begin on the wrong footing. Consult a professional to help you write it. That way, it will contain all the components of a business plan. The plan will guide you on the investment you need and show you what your competitors are doing so that you can replicate or improve on it.
As part of your plan to transition from technician to a HVAC company owner, you may have to enroll in a business management course. You don't have to pass the course though. Brush over it and related literature on the entrepreneurial process. You can take online classes at your convenient time and pace. Also, identify the skills your family members need for them to be engaged in the business.
Filing Your Paperwork
File your papers to avoid colliding with the authorities. Begin by finding out the licenses you will need to operate in your preferred location. If you require any permits and certifications, acquire them on time. You can engage your legal representative to help you with this just to be on the safe side.
Drafting business documents requires some sort of compliance with existing laws that you may not know. To be on the safe side, have a lawyer look over contract forms, general provisions, and other legally binding documents.
You can engage agents for a faster and more exhaustive registration process. It may take a lot of your time, but some agents can do it for you faster. They know their way around and have contacts of people in the offices where these papers are filed.
Make Your Investment
Besides investing in office space and furniture, you will need tools and equipment to begin working in your company. It is very important to know that you can start a home-based service business. All you will need is an appointment setter and a technician's toolkit. Depending on your budget, you can buy or hire the equipment as you plan to acquire top-of-the-range tools.
Also, as you get more clients at different locations, you may need a vehicle to be ferrying you and your tools. Your truck will come in handy here.
Consider if you can operate your venture as a family business with your spouse or any other family member handling administrative duties such as communication, customer care, and bookkeeping as you work on your clients' HVAC projects.
A friend of mine has a daughter as the office manager, son, being techy, does all the digital marketing stuff for the company, and the wife as general manager. Well, they are doing fantastic!
Market Your Business Aggressively
You cannot start your HVAC company and fail to market it. The most important transition from technician to a HVAC company owner is to understand or find a person to get the leads coming. That will be your quickest way to fail and close your HVAC business. Marketing aggressively creates awareness about your brand and earns you conversions in a short time.
While marketing aggressively, be decisive. Marketing is involving. Doing your baseline study, designing the strategy, identifying the appropriate channels and the content, and measuring the ads' performance may overwhelm you, especially as you still have your technical jobs.
Marketing strategies for heating and air conditioning companies are dynamic, but you can outsource HVAC marketing services to get value for your advertising budget. This will include getting a professional website design and SEO for HVAC to increase your brand visibility.
You will get a good HVAC SEO and content marketing strategy targeted to paid PPC campaigns, as well as Google Maps and local listings. This is in addition to your strong social media presence to keep you in touch with clients.
Mind Your Customer Care Services
Customer care skills will entice or put off your clients. Be respectful when talking to your customers regardless of how they are behaving. Also, be responsive when they make inquiries, whether by phone or email.
In this digital era, customer care extends to your website and social media platforms. Your HVAC website design should be scrollable and responsive to give visitors an incredible user experience. At the same time, use social media to manage your brand reputation.
If you are hiring a HVAC SEO company, work with a company at least capable of working on technical aspects of your website design, development, and SEO work. If possible, work with a company capable of developing content to support all these aspects of your digital marketing.
The idea of hiring a separate agency or freelancers to do each only increases your pain and can compromise quality. A single coordinated team is best suited to handle the whole process. It might even be cheaper, faster, and easier to coordinate.
Be Ready for the Risks of moving from technician to a HVAC company owner
Most HVAC companies fail because the owners do not dedicate enough time to growing the business. They also lack the financial discipline to build their ventures.
Cushion your business from financial mismanagement by consulting a professional financial manager. You can also identify an alternative source of income to fund your family budget until you start making enough profits.
During the first several years, invest in business systems and processes. Bring in the right technicians, screen your staff, train them adequately, comply with state and industry regulations, and so on.
Take minimum salary for yourself and reinvest back to strengthen core functions of your business such as work tools and equipment including bringing in quality trucks that will make the work convenient for the team.
Manage growth. Keep the process as natural as possible. Don't be quick to get into debt. Bankers, just like drug peddlers will never tell you that you are consuming too much drugs until the day when indeed you are unable to pay.
Consult Widely
Successful businesses have a network of partners and mentors. While your partners could be your suppliers and consultants, your mentors will involve people with your ideal business model to hold you accountable and guide you as you build your company.
Final thoughts
At HVAC SEO Services Inc., we have a package for technicians willing to start a business. You can talk to us about it. The package includes but not limited to business prospecting, a full digital and physical marketing process from planning to execution, and paid promotions.
It is the easiest way to transition within a single year from a technician to a thriving business owner at the end of the year. You don't even have to quit your job to get things going.