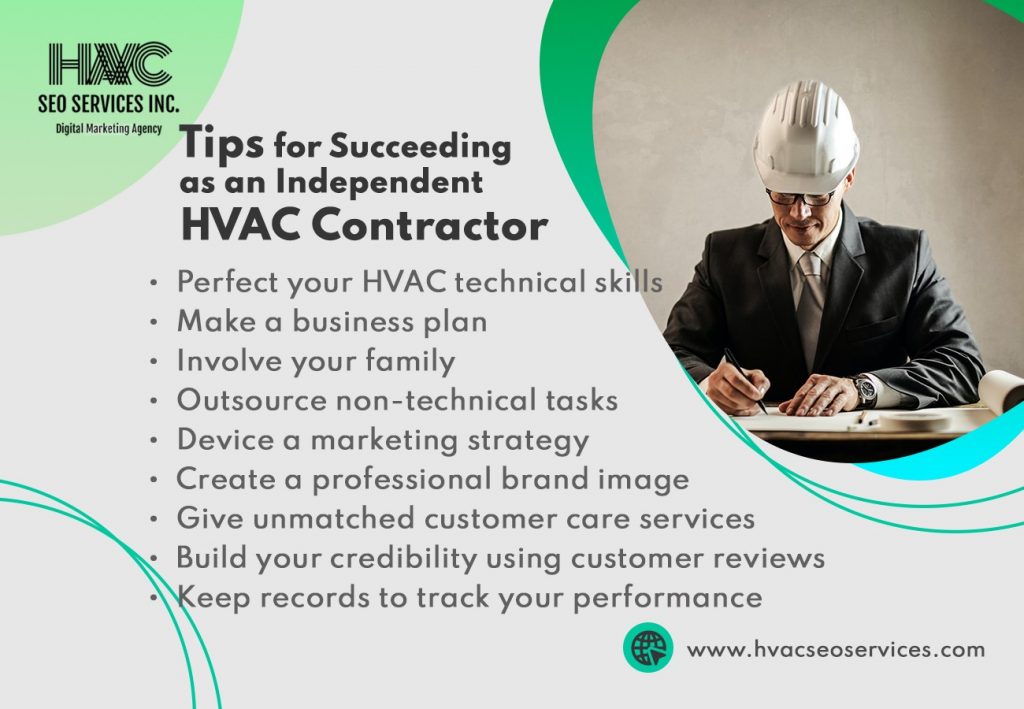 Do you want to succeed as an independent HVAC contractor and skyrocket your revenues? Are you afraid that your lack of business skills like marketing and accountancy may hinder your HVAC business growth?
It is natural to worry about the unknown. I meet and interact with HVAC technicians and small businesses offering them marketing and SEO services, and I know the fear can sometimes be palpable. Before I get into this, let tell you the most important thing in business. It is the customer. If you have a product that solves customer's problems, keep doing that and things will naturally take their course. But where do you get customers?
Stick to the basics
Know what you want to offer
Understand the customer
Know where the customer is at
Find what interests the customer
Let the customer know you exist
Serve him or her well
Perfect Your HVAC Technical Skills
Your technical skills will market your business effortlessly. Use them to solve heating, ventilation, and cooling problems for your customers and guide them on trendy, cost-effective HVAC solutions. This will help you to not only establish a strong customer base but also get referrals.
Keep up with industry trends by attending related seminars, conferences and signing up to relevant groups. You can also subscribe to relevant journals and magazines and join business groups where people share useful HVAC information.
Part of being a good technician is your ability to say no to tasks you know are beyond your expertise, honoring service calls, being available on call, and simply doing exactly what you promise.
Make a Business Plan
Business plans are overrated; they are also ignored. Do I really need a document? I can just switch into doing the stuff that I am good at. All this is true depending on the angle you are looking at. However, be ready for the consequences.
The ACHRNews says that failure is an option, and so is making a business plan. About 70% of HVAC businesses fail in their first year and only a small fraction succeeds. Why?
Most cited reasons are poor marketing, lack of business leadership, overheads, inability to manage business growth, and such things.
Luckily, almost all these things can be understood through a business plan preparation. In your business plan, show your market analysis, competitors' analysis, and your proposed source of capital. It will also indicate your location, financial projections, and the type of services you intend to offer.
Add problems you are likely to encounter as an independent HVAC contractor, how you will avoid them, and if you find yourself there, how you will solve them.
The business plan is helpful if you need external funding, but even if you are the one to fund your HVAC business, you still need it as a reference point for what you are projecting to do or achieve.
Involve Your Family
The most successful HVAC companies are operated as family businesses. When you involve your family, they understand what you are trying to achieve. They will know what your job entails and cash flow. They will not demand your time when you should be away working on a project.
Also, they will know how the business is doing and avoid putting financial pressure on you. Moreover, they may be willing to assist with non-technical tasks like bookkeeping, customer care, and running errands for the business.
At some people, you will need a trusted admin or assistant. Your spouse can come in handy to do the administrative and managerial work for the independent HVAC contractor practice. You can invest in her business skills training. While you focus on customer satisfaction, she will help you with the marketing and other aspects of business.
You can also bring in kids or other relatives where you can such as a younger sister or brother.
Device a Marketing Strategy
Marketing is one of the most difficult and technical thing. Unfortunately, it is inevitable. Reports indicate that most homeowners are searching for contractors online. To help them find you, you must have a strong online presence. You will need an active website and social media platforms.
Most HVAC businesses are struggling to market their businesses on your own. You can try, but chances are that it will soon overwhelm you since you probably don't have the marketing skills and the time needed to run a marketing campaign. Current trends require brands to market themselves using HVAC SEO content, paid advertising (PPC), influencer marketing, and social media adverts.
I tell companies to outsource marketing and internalize customer service. Why? It is cheaper, easier, and more effective. You may have a good marketing budget, but if you don't have the knowhow on what to do with it, you will get mediocre returns on that investment.
An HVAC marketing services agency will put together a marketing campaign. It may need to acquire content, run ads, make promotions, send emails, and much more. It will advise you if you need organic content or paid ads to market your business.
They will also monitor your website ranking, paid ad performance, and show you how to use them to get more clients. The agency will guide you to dedicate your marketing budget to strategies with a high return on investment.
Outsource Non-technical Tasks
As an HVAC technician, you may lack business skills like, development and design of a HVAC website design, marketing, branding, accounting, and such tasks. These are fundamental for your business growth, but they need not overwhelm you.
Identify an HVAC agency and outsource business management and marketing tasks as you concentrate on serving your clients.
Your heating, ventilation, and cooling marketing services agency will also help with your website SEO for HVAC. This will contribute to your business growth with a steady flow of revenue.
Build Your Credibility
Let homeowners know they can rely on you even when they need emergency heating, ventilation, and air conditioning services. When they know you will get there as soon as they call you, they will be less anxious and more trusting.
Your credibility will also be determined by how organized you are when working on a task. Invest in the right tools and equipment. Before leaving, ensure you understand the contract to carry whatever you need for the job.
Create a Professional Image
Your clients will trust you more if you create a professional image of your business and team. Have a website, office, and reliable communication lines such as an email address and telephone number.
If by any chance you cannot monitor a communication channel such as social media, email, or website chat, deactivate it. Someone will leave a negative feedback if he or she does not get an email reply that you never replied. You can have one dedicated communication line that you will monitor and engage customers.
Branding gives you a professional appeal to clients. Branding your HVAC business is generally a professional job that an independent HVAC contractor may not have the skill-set to pull it off. Hire an expert if unsure of how to go about it.
Don't leave your customer projects unattended as you struggle with company branding. The branding experts know how to do it well within a short time.
Give Unmatched Customer Care Services
Your customers will value good customer care services. This will be important if you are to retain them and get referrals. From how you communicate with them to how you treat them, stay consistent. How you treat their property or how to conduct yourself when you have disagreements will say a lot about your company value. Encourage your staff to remain calm, professional and courteous even though some may not be kind them.
Track Your Performance
Keep clear records and review them regularly to know how the business is performing. Keep and review your cash flow statements, service call tickets, service agreements, and installation sales. You are your business, how you present the independent HVAC contractor profile will matter a lot.
Summary
Develop a strong understanding of HVAC systems and how they work
Obtain the necessary certifications and licenses
Build a solid reputation by providing quality service and building strong relationships with customers
Stay up-to-date on industry trends and advancements in technology
Continuously educate yourself and your employees
Understand and adhere to local and state regulations
Network with other contractors and industry professionals
Develop a strong business plan and financial strategy
Market your business
Invest in necessary tools, equipment and vehicles for your business
Maintain accurate records and keep good financial records
Offer emergency services and 24/7 support to customers.
At HVAC SEO services, we are experts in marketing independent HVAC contractors businesses. From identifying your customer targets to winning then, count on us. We do professional content marketing and promotion, branding, and paid advertising management. Give us a call if you need any of these services.
Even if you don't need any of our services today, call us. We value your insights and communication. We are here to guide you towards a successful business. You have no idea what our services can do for you. Surprisingly, even effective hiring and maintenance of stuff could improve when working with us.