HVAC sales tips will help you to improve the number of customers receiving your services daily, which will in turn improve your profits. It is particularly important when it is low season in the market. A boost in the number of services you provide monthly or weekly is a reflection of how well you perform sales and marketing. This includes your maintenance and repair packages as well. How well do people know your HVAC business?
Improve your revenue with these HVAC sales tips
Some of the benefits you stand to enjoy are:
Creating more leads
Retaining clients
Making more profits
Sell your unique points
Use the qualities unique to your HVAC company to show what you can offer. Highlight your services which go beyond what customers currently access in the market. Always feature unique characteristics about your company which make you the best HVAC firm. You can mention recognizable institutions you have worked for in the past.
Make the customer your point of focus
Your sales pitch should be customer centric. Appeal to their needs and show them you are offering a solution to a problem they are facing. Give them a chance to ask questions which you answer clearly. Different customers want different services. They also come with different personalities. Be vigilant in finding out what a particular customer needs to know before they accept your service.
Some will want a description of what a full service looks like, some want an explanation of the tools you use, and the technicalities which go on when handling a HVAC system. Ensure each type of customer feels they can depend on you to deliver the services they need. What they want determines which technique you will use to sell it.
Where do you find most of your customers?
Understanding your audience will help you to approach potential customers only. The right customer helps you to complete a sale and improve company revenue. Follow up on leads to provide any information potential customers need. This will encourage them to work with you. What channels offer you access to the people who need your services. It can be the search engines, social media, physical traffic to your shop.
You can ask the customers coming to your office where they heard about your company. If most of them saw your GMB listing, revamp it by updating new and recent information about your business to attract even more customers. Having effective customer engagement tactics will assist you to arrive at actual sales from your website traffic. 
Have a reliable sales team
A sales team will follow up with potential leads. Having an already set price for different quotes describing different services is essential. You are able to respond as quickly as possible when a potential customer reaches out before they change their mind and look for another HVAC technician.
Your sales team indicate the quotes which have been turned down or accepted. They also keep an open line of communication between you and the customers so everyone is aware what stage the sale is at. A customer is likely to complete the sale if they receive information promptly every time they need it.
Network
It is important to put yourself out there as part of your strategy and HVAC sales tips. Join alumni groups and clubs in Brooklyn. Networking is the business form of socializing. Let people know what you do and listen to what they do as well. You will need to create a sense of connection when you approach them in future, and people like to be remembered.
Aside from being part of a club, you can attend industry evens and talks and give some talks yourself. Be part of Homeowners Associations in Brooklyn because you are likely to find high profit leads in such places. They are also likely to hold such events. Make it a teaching moment for you and a learning moment for your potential customers who are among the people you will be addressing if you get such a chance. Talk about topics of interest like using energy saving HVAC equipment.
Make calls
To make more sales, ask your potential customers if they needed heating or cooling repairs on their homes or commercial buildings. These can be previous customers who you installed these systems for. You can call other professions you encounter in your service provision. These are other sales agents, real estate agents, and contractors. Let the sales people in these professions be your business friends.
You can ask about what they look for in potential customers and recommend people to them if you find such a person, they can return the favor to you too.
Blogging
Blogging is an effective way to engage with your audience. They can ask you questions about anything. You can tell them about the services you offer. You can clarify issues they have about HVAC systems. If customers read your content every time they google a HVAC question it will be easier for them to make the decision to work with you if you approach them. You would have already crated a foundation of trust between you and them through blogging.
Door to door
Door to door is frowned upon by homeowners. As a sales person you would also rather not knock on peoples' doors. Despite the unpleasantness there is a high chance you will find a potential customer. It makes this strategy one of the reliable HVAC sales tips. Just approach them politely, handover the business card, do not start a speech.
Keep it short and sweet. Inform them what you think is important. Do they know replacing their furnace could save them a lot of expenses on utility bills? Are they aware the ringing sound coming out of their HVAC system means it needs maintenance or repair services? For instance, all these air conditioners are shipped to the US because people need them installed and you are fit for the job: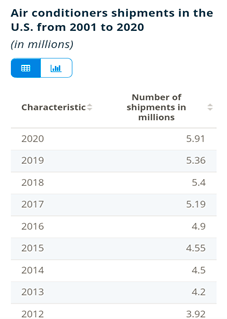 How to attract high quality leads
Attracting high quality leads is one of the HVAC sales tips which will help you generate more profits. Being straightforward and clear is important in this case. Have an easy to fill form directing possible customers to ask for a quote. Have a simple to understand invoice and pricing structure. These will give you a clear view of what jobs are bringing profit to the business and which ones are not.
Email marketing helps you to see leads into fruition. Build a mailing list with your potential customers is helpful. The people subscribed to your newsletters are those interested in HVAC services because they likely have HVAC systems in their homes. They are great candidates for major replacements, installations, and repairs. Always inform them you are available to provide these services.
Always tread slowly, you can propose to provide a low cost service like changing air filters. Then progress to the more expensive services. They are likely to consider this if you have worked for them before. You can also provide a free service then pitch the service you want to sell them.
Above all, always be confident when you pitch to a customer. They need to believe what you are saying. Always back up the reasons you tell them they need a certain service with facts and you will have made good use of all the HVAC sales tips you used.
You might be the best HVAC service provider in Brooklyn but it takes some work to convince some customers this is true. Contact us today for all your blogging needs and keep your potential customers engaged and informed.