Running an hvac business can be very profitable if done correctly. The great thing about an hvac business is that it never goes out of season. Whether the economy is in recession or booming, an hvac business with a strong brand presence and strategic hvac advertising will always dominate the market.
Do you know that the hvac industry is predicted to keep growing over the next five years? This is the best time for you to develop a competitive advertising plan that will keep you ahead of the competition.
We have compiled some of the best hvac marketing techniques that have been proven to boost sales and leads.
Google Ads
Google Ads can help you build targeted ads to help your business reach more potential customers. For a long time now, Google Ads have proved to be effective in generating more leads and attracting more traffic.
For best results, we recommend that your advertising strategy be based on generating more leads from local customers. If someone from a different region or country were to contact your hvac business, your business may not be able to do much for the client. This is because they are far away. However, if local customers were to get in touch with your business, your chances of converting the lead into a sale are higher.
The HVAC marketing campaign using Google Ads needs to use geomarketing strategies in order to push the advert to local recipients.
As you are well aware, Google Ads is a PPC (pay per click) advertising platform, which allows you to target and tailor the advert based on:
Niche specific keywords
Geographic location
Audience demographic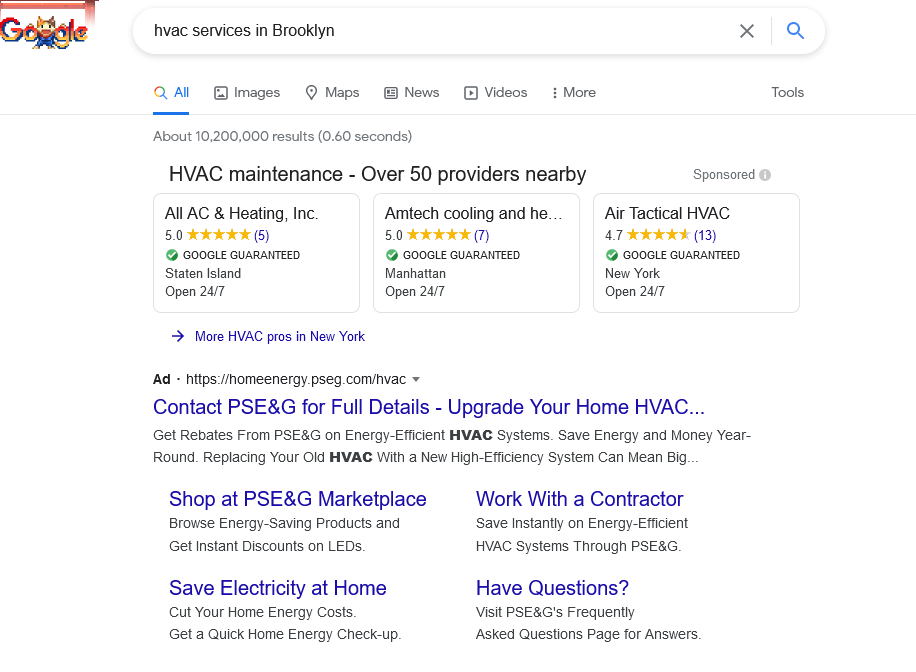 The best part about using Google Ads in hvac advertising is that you can insert the location, phone number, and specific message about your business in each ad, increasing your chances of generating more leads, calls, and sales.
Local search engine marketing
Local SEO is one of the most effective ways of advertising an hvac business and increasing brand awareness. The goal of many businesses is to reach as many customers as possible. However, the surest way to grow an hvac business is to grab the attention of local customers first.
Are the people in your region aware of your hvac business? If you searched for the services that you offer on Google e.g. "hvac services near me", would your business appear among the top results in the first page of the search results?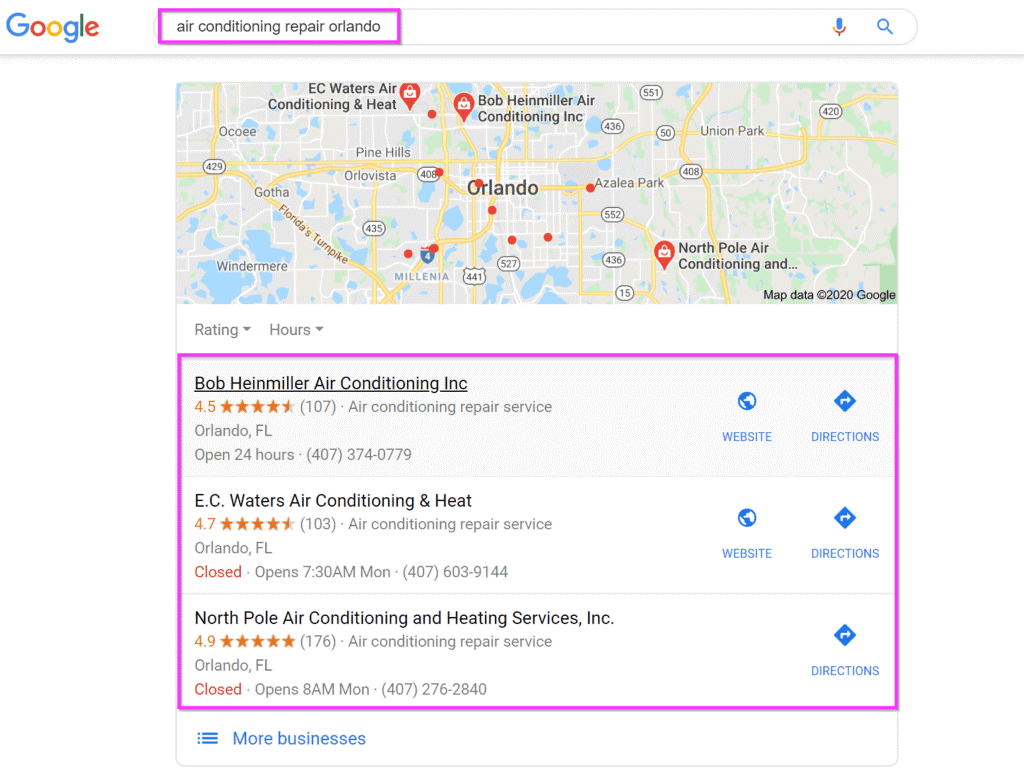 One of the main goals of your business is probably to serve the local community. This makes local search engine marketing the perfect marketing campaign. Additionally, it generate more leads, attract traffic, and convert more leads into sales, for your business.
Below are some steps that will assist your business to utilize local search engine marketing.
Add the same contact information to all the platforms of your business
Ensure that your website pages, social media, and blog of your business have the same contact information. Search engines like Google use your NAP (name, address, and phone number) to list your organization on local SEO directories. Google will index your location, and each time a potential client in your area searches for your services, Google will display your business in the search results.
Register your business to local directories
In order for search engines to list your business in local SEO listings, you need to add your business to local directories, so that search engines can have access to the citations.
For best results, claim your listings so that your business can generate citations in the local directories.
Set up a Google my Business account
Google My Business is the best strategy for enjoying the benefits of local SEO marketing for your hvac advertising campaign. The Google my Business account will allow your business to appear at the top of search results, thereby increasing your business discoverability by customers.
Gathering reviews to boost hvac advertising
One of the determining factors for the success of a business is good reviews. Just think about it. Before you buy anything online, you most likely check the reviews first to see what other customers are saying about the product.
If you find that majority of the previous customers were pleased with the product or service, you go ahead and purchase it. That is exactly what other customers will do to your business. The number of reviews and stars that your business has will determine whether customers flock or flee from your business.
We recommend that you encourage your customers to leave reviews and testimonials about your hvac products or services on your business website. Also, the testimonials and reviews will prove that your company is genuine and trustworthy.
With so many frauds and fake online businesses out there, most people tend to be suspicious and weary of a business, thereby carrying out proper research about the business before purchasing from it. Reviews do not necessary generate more leads on their own. The work of the reviews and testimonials is to confirm to the lead that your business is actually worth the try.
You can make use of the leads and testimonials from your website by inserting them in PPC Google ads, and on the landing page of your website.
Hvac marketing campaigns with more reviews always get more engagement from potential clients compared to ads with no reviews.
Publish great blog content
Did you now that blogging is the least used hvac advertising strategy? This shows that your business can use blogs to stand out of the competition, get discovered on Google, and build trust with customers. Cover hvac related topics on the blog content and make it as creative and entertaining as possible. For an hvac blog to be successful, it needs to expert copywriting skills so that the content created can trigger the algorithms of search engines and engage with the audience.
Below are some of the marketing benefits that an hvac blog will bring to your business.
Improve the trust and authority of your brand among potential clients
Increase organic traffic with relevant content and niche specific keywords
Provide answers to specific hvac questions that potential clients may have
Are you ready to take your business to the next level with hvac advertising? Here at HVAC SEO services, we provide expert copy writing skills and content marketing services, that will boost the marketing campaign of your hvac business. Call us today and book an appointment with us. Your hvac business is about to soar to the top of the competition.