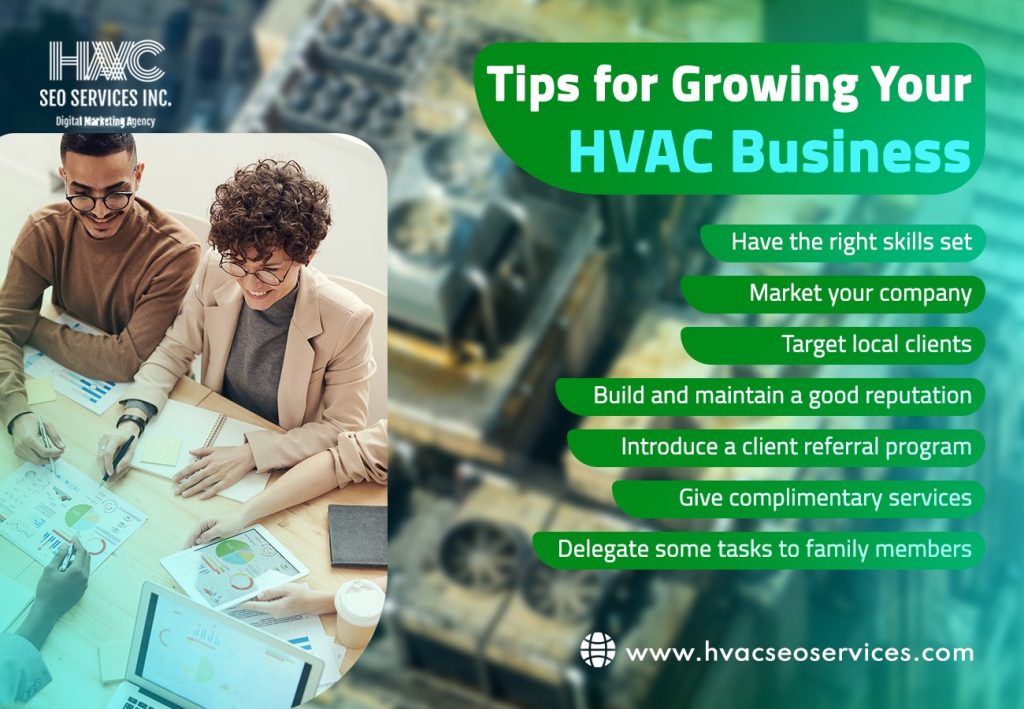 How can I grow my HVAC business? It is mostly a process.
Have the Right Skills Set
To create an impression on your customers, you have to do the job to their satisfaction and probably advise them on technical HVAC areas. Have the right HVAC technical skills to enable you to handle any heating and cooling projects.
This will leave your customers pleased, and they are likely to make repeat orders for your services and refer you to other people. Your ability to offer solutions to clients' problems is imperative.
If you are constantly doing precise diagnosis of repair problems and know the right approach to installations and replacements, then you are in the right direction.
Market Your Company
There are several ways of marketing you company. Generally, there are organic methods and paid methods. Paid methods are more direct, a bit expensive, and don't create long term traction. It is more of a pay to play model.
Organic methods focus on creating value and benefits for your target audience with the intention of winning the target, making yourself the go-to person, and eventually win business from the client. It takes times, moderately expensive, and highly resourceful.
Advertising is the easiest way of making people know about your company and the services that you offer. In your advertisement, identify what will differentiate you from your competitors and emphasize it.
To get a good ROI from your advertising budget, hire an HVAC marketing services specialist to do a market analysis, plan the campaign, monitor the results, and advise you should you need to maintain a winning marketing strategy.
That way, you can dedicate your time to giving your customers quality services without dealing with complex marketing tasks.
While at it, keep up with the trends in HVAC marketing strategies by adopting digital marketing services for HVAC businesses. Hire an expert for your professional HVAC website design, and search engine optimization of a cooling and heating website.
To get even better marketing results, use local HVAC SEO to allow your website to pop-up in local navigation Apps and location-specific searches. This is a game-changer for your business since you are targeting nearby customers searching for contractors in a particular locality.
Localize
Imagine a client in a particular place who has an HVAC emergency. Do you expect them to look for a contractor who is miles away? Most HVAC customers call the nearest, most available contractor. Model your business to be available for your local market.
Besides your strategic office location, you also have to localize your online presence to suit today's customer buying behavior.
Local SEO, Google maps, and local listings will help your website appear in local searches. This is the best way to beat the competition, as it will place your company where customers are most likely to find you.
People do a mistake of optimizing for zip codes they are yet to cover adequately. Expect such a move to cause friction between your marketing and customer service departments. Only optimize for locations that you can cover effectively.
Build and Maintain a Good Reputation
Have you ever hired a contractor and regretted it, not because they are not competent, but because their behavior sucks? Long after you complete a contract, your customers will still remember how you treated them. Build your reputation as a reliable and respectful HVAC business owner.
Your reputation should matter to you more in this age where a lot of information circulates on social media. If your customer feels offended, they can tarnish your name with a single post on Facebook, or a local WhatsApp group.
That calls for keenness about what people are saying about your brand on social media. Closely monitor your business mentions and citations, and respond appropriately. You may need to give your side for the story for customers to regain their trust in your company.
Make it easy for your happy customers to share their experiences with their friends. If someone leaves a five star review, offer him or her a chance to share the review on his or her social media channels.
Introduce a Referral Program
Your clients will easily refer other people if you have a referral program. This can work better if you incorporate it with a loyalty program in which your customers get cumulative points for the referrals that they make.
When the points reach a certain threshold, your customers earn complimentary services on simple tasks. Involve your marketing agent to set up an effective referral and loyalty program.
Give Complimentary Services
Identify services that do not involve a lot of investment in time and resources and offer them free to your clients. Some HVAC companies offer free energy audits, electrical inspections, and HVAC consultancy. You may be surprised to land lucrative contracts as a follow-up of these complimentary services.
It is easy to ruin your reputation if customers smell mischief in your free services and offers. Some companies will try to sneak in payable services during free offers. If you don't really want to offer a freebie, don't lie to customers.
Bring Your Family on Board
A nagging spouse and children are the last thing you want as you build your company. Be in the right frame of mind to think through your business growth process, but you cannot get this unless your family is involved.
When you are open with them about what running the business entail, your sales, and the nature of projects, they will not feel offended when you have to work for long hours. They will also be realistic in their expectations since they are aware of your cash flow.
And for your information, you may thrive more if you let your family handle administrative tasks like communication, accounting, and customer care while you concentrate on technical HVAC projects.