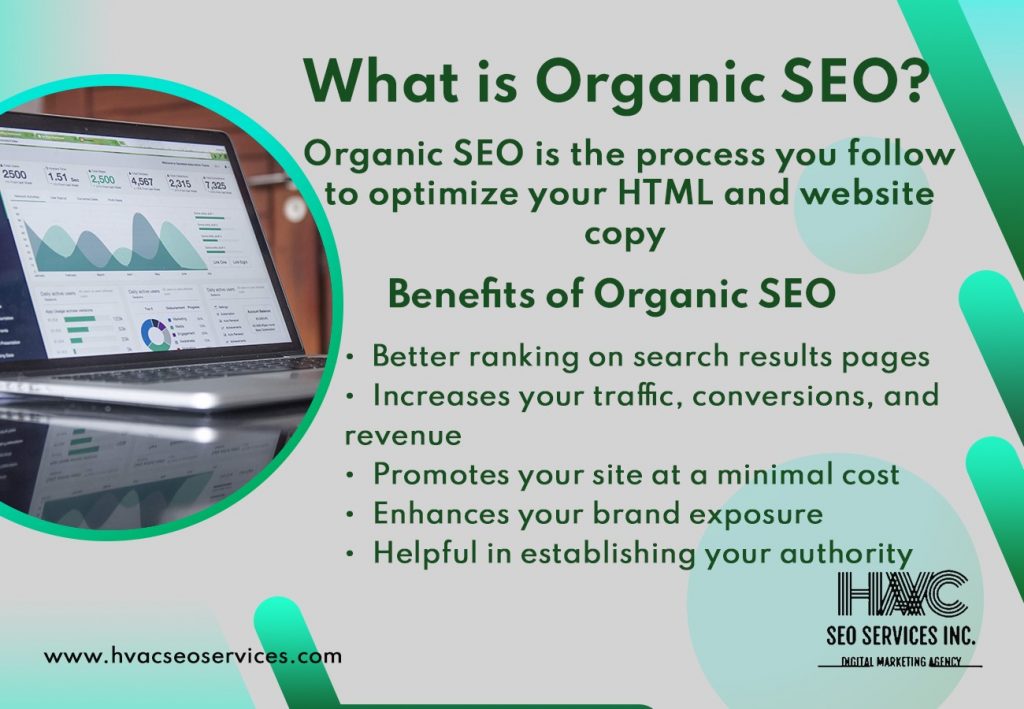 Are you after increasing your website traffic and sales? Your organic SEO for an HVAC website can help you achieve this. Read on to know what Organic Search Engine Optimization is and why it matters. What is organic SEO?
What is Organic SEO?
Organic SEO is the process you follow to optimize your HTML and website copy to make your site rank higher on search engines like Yahoo, Bing, and Google. This is helpful as potential customers will find your website more easily and quickly.
It consists of all the efforts you put into improving the visibility of paid ads. It refers to all the strategies businesses employ to generate more traffic and conversions without using paid advertising.
SEO for HVAC content, optimization of your keywords, and high website speed are a few strategies that aid your organic search engine optimization.
Does Organic SEO Matter?
You probably know that businesses are making a mad rush at organic SEO and wonder if it is worth it. Regardless of the size of your business, organic SEO is worth the effort. That may not convince you, so read on for our explanation why you need this website optimization technique to soar your leads and sales.
Better Ranking on Search Results Pages
75% of searchers do not click on any website not ranked on page one of SERPs. This means that if your website is not ranking highly, there are limited chances to attract any traffic.
This will make it hard to get leads and sales through your website, and you miss out on the ever-growing number of online shoppers.
Increased Revenue
Organic search engine optimization accounts for over 40% of your revenue. It is more efficient and effective than traditional marketing as it has a higher return on investment. This is better for top-ranking brands as their visibility is enhanced.
Organic SEO increases your revenue through increased referrals from your online community that trusts you as an industry leader. Although this does not happen overnight, once you have a sizeable regular organic traffic, your stream of orders will stabilize and grow.
Costless Marketing
You are not asked to pay to upload your organic HVAC SEO content on your website. However, suppose you have optimized it for an HVAC website design. In that case, it will generate traffic, help you build a community of loyal customers, and increase your conversions.
This is an inexpensive way of marketing your brand as the consumers of your organic content will learn to regard you as a voice of authority in the HVAC industry. They will thus have no issues trusting you to do their HVAC projects.
Any time you have a new offer, you will have a ready market for your heating, ventilation, and air conditioning services. Once you earn their trust, they will recommend your brand through word of mouth or even to their online platforms followers. This increases your brand exposure at no added cost, making it one of the gainful HVAC marketing strategies.
Granular Targeting
Searchers go online to look for solutions to specific problems. Your business could be offering the services and products that address their need, but if they cannot find you, you are valueless to them.
With organic SEO, you optimize your keywords and website copy to match the needs of a particular audience. This way, they find your brand promptly while, on the other hand, you earn leads and sales more easily.
Enhanced Brand Exposure
Top ranking businesses are found by more people, including those who see the brand for the first time when it appears on their search results. Organic SEO will position your website strategically so that more people looking for brands related to your keyword can find you. This is a perfect way of increasing your brand exposure.
Are all Organic SEO Techniques Acceptable?
Search engines often revise their organic SEO terms and conditions (T&Cs). If you do not want to violate them, you should keep abreast of their requirements.
The most widely acceptable organic SEO techniques are fast website speed, optimization of keywords, and quality website content. These are White hat SEO techniques since they follow SEO guidelines.
Though some search engines accept techniques like automating social media, duplicating content, and acquiring domains, some consider them a violation of their T&Cs. These are the grey hat SEO techniques that you have to verify acceptability on each search engine.
Not all business owners are reputable. Some resort to black hat SEO techniques such as keyword stuffing, content automation, and cloaking, which violate guidelines set by search engines.
Review the terms and conditions of search engines to avoid violating the rules. To be on the safe side, consult your HVAC marketing services agent who is updated on SEO regulations.
If done well, organic SEO can turn the tables for your HVAC business. Instead of spending more on paid advertising, you will have an edge over your competitors because organic SEO, unlike paid advertising, is the gift that keeps of giving. We have an organic marketing package for heating and cooling businesses that you can take advantage of at this time. You don't need to know what is organic SEO. We will execute it using the most advanced optimization techniques.
Talk to us today!