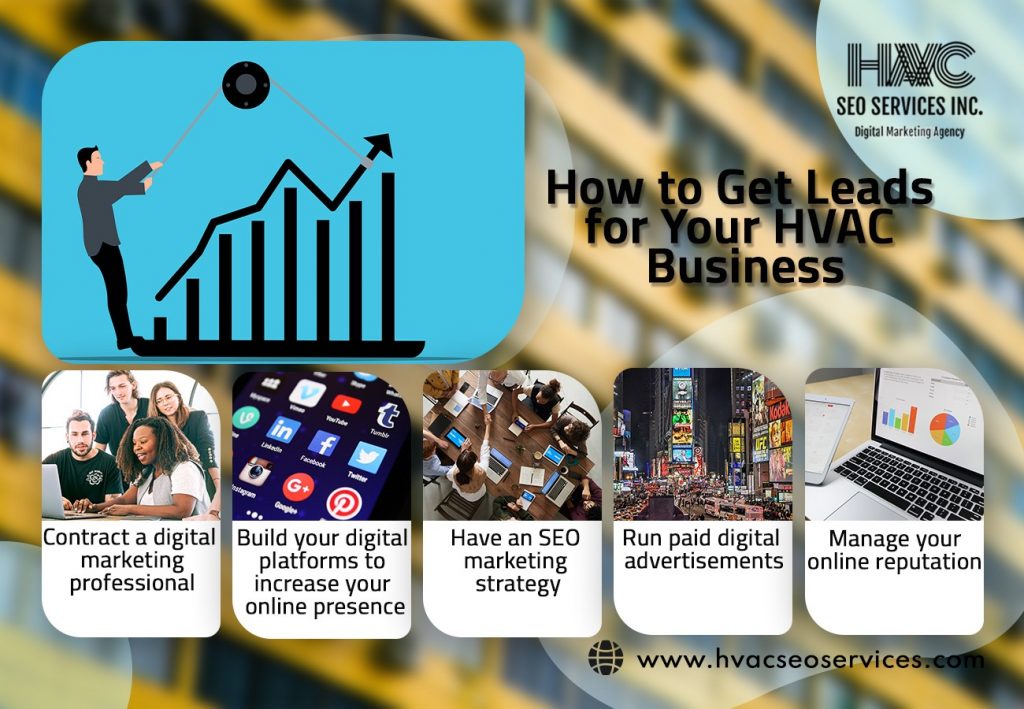 Are you struggling to get leads for your HVAC business? You don't have to. Read on to learn how you can drive leads to your site and increase conversions. Here, we talk all about how to generate leads  for  a HVAC business.
Before we get started, allow me to make a bold claim. The only way you can currently guarantee leads is through digital marketing. I will justify. The only time an HVAC customer looks for an HVAC technician is if he or she has an HVAC need.
If you advertise on radio, print media, television, or a billboard, what are the odds of stumbling on a person who coincidentally needs your services? The chances are minimal. If the person is not active in the market for such services, do you think he or she will pose what he or she is doing to jot down your number?
So, what happens when a person needs your services? He or she will call people he or she knows had a recent fix or installation to request a number or go online. If you are not there, you must be a charitable organization.
We are sure your HVAC company is not one of those not-for-profit entities. You started it to make tidy sums of money, and that money comes from your leads.
As you know, the most frustrating thing for any business owner is to spend days on end without any sales, yet you still have to foot your bills. You need to generate leads constantly. Otherwise, how will you make money? Here is how to get traffic for your HVAC business:
Hire a Digital Marketing expert
You know your brand's popularity will impact your lead generation, but are you keen on your HVAC web design? Are you only after a static website that will make it hard for clients to interact with what you are offering?
You also don't want a static site without any explanation of how your customers can snatch those offers. Your digital HVAC marketing services provider will make sure your site is interactive and optimize it properly for it to generate traffic.
The idea is to work with an experienced professional. Essentially, the person should have worked with many businesses. They should know what works, what does not work, and know when to make changes to a marketing campaign.
You may not keep pace with search engines algorithms changes and the dynamic marketing strategies for heating and air conditioning companies, but you cannot overlook them.
They are significant for bringing more business that will keep you occupied with clients' projects. Leave your marketing services provider to handle them as you dedicate your efforts to your technical tasks.
Why hire an expert for lead generation?
Digital HVAC marketing services experts exist to help you increase your website's visibility in SERPs. To begin with, they will assess your HVAC website design and advise you on the best HVAC SEO strategies. Your digital marketing services provider will also guide you to craft HVAC marketing strategies that rocket your leads.
You may not have the expertise and time to launch PPC and HVAC SEO campaigns, but you need them to generate leads. Your digital marketing strategy also needs close monitoring to determine its ROI. Subcontracting these services will keep your leads growing and allow you time to serve your clients.
The overall goal of a marketing expert is to ensure that you have leads for your business. However, the most overlooked metric is cost per lead. You want the cost per lead to be as low as possible. This saved cost can be transferred to a customer or it can add to your profits.
Generating more revenue and sales is important, but if your overall margin is poor, a business with better margins will not need to work hard as you do.
Experience has shown me that some HVAC companies generating $3-5 million in annual turnover barely reach 300,000 EBITDA—very disappointing. On the other hand, businesses generating $1 million a year are comfortably making $120,000-250,000 net.
Why?
You don't need bloated operations to make a profit.
Build Your Digital Platforms
Your social media platforms should help you put together your profile and social proof of your authenticity and reliability. To humanize and personify your brand, display photos, images, and videos showing your team at work or participating in local charity events.
Additionally, include a link to your social media pages on your company documents such as invoices, receipts, and emails. Most visitors to your pages are likely to be leads who want to confirm your authenticity before signing the service agreement contract.
Respond to comments and messages on your social media platforms. This way, you can establish trust and build meaningful relationships with your prospects. A potential lead is likely to engage with your brand when they trust you.
Have an SEO Strategy
Have you come across a local shopkeeper who opens his shop and then sits down to wait for customers? Their sales volumes are so low that you wonder how they ever make ends meet, yet they can turn around the tide by tweaking their business model to make their goods more available.
It is the same with the heating and cooling business. You have to do what it takes for clients to know you exist and that you are offering the kind of services they need. Your modern-day customers are searching for your services online, so you need a functional website, quality content, and an effective digital marketing approach.
Page one is imperative
About 95% of internet searches do not go beyond the first page of search engine results pages SERPs. You should optimize your content to appear on the first page. Search engine optimization for a cooling and heating website is fundamental in generating leads as your page has greater visibility.
Essentially, you also need to optimize your website, its content, and marketing information to show that you are a local HVAC business. You can do this by creating relevant and valuable local content. Focus on relevant local keywords and reach out to authoritative local websites to get backlinks. Include compelling calls to action (CTAs) to nudge your prospects to take the next action.
Location pages
Try to create location pages for each area that you serve to generate more local leads. Target location-specific keywords to appear on search results pages every time a potential customer searches for HVAC services in that location.
Not only should you create great content but also ensure your website is user-friendly. Ensure your website loads quickly and make it mobile-friendly. You don't want to lose leads just because your website couldn't load on their phones. Make sure your prospects can easily navigate through your website.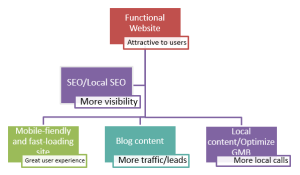 Create high-quality blog content
Blogging allows you to provide value to your audience. Create content around educative, interesting, and engaging topics. Focus on your potential clients' pain points and provide solutions to their problems. Your prospects might not be aware that they have a problem. They might not know the features to look out for when purchasing an air conditioner or the signs of a faulty heat pump.
You can educate them through blogs and make them aware that you can solve their problems. Include strong calls to action in your blog posts to convert your readers into leads. Blogging also helps you build trust and enhance thought leadership. You are likely to generate more leads when they trust your information. Quality content will also attract backlinks and help you get more leads for your HVAC business.
Ensure you create comprehensive content that provides enough information to your clients. Cover your topics exhaustively to provide value to your audience. Google prioritizes long-form content and creating long content will increase your chances of ranking higher and attracting more leads to your website.
Use visual content to Generate leads
The human brain processes visual content 60,000 times faster than written text. Using high-quality videos, images, and infographics will help you capture the attention of your audience. Ensure your videos are engaging enough and use compelling calls to action to generate more leads.
You can include infographics in your blog posts to add more value to your audience. Post high-quality photos on your social media platforms and include them in your website content too. Try to use company photos to build your potential customers' trust. Publish your infographics on social media platforms to expand your reach and attract more leads.
Show your potential customers the faces behind your company through videos. This way, you will build trust and create strong connections. Appeal to the emotions of your audience by addressing their pain points. For instance, you can address the frustrations of a faulty heat pump and why the issue needs immediate attention. You are likely to generate more leads when your potential customers resonate with your content.
Optimize your Google My Business (GMB) Profile
Optimizing your Google My Business Profile will increase your visibility when prospective customers search for HVAC services in your locality. The more visible your website is, the more leads you are likely to generate. Local customers actively looking for HVAC services will find your business when you optimize your GMB listing.
You also increase your chances of ranking on Google's 3-pack when you optimize your GMB profile. Through Google My Business, you can acquire more positive reviews and generate more leads for your business.
To optimize your GMB profile, include your Name, Address, and Phone number (NAP) details and ensure they are correct across all online platforms. Include photos of your services, add a detailed business description, update your operating hours, include your website URL, and add your service area.
Run Paid Digital Advertisements To Generate Leads

Paid advertisements are a quick way of enhancing your visibility and generating leads faster. When you bid, your ads appear first on search engine results pages, and they are noticed faster, especially by customers looking for HVAC service providers.
Paid digital ads also target specific customer pain points and buyer intentions. The leads these ads generate will be from your locality, increasing your chances of getting conversions. Monitor your paid ads to know their ROI. If the performance is not desirable, review and redesign your campaign.
Where do you run your paid ads?
Google ads—best for warm leads, but a bit expensive
Facebook advertising—best for quick outreach and promotions but leads are a bit cold
Bing ads
Yahoo advertising
Instagram
Nextdoor
LinkedIn
Twitter
Technician boards such as Thumbtack
The list is long.
Request customers for video testimonials
A potential customer is likely to trust what another client says about your HVAC services. About79% of consumers watch a video testimonial to learn more about a product or service. Furthermore, video testimonials are more engaging and personal compared to regular customer reviews.
Video testimonials have a human touch and can influence a customer's decision based on emotions. Testimonials also explain your services better than text. Through a video testimonial, your client can break down crucial information like how your services helped them solve a particular problem.   However, you should still prioritize customer reviews. To keep the leads flowing, acquire several testimonials and ensure you provide high-quality services.
Manage Your Online Reputation
Information on social media is shared widely and fast. Any negative review can dent your reputation, but only if you do not have an effective approach to customer engagement. You can hire a social media manager or a website admin to look into all customer communications—good and bad.
Your social media manager should enhance your online reputation through regular customer-friendly posts and countering any negative posts about your services. You will gain more trust from your potential customers if you are honest. Focus on solving and rectifying areas that customers find unsatisfactory.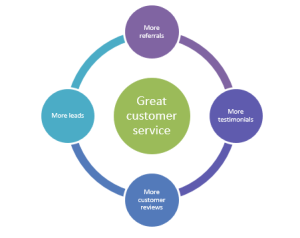 Use Email marketing
Email marketing will help you create targeted content for specific audiences. You can segment your audience according to their interests, purchase behavior, locality, etc. creating audience segments helps you deliver content that aligns with their needs.
Through email marketing you can interact directly with your prospects and generate more qualified leads. Try to send personalized emails that add value to your prospects. When your content resonates with your prospects' needs, they are more likely to engage more with your brand.
Email marketing will help you connect with your prospects and increase your chances of generating more leads. For instance, you can send educational content that perks your potential client's interest in a particular product. You could send something like "signs that you need an air conditioner replacement". Show them that your services are the best solution to their problem.
You can also send promotional emails right when you know your potential clients need your services. For instance, right before the cold winter or summer season, potential clients will be looking for better air conditioning or heating. This would be the perfect time to present your HVAC services.
Create a referral program
Another effective and cost-effective way to generate more leads for your HVAC business is to encourage referrals. Your current customers can help you generate more leads by referring their friends or family members to your business. Encourage referrals by offering incentives such as small gifts, discounts, coupons, etc.
For instance, you can provide a discount for every referral a customer brings. You can alternatively create a contest where the customer with the most referrals gets a certain reward.
However, you should always make sure that you are worth the referrals by providing exceptional customer service. This way, you will get more conversions and keep getting more referrals and leads from the customers you retain.
Automate business operations
Automating business processes makes it easy for you to manage different aspects of your business from managing customer relationships to scheduling and dispatching team members.
Customer Relationship Management software helps you keep track of your conversations, follow-up leads, and more. HVAC software also makes it easy for customers to book jobs online.
HVAC software also helps you easily schedule and dispatch team members. This way, you can provide great customer service by being punctual and working efficiently. Great customer service will lead to more positive reviews and ultimately more leads.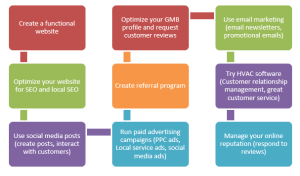 Sponsor local events
Another effective means of generating more leads for your HVAC business is through sponsoring local events. You can reach out to non-profit organizations or charity organizations and sponsor their events. This helps you increase brand awareness and generate more leads for your business.
You can even hand out company T-shirts during these events to increase exposure and attract more leads. Sponsoring local events also helps you acquire more backlinks from different organizations which in turn leads to more visibility on search engines and ultimately more qualified leads.
Measure results and improve
You don't want to spend your resources on strategies that don't produce results. Measuring and tracking the performance of your lead-generation strategies will help you discover effective and ineffective tactics. This way, you can get rid of strategies that don't work and focus more on those that do. Keep track of your channels.
Review conversions
Review the number of conversions you get from each channel. For instance, you can monitor the number of leads you generate from your social media platforms or PPC campaign. Try to analyze the number of leads that converted into actual customers. This way, you will identify the channels that generate qualified leads and make improvements.
HVAC SEO Services Inc. is a digital marketing agency. We serve contractors who want to go out there and dominate the market. Our target is to serve companies that are not content with their current market position; those who insist on growth and market dominance.
We have a habit of taking companies languishing in mediocrity and turning them into profitable, lean, and stress-free businesses. I bet every business owner wants to manage a smooth-flowing business. We can do that through careful marketing processes and branding.
Focus on the right things for generate leads
We start by identifying your buyer persona/avatar/profile, creating your website and other digital assets, creating professional content that will attract property owners and homeowners, running organic and paid marketing campaigns, and nurturing your leads over time. Shoot us an email below. Let us worry about where your next client will come from.
FAQs
How do I get leads for my service business?
Generating leads for your service business is more like a gradual process you need to follow.  If you want to generate more leads for your service business, you should consider using the following approach.
Understand your customers' needs
Send personalized emails to your potential customers
Create and publish high-quality content on your website and social platforms
Optimize your website for search engines
Use paid advertising
Create referral programs
Offer incentives to your customers like coupons, discounts, etc.
How do I get customers in HVAC?
Attracting customers to your HVAC business is not an easy task. However, you can get more customers by doing the following.
Create an HVAC customer referral program
Work on your website's design and navigation
Optimize your website for local SEO
Create high-quality HVAC blog posts, eBooks, white papers, etc.
Optimize your content for search engines
Post your content on social platforms
Use video marketing
Try PPC and Local Service Ads
How can I generate leads without paying?
Some lead-generation techniques require you to pay a fee. However, there are several strategies you can use to generate leads organically. They include:
Send high-quality personalized emails
Use social media posts to generate leads
Improve your website design
Create high-quality content that provides value to your audience
Incorporate visuals in your content
Use relevant keywords in your content
Focus on creating thought-leadership content like blogs and white papers
Guest post on authoritative websites
Request your clients for reviews
How can I generate leads quickly?
How fast you generate leads will depend on your efforts. Here are several techniques you can use to generate more leads for your HVAC business.
Request referrals from your customers
Acquire more customer reviews and customer testimonials
Interact with potential clients on social media platforms
Use PPC ads, Local Service Ads, and social media advertising to reach a wider audience
Optimize your Google My Business Profile
Use social media posts to expand your reach