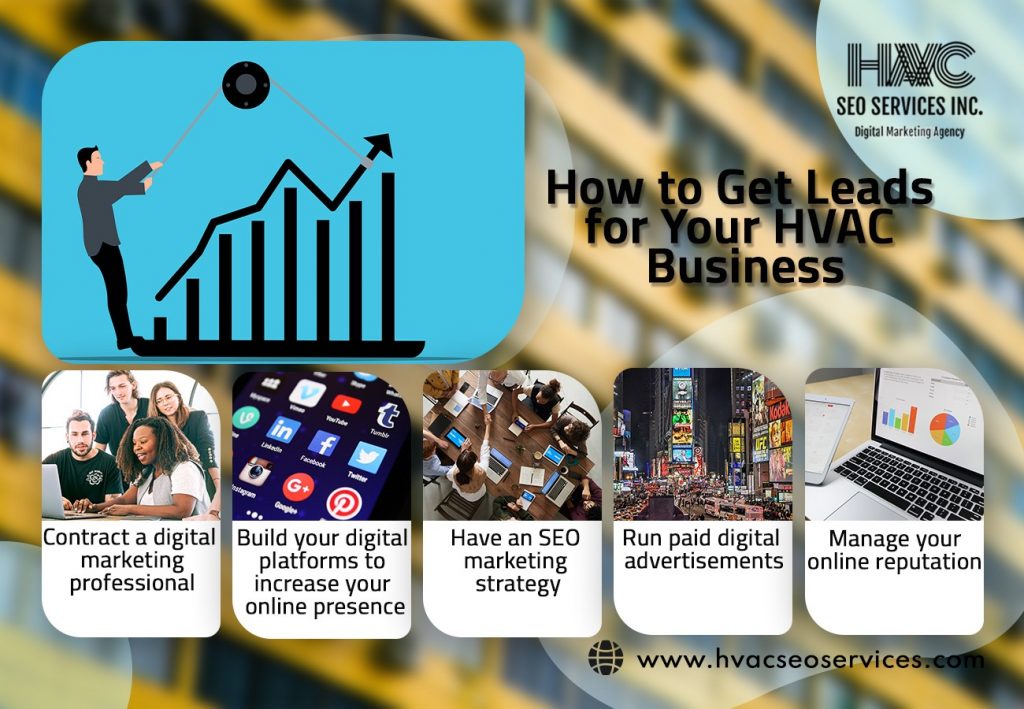 Are you struggling to get leads for your HVAC business? You don't have to. Read on to know how you can drive leads to your site and make conversions.
Before we get started, allow me to make a bold claim. The only way you can currently guarantee leads is through digital marketing. I will justify. The only time a HVAC customer looks for a HVAC technician is if he or she has an HVAC need.
If you advertise on radio, print media, television, or a billboard, what are the odds of stumbling on a person who coincidentally needs your services? The chances are minimal. If the person is not active in the market for such services, do you think he will pose what he or she is doing to take down your number?
So, what happens when a person needs your services? He will call people he or she knows had a recent fix or installation to request a number or go online. If you are not there, you must be a charitable organization.
We are sure your HVAC company is not one of those not-for-profit entities. You opened it to make tidy sums of money, and that money comes from your leads.
As you know, the most frustrating thing for any business owner is to spend days on end without any sales, yet you still have to foot your bills. You need to generate leads constantly. Otherwise, how will you make money? Here is how to get traffic for your HVAC business:
Hire a Digital Marketing expert
You know your brand popularity will have an impact on your leads generation, but are you keen on your HVAC web design? Are you only after a static website that will make it hard for clients to interact with what you are offering?
You also don't want a static site without any explanation of how your customers can snatch those offers. Your digital HVAC marketing services provider will make your site is interactive and optimize it properly for it to generate traffic.
The idea is to work with an experienced professional. Essentially, the person should have worked with many businesses. They should know what works, what does not work, and they know when to make changes to a marketing campaign.
You may not keep pace with search engines algorithms changes and the dynamic marketing strategies for heating and air conditioning companies, but you cannot overlook them.
They are significant for bringing more business that will keep you occupied with clients' projects. Leave your marketing services provider to handle them as you dedicate your efforts o your technical tasks.
Why hire an expert?
Digital HVAC marketing services experts exist to help you increase your site visibility in SERPs. To begin with, they will assess your HVAC website design and advise you on the best HVAC SEO strategies. Your digital marketing services provider will also guide you to craft HVAC marketing strategies to help rocket your leads.
You may not have the expertise and time to launch PPC and HVAC SEO campaigns, but you need them to generate leads. Your digital marketing also needs close monitoring to determine their ROI. Subcontracting these services will keep your leads growing and allow you time to serve your clients.
The overall goal of a marketing expert is to ensure that you have leads for your business. However, the most overlooked metric is cost per lead. You want the cost per lead to be as low as possible. This saved cost can be transferred to a customer or it can add onto your profits.
Generating more revenues and sales is important, but if your overall margin is poor, a business with better margins will not need to work hard as you do.
Experience has shown me that some HVAC companies generating $3-5 million in annual turnover barely reach 300,000 EBITDA—very disappointing. While $1 million a year business are comfortably making $120,000-250,000 net.
Why?
You don't need bloated operations to make a profit.
Build Your Digital Platforms
Your social media platforms should help you put together your profile and social proof of your authenticity and reliability. To humanize and personify your brand, display photos, images, and videos showing your team at work or participating in local charity events.
Additionally, include a link to your social media pages on your company documents such as invoices, receipts, and emails. Most visitors to your pages are likely to be leads who want to confirm your authenticity before signing the service agreement contract.
Have an SEO Strategy
Have you come across a local shopkeeper who opens his shop then sits down to wait for customers? Their sales volumes are so low that you wonder how they ever make ends meet, yet they can turn around the tide by tweaking their business model to make their goods more available.
It is the same with the heating and cooling business. You have to do what it takes for clients to know you exist and you are offering the kind of services they need. Your modern-day customers are searching for your services online, so you need a functional website, quality content, and effective digital marketing approach. Essentially, you also need to optimize your website, we content, and marketing information to show that you are a local HVAC business.
About 95% of internet searches do not go beyond the first page of search engine results pages SERPs. You should optimize your content to appear on the first page. Search engine optimization for a cooling and heating website is fundamental in generating leads as your page has greater visibility.
Run Paid Digital Advertisements
Paid advertisements are a quick way of enhancing your visibility and generating leads faster. When you bid, your ads appear first on search engine results pages, and they are noticed faster, especially by customers looking for HVAC service providers.
Paid digital ads are also targeted at specific customer pain points and buyer intentions. The leads they generate will be from your locality, increasing your chances of getting conversions. Monitor your paid ads to know their ROI. If the performance is not desirable, review and redesign the campaign.
Where do you run your paid ads?
Google ads—best for warm leads, but a bit expensive
Facebook advertising—best for quick outreach and promotions but leads are a bit cold
Bing ads
Yahoo advertising
Instagram
LinkedIn
Twitter
Technician boards such as Thumbtack
The list is long.
Manage Your Online Reputation
Information on social media is shared widely and fast. Any negative review can dent your reputation, but only if you do not have an effective approach to customer engagement. You can hire a social media manager or a website admin to look into all customer communications—good and bad.
Your social media manager should enhance your online reputation through regular customer-friendly posts and countering any negative posts about your services. You will gain more trust if you are honest. Focus on solving and rectifying areas that customers find unsatisfactory.
HVAC SEO Services Inc. is a digital marketing agency. We serve contractors who want to go out there and dominate the market. We serve companies that are not content with their current market position; those who insist on growth and market dominance.
We have a habit of taking companies languishing in mediocrity and turning them into profitable, lean, and stress-free business. I bet every business owner wants to manage a smooth flowing business. We can do that through careful marketing processes and branding.
We start by identifying your buyer persona/avatar/profile, create your website and other digital assets, create professional content that will attract property and homeowners, run organic and paid marketing campaigns, and nurture your leads over time.
Shoot us an email below. Let us worry about where your next client will come from.