Part of answering the question 'how to start your own HVAC business' involves an in-depth understanding of how to create a convincing and insightful business plan for HVAC company.
When you successfully and convincingly answer these two painstaking questions, you can be sure to have a steady roadmap to business success.
As the demand for heating and cooling services escalates, it is important to integrate the future into your present. Every business experiences seasonal ups and downs at some point in its operations. Therefore, being able to accurately forecast your future cash flow movements can largely boost your business continuity. In addition to that, it can eliminate any financial shocks.
A business plan is one of the best tools you can use to project and plan for the future of your business to ensure it always remains healthy in the highly competitive HVAC marketplace.
Keep reading to learn what it is, how it is structured, and why it important for your HVAC business to have one.
What is a business plan?
Think of a business plan as the blueprint of you HVAC business. It spells out everything you need to set off your business as well as detailing everything else you will be doing to keep your business running optimally.
In other words, an elaborate business plan lays the foundation for all the future decisions and operations of your HVAC business. Also, it acts as your HVAC handbook helping you to anticipate and avoid any imminent pitfalls in the HVAC marketplace.
A typical business plan for HVAC company entails different sections. These include executive summary, company summary, service description, market analysis, operations plan, financial projection, and marketing strategy.
Apart from being your business roadmap, a compelling business plan can also become your go-to negotiator. This is especially useful when you need some external funding for your business from investors.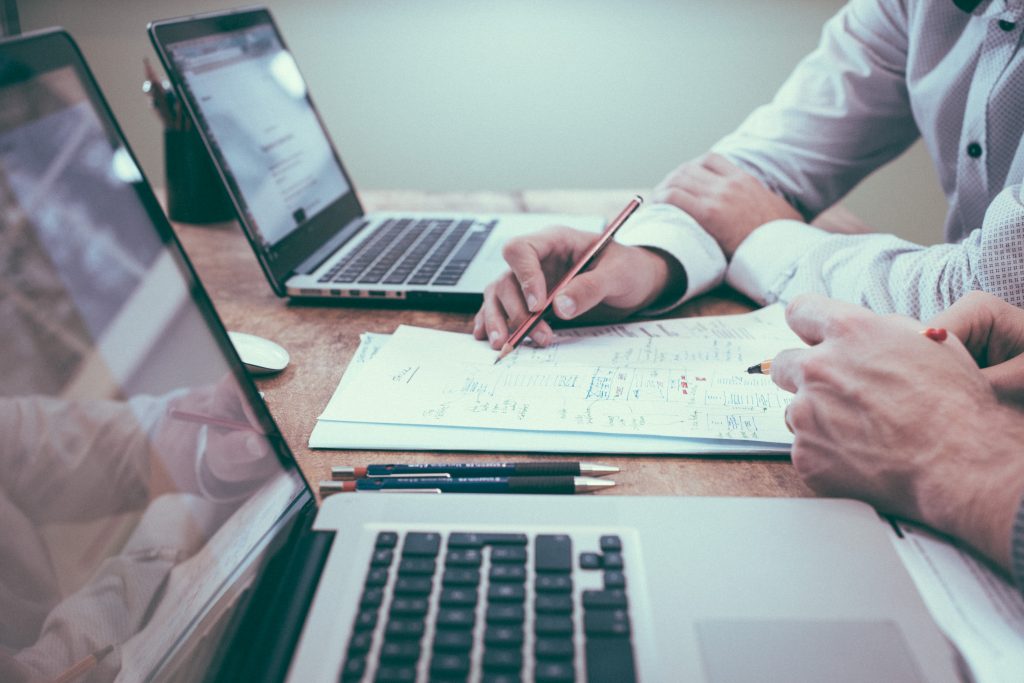 Why is a business plan for HVAC company important?
Is HVAC a good career in 2021?
This question can best be answered when you have your HVAC business plan in hand. But before attempting to create one, understand why you need it in your HVAC business.
As a fundamental HVAC handbook, a business plan helps you tread the unknowns of business with confidence by:
Providing more clarity to your decision-making process
Elaborating the structure of your business
Keeping you within the bounds of goal realization
Helping you solicit external funding support easily
Helping you avoid over investment or under investment
Minimizing overall business risk
Therefore, to answer our earlier question, yes, HVAC is a good career in 2021. If you have the right HVAC service tools or HVAC study materials and a comprehensive business plan forms an essential part of both options.
How should you write your HVAC business plan?
The simplest place to begin this crucial journey is a business plan template. Fortunately, the business plan template provided below contains the main features of any HVAC business.
Remember to always treat your business plan as a living HVAC handbook. That means, as your business grows your business plan should equally be kept up to date. You don't want to use some old blueprints on a redesigned house, do you?
Working closely with an HVAC SEO pro to manage that administrative process for you and make adherence to your business plan a lot easier is what you should be considering.
Generally, a business plan for HVAC company will include the following sections:
Cover page
This is the first point of contact with your readers and/or investors and should summarize all your critical business information. It should entail the document title, business name, logo, address, contact information, as well as your role in the business.
Executive summary
As the name suggests, your executive summary should be kept brief and concise because it is just a summary. Try to keep it under two pages where possible.
It summarizes your entire business plan by outlining the overview of what the business does, your competitive advantage, your service area, the business leader, and the number of employees in your team. The executive summary also outlines your financial projections along with any funding needs.
As a rule of thumb, the executive summary of your business plan should be written last (Although that's totally up to you). Being a summary, you will have a clearer understanding of what should be captured after you are finished writing the other sections.
Company description
This section outlines the summary of your HVAC firm. It speaks about the mission and vision of your company, its legal structure, the key objectives and problems it hopes to address, your target customers and market, as well as your unique value proposition.
You should also highlight your management team and how you measure performance in this section.
Service description
Here you can enlist all the HVAC services your business intends to provide and how they will benefit your customers.
When documenting this section, the service scope is important. What determines the service scope is the kind of HVAC tools and equipment your business has. Also, a market comparative analysis should be done to study the competition and industry trends.
There are plenty of HVAC study materials to help you with that including HVAC textbooks. From these sources you can derive information on the typical HVAC service offerings and customize yours accordingly.
You can also choose to leverage some of the best HVAC systems 2021 has to offer and provide services revolving around HVAC installations, inspection, maintenance, and repairs.
For HVAC service optimization, look for professionals that specialize in SEO consultant jobs to better frame your service description with the right terminology.
Market analysis
This is the most demanding section of your HVAC business plan. It requires both extensive and in-depth research to gain enough insights on the state of the HVAC marketplace. In other words, this is the part of the business plan that paints a picture of what you are getting into by venturing into HVAC business.
You can try to research some of the Best HVAC jobs or choose to involve HVAC marketing research experts to understand how your competition thrives. This gives you an opportunity to decide what you might do better than them. To begin this research, you can head to any popular search engine and input a query like 'HVAC companies in my area' and see what comes up.
From the list of search results displayed, seek to understand who your competitors are, what HVAC services they provide, their team size, how much they charge for similar services, and what makes them stand out.
After keenly studying the competition, study also your target market. Seek to understand your ideal customer starting with their demographics. Ask yourself, what is their age, income, specific need, and how big is the target market?
In this customer research, you can be guided by user intent. What is user intent? This basically refers to customer search intent or what an online user intended to find when they typed their search query in a search engine. This will guide you in accurately segmenting the target market based on their specific need.
Whatever findings you wind up with from both researches should be summarized in your market analysis section.
Operations plan
In this section you can describe how you intend to carry out your business operations. Also the HVAC service tools you are going to need to get the job done. They may include wire strippers, screwdrivers, pliers, hammers, HVAC software and so on.
To derive such fundamental information, you can google seasons to understand when specific services are on high demand. You can also gather basic insights on specific HVAC systems from an HVAC repair book. This will help to prove you know what you are dealing with.
Additionally, as you google seasons to determine your service schedules, you can also google 'HVAC companies in my area' to fit into a customer's shoes and get an idea of how other successful HVAC businesses operate.
Furthermore, in the operations plan you can also talk about your management team and employees, how much you'll pay them, as well as the average labor costs in your service area.
There are plenty of HVAC marketing professionals with a specialty in SEO consultant jobs that can help you navigate this particular section.
Here you can describe what your HVAC marketing strategy entails, as well as the sales process. Begin by highlighting the specific marketing tactics you are going to use to generate qualified HVAC service leads.
These tactics may vary depending on your priority. Generally, you can include your lead generation process flow chart and Yelp review management system. You can also add Angies list review link and the pay per sale lead generation strategy. Additionally, you can add HomeAdvisor lead generation plan, among other potent HVAC marketing 360 options.
Before outlining these tactics in your business plan, figure out how you can use a lead generation process flow chart to document every step of generating qualified leads for your HVAC business.
A lead generation process flow chart details a step-by-step guideline for acquiring, nurturing, ranking, converting, and evaluating the leads targeted. It may take different forms but when presented visually, it may appear as follows: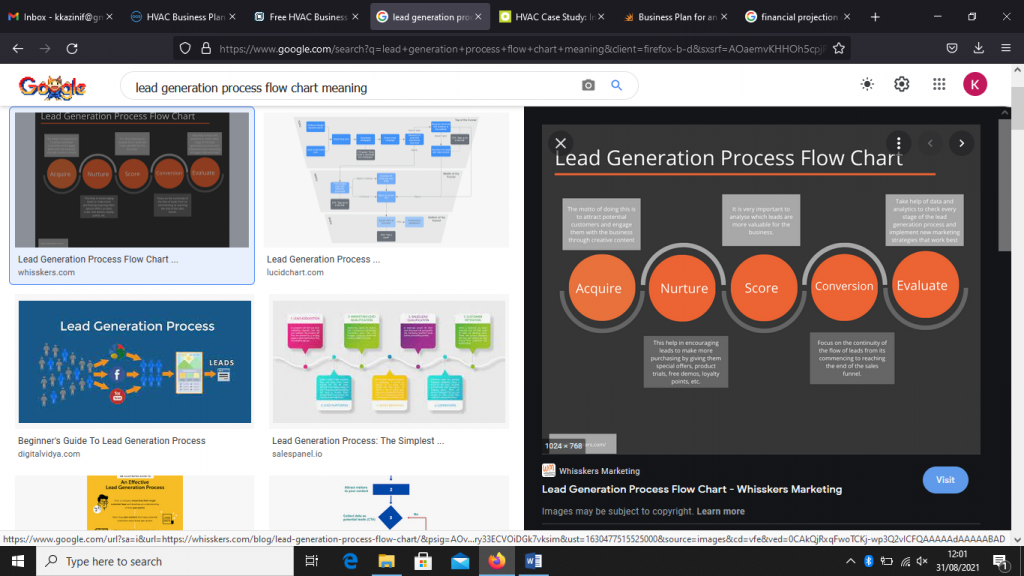 Yelp review
A Yelp review management system helps you develop an intentional relationship with your customers. Your willingness to resolve their critical concerns promptly is what shifts their negative reviews to positive feedback. Positive feedback is a huge plus to your HVAC service rating.
Another effective way to generate local leads is by leveraging your Angies list review link as well as HomeAdvisor reviews by contractors. Both these siteshelp you establish a loyal clientele easily especially when you are just starting out as an HVAC contractor.
In your marketing strategy, you can also describe how you intend to partner with local lead generation companies for contractors. Or your plans with a reliable PPC contractor to boost your overall marketing efforts. This marketing partnership may also be extended to affiliate pay per sale lead generation websites that help promote your brand beyond your site.
To find these marketing professionals you may begin by researching SEO consultant jobs in your service area.
Finally, participating in online surveys such as Survey say review can potentially earn your business some credible reviews and boost your lead generation efforts.
For your sales strategy,start by looking up 'HVAC companies in my area'. From that selection, try to identify the sales tricks these rival companies employ. While at it, consider working with some of the best lead generation companies for contractors. Do this by checking their online portfolios for previous successful projects.
HVAC conferences
Lastly, participating in HVAC conferences and trade shows as well as leveraging the power of HVAC humor marketing through funny taglines will further amplify your sales strategy while accelerating your lead generation process.
As you conclude this section, make sure to include a cost estimate of each of these lead generation strategies where applicable and how they can translate to actual buying customers.
Funding request
Do you have plans of seeking external financing for your HVAC business? This section lets you indicate the amount you will need to fund every operation over the next five or so years. You can state how exactly you will apply the money. Additionally, you need to state whether you are seeking equity or debt financing along with the specific terms for each.
Financial projection
This section can be presented in two formats; as a new business and as an established business. If you are just beginning your HVAC business, you should only present a financial forecast based on estimates of your balance sheet, income statement, cash flow statement, as well as statement of capital spending.
If your HVAC business has been operational for some time, you will draw your financial forecast based on financial statements dating three to five years back. Additionally, visual aids like graphs and charts help to supplement the presentation.
To get a good idea of what a financial projection entails, you can browse one or two practical scenarios through an HVAC case study.
Get expert help planning your business
Need a faster and reliable way to set your new HVAC business rolling or secure external funding? Get your HVAC business plan now by a pro.
Our HVAC SEO team understands what it takes to make your business tick. We provide customized HVAC business plan templates to help you navigate the tedious preparation process with ease.
To find out what an outstanding business plan for HVAC company entails, reach out to our HVAC SEO team today.
There is no better way to anticipate business risks, remain focused on your business goals, and ready your HVACR business for the future.