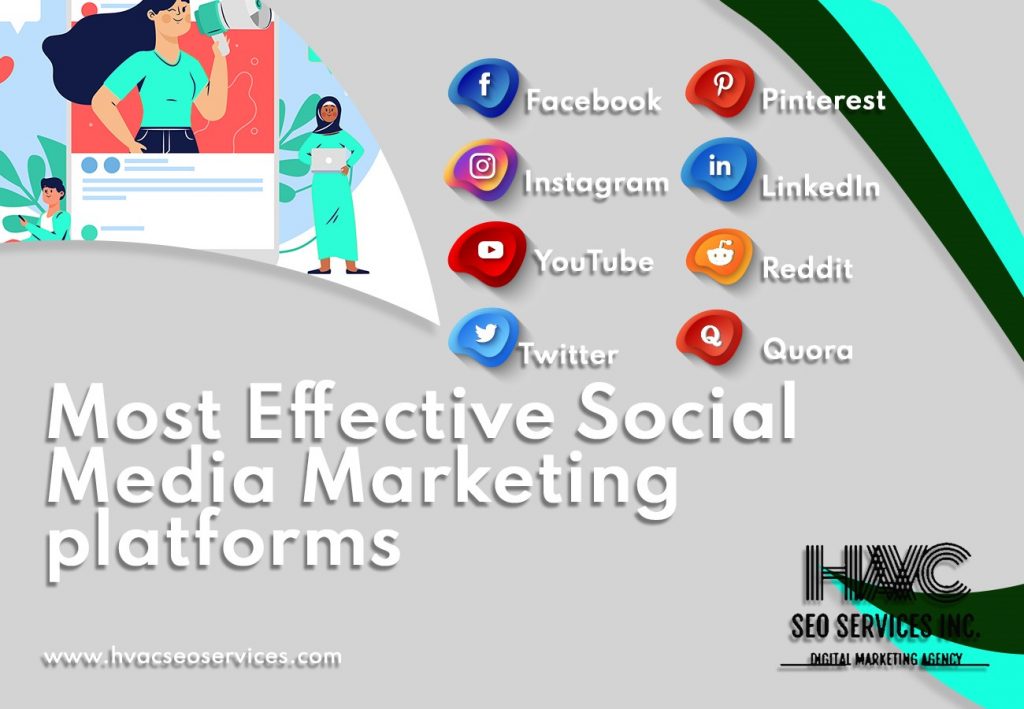 Which social media marketing platforms work well for contractors?
Today, there are at least 8 established social media sites and Apps, with about 5 billion users. However, not all of them will favor your HVAC marketing strategies.
Remember, your social media marketing works in tandem with your HVAC SEO web design to give you your anticipated results. Here are the best social media marketing platforms:
Facebook
With over 1.7 billion active users each day, Facebook is an ideal marketing platform for any business. It is an excellent way of finding your target audience, getting new connections, and building your email list.
Statistics show that 54% of Facebook users are female. 23% are between 18-24 years, and 24% between 25-34 years. These numbers tell you that your ads may do better if they target youthful or female users.
You can also create a private group for your clients to interact with each other, share experiences, and ask you questions regarding your services. This gives customers a more personalized interaction with your brand and a helpful way of sustaining customer loyalty.
Decide if you will depend on organic content or paid ads to market your brand on Facebook. While organic content may expose your brand to a bigger audience, paid ads generate more conversions as they are targeted.
Twitter
Twitter limits the number of characters your post can have. Your message, therefore, has to be intentional and straightforward. It is, therefore, the best platform for reaching out to an audience that has already engaged in your service industry.
The platform has a balanced male and female audience. It accounts for 25% of male's online users and 23% of online female users. It is also popular with young adults between 18-29 years.
This is important as it will help you know the appropriate lingo to appeal to your target audience. You can post visually appealing content. Also, using humor is acceptable on Twitter.
For Twitter paid ads, you can opt for Promoted Accounts, Promoted Tweets, or Promoted Trends. Your promoted content is labeled so that users can easily identify it.
Do you know you can personalize your interaction on Twitter with Twitter Live Chats? Twitter allows you to engage with your audience in real-time.
This is an excellent way of tackling customer queries on a particular industry-related topic. The aim is to portray your brand as an authority to get more followers and conversions.
Instagram
This is another platform with a big following. The platform records over a billion users daily. It is also the best for posting visually appealing content. It works well when presenting or portraying your brand, values, and the business story rather than tell about it.
Instagram has been made better with the 'stories' feature that enables users to post videos about their brands. It is a good platform if you are looking for conversions and better brand exposure.
YouTube
YouTube allows you to open a channel for your brand or use TrueView advertising to pin your adverts on popular channels. It is excellent for creating brand awareness and driving traffic to your business. Consider using an influencer to draw users' attention to your channel and market your brand.
LinkedIn
This is the best platform if you are targeting professionals. It is considered a business site where users go to look for new contacts, industry-related news, and jobs. It is not a good site to post photos and videos.
However, it is a perfect site to net conversions with a high purchasing power. Use value-added HVAC SEO content, and use a strong call-to-action to get conversions.
Pinterest
This is a good platform for marketing your brand using photos and images. Users share what impresses them, helping businesses to reach a wider audience. Apart from generating leads, this is a perfect platform to scout for conversions as most visitors are looking for particular items or services they can order.
Reddit
This is an interesting platform because despite the restrictions they impose to discourage self-advertising, businesses that engage there generate considerable traffic from the site.
You should be creative on this site and use valuable organic content to drive traffic to your brand. Once you establish an authoritative voice on Reddit, you will easily get organic traffic and conversions.
Quora
You may not think of Quora as a social media advertising site, but it can generate massive traffic to your website. Yes, it is a platform where users ask questions expecting answers from the Quora community. And that is where your opportunity is.
Can you be the voice of authority on HVAC-related questions? And since it is also a moderated platform, focus more on giving genuine answers and not self-advertising. Once you claim your position as an authority, you will not struggle driving traffic from the site or getting referrals.