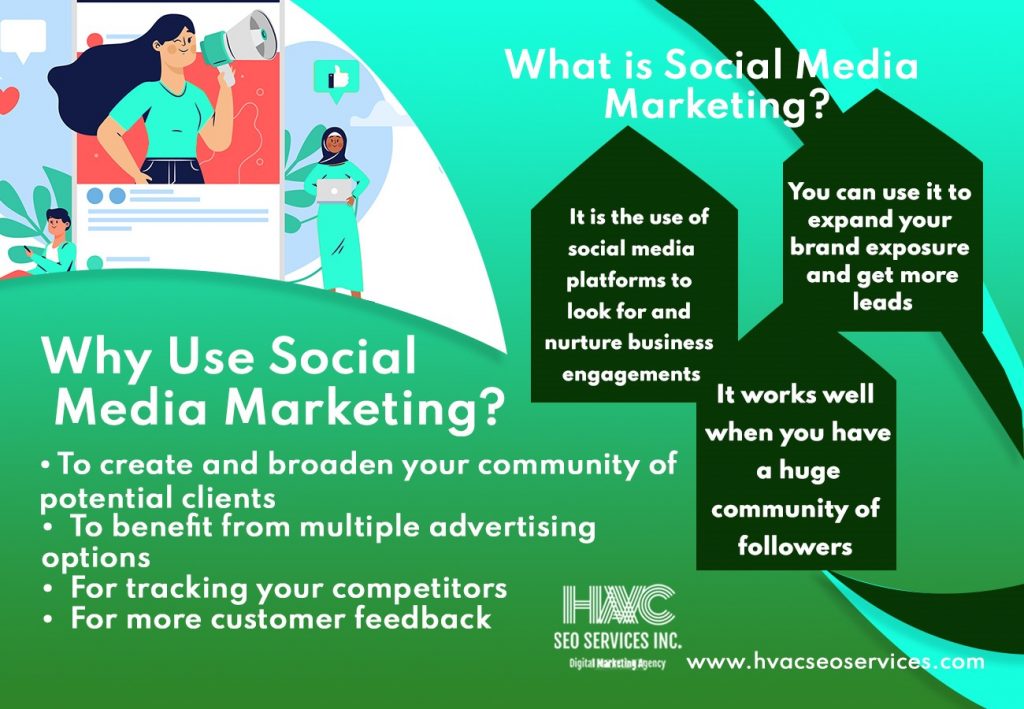 What is social media marketing? Are you struggling to wrap your head around social media marketing? Let us simplify it for you here:
Social media marketing is the practice of using appropriate content for different social media platforms to make business connections, establish brand recognition, and diversify your audience.
You must have noticed how much time people are spending glued on their phones. In most cases, they are scrolling their social media accounts. Have you ever thought about how you can leverage these platforms to publicize your brand to this increasing social media audience?
Here is the thing: reports show that, on average, people are spending about 7 hours daily on social media. Ask yourself why your business information cannot be some of the information they get as they scroll through various social sites.
Why You Need to Use Social Media Marketing
Broader Online Community
Social media platforms like Twitter, LinkedIn, Instagram, and Facebook are growing exponentially. Facebook records 2.7 billion active users each month.
You may argue that you run a local business and dismiss these global figures, but remember, there are several social media users even in your locality. It is a fast way for brands and companies to increase interest in their products and services and exposure. Using an effective content marketing strategy will generate leads and social signals such as shares, likes, comments, and increased subscriptions to services and email lists.
Targeted Audience
When marketing on social media, you can choose your target audience and craft appropriate content for them. For example, suppose you are targeting Millennials. In that case, you can reach them on Instagram and Snapchat with content they can identify with. The group appreciates videos and comical content.
The older audience is likely to be on Twitter and LinkedIn and may appreciate more formally crafted marketing content. They may not have the patience to read long messages, so you can communicate to them better using images and punchy taglines. When you know your audience, you will craft content they can resonate with.
Some search engines like Bing and Google use comments, Tweets, updates, and profiles as a factor for ranking your site. Businesses with widely shared content, clicks, and comments rank higher on SERPs, giving them better visibility.
Increased Customer Reach
Social media content is easily accepted and shared widely when the audience considers it credible. It works the same way as when you impress a person you are meeting for the first time. Once you win their trust, they will have no problem connecting with you repeatedly and talking about you to their peers.
Once you post information about your services or business and it elicits interest in your audience, they keep sharing it, creating an almost infinite audience. This is an excellent way of driving traction to your website and business.
Brand Control
When using social media to market your business, you remain in charge of your brand, content strategy, and budget. And since you understand your audience, you can present your brand in a way that appeals to them. If their preferences change, you notice and tweak your content to remain relevant to them.
Multiple Advertising Options
You have a wide selection of social media platforms to market on. You can use Messenger, Tumblr, Facebook, Twitter, WhatsApp, and WeChat, among others. Analyze the appropriate channels for your social media marketing strategy. You can always make adjustments if the dynamics change.
Tracking Your Competitors
If you want a minute-by-minute update of what your direct competitors are up to, follow them on social media. You may learn their HVAC marketing strategies of the tactics they use to keep their HVAC website design optimized for HVAC SEO.
Scout their social media accounts to know who they contract for HVAC marketing services or HVAC web design. You may also find out their marketing budget to see if you can match them.
Cost-Effective Marketing
Your social media marketing helps you reach more clients without a huge budget. Your marketing content keeps spreading without demanding additional work or funds.
Customer Feedback
Social media allows you to get raw and immediate feedback from your customers. This is a perfect way of understanding your customers' preferences and how you can serve them better. The feedback can inform your HVAC marketing strategies.
Also, the feedback is significant in helping you manage your online reputation as a customer-first brand. The easiest way to do this is by responding promptly and tactfully to comments about your business.