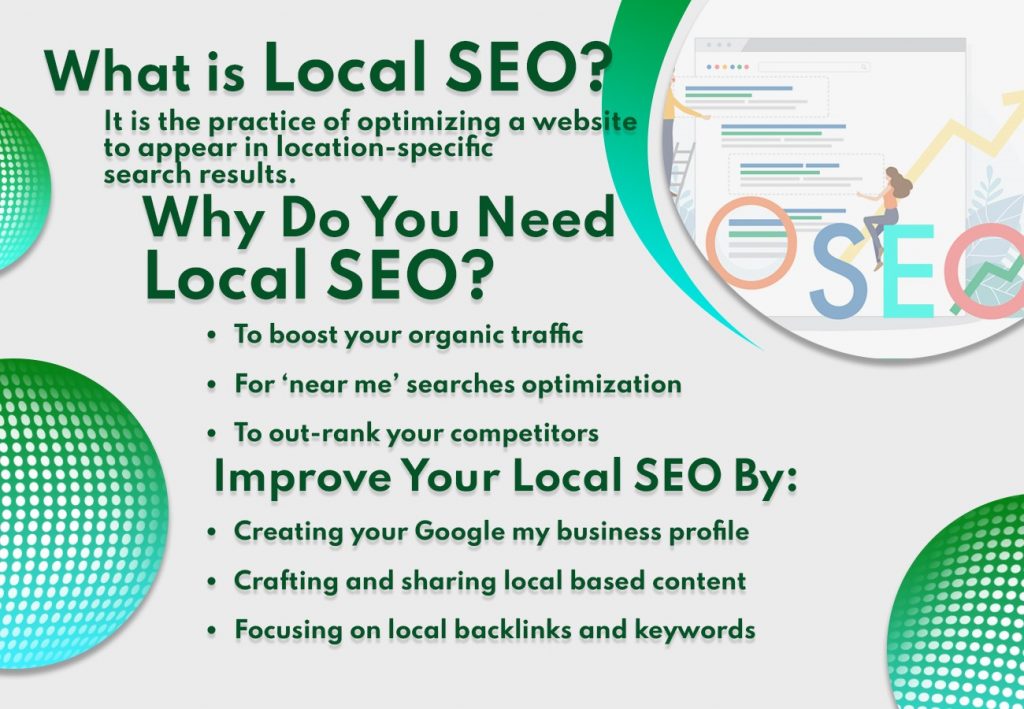 If you wonder what is local SEO and whether you need it, you are in the right place. In this article, we will explain to you what local SEO is and help you to decide if you need it or not.
What is Local SEO?
Local SEO is the practice of optimizing a website to appear in location-specific searches. It is tailored to help local businesses to attract more customers and earn more revenue by improving their visibility on Google and other search engines.
With the increase in the number of internet users, aided by the accessibility of mobile devices, more and more customers are using the internet to search for businesses in their neighborhood. To enrich this experience, search engines now facilitate local searches.
Wondering why they do this? Consider this:
When customers need an HVAC technician, they want one who understands the heating, ventilation, and air conditioning problem in their region. They go for the one who will arrive promptly and can be reached fast for a follow-up visit. They are likely to specify the locality in their search.
Customers will also trust a local company with testimonials from clients in their locality. This will boost leads for your business if one of the reviewers is a local influencer.
Search engines picked this cue, and they now factor locality when ranking websites. A search by a customer in one location will yield different results from another customer in another region. Optimize your website with local SEO for better local ranking, more leads, and revenue.
Why Do You Need Local SEO?
The business environment is highly competitive. Companies are investing heavily in their HVAC marketing strategies. Here are some reasons why you need local SEO for your HVAC business:
For 'Near Me' Searches Optimization
If you offer your services in a particular locality, you need local SEO to increase the number of leads searching for your kind of business in your area.
Since most HVAC clients search for local contractors using their smartphones, local HVAC SEO will place you where they can find you. Local customers will stick longer with one contractor if they are happy about their services.
And since local SEO is mobile-friendly, you will be found by all customers, most of whom may be using mobile devices.
You want your website to appear in navigation apps, maps, and Google's local pack. This is helpful as you will get location-specific leads that are likely to hire you.
To Out-Rank Your Competitors
Local SEO will also be excellent for your business as it will drive leads with high purchase intent. Most visitors searching for local companies will order a service or product if they think the company is credible. Be the first brand your customers see before your competitors, and once you impress them, they may remain loyal to your company and refer you to their peers.
To Boost Your Organic Traffic
Even after investing in the search engine optimization of a heating and cooling website, you can still experience an unexpected fall in organic traffic, because as you know, consumer behavior is not static. Your local SEO will boost your organic traffic as more nearby clients will find your business.
To earn conversions using local SEO, contract an HVAC marketing services provider for professional guidance on the best way to rank high on local listings.
How to Improve Your Local SEO
Create Your Google My Business Profile
Having a Google My Business account is the easiest way to position your site for local searches. Optimize it by providing relevant information to build your business profile and keep it active and updated.
Craft Local Based Content
You will be more relevant to local clients if they find relatable stories on your business profile and blog. Post photos of local events you participate in write content based on local news.
Optimize for Mobile
As mobile searches continue to grow, there is a significant slum in desktop searches. Optimize your HVAC website design for display on mobile searches, most of who are looking for local businesses. 75% of these searches visit the businesses they select online within 24 hours of their searches.
Perfect Your Local Keywords
Optimize your content using locally relevant keywords. Use search engine keyword filters to generate a list of local keywords.
Localize Your 'About Us' Page
In your 'about us' page, specify your location operation hours, parking availability and also include a Google map to your office.
Focus on Local Backlinks
Get several high-quality backlinks on your website and request other credible local sites to link your website. This helps increase visibility to your local market and ranking on local search engine results pages.