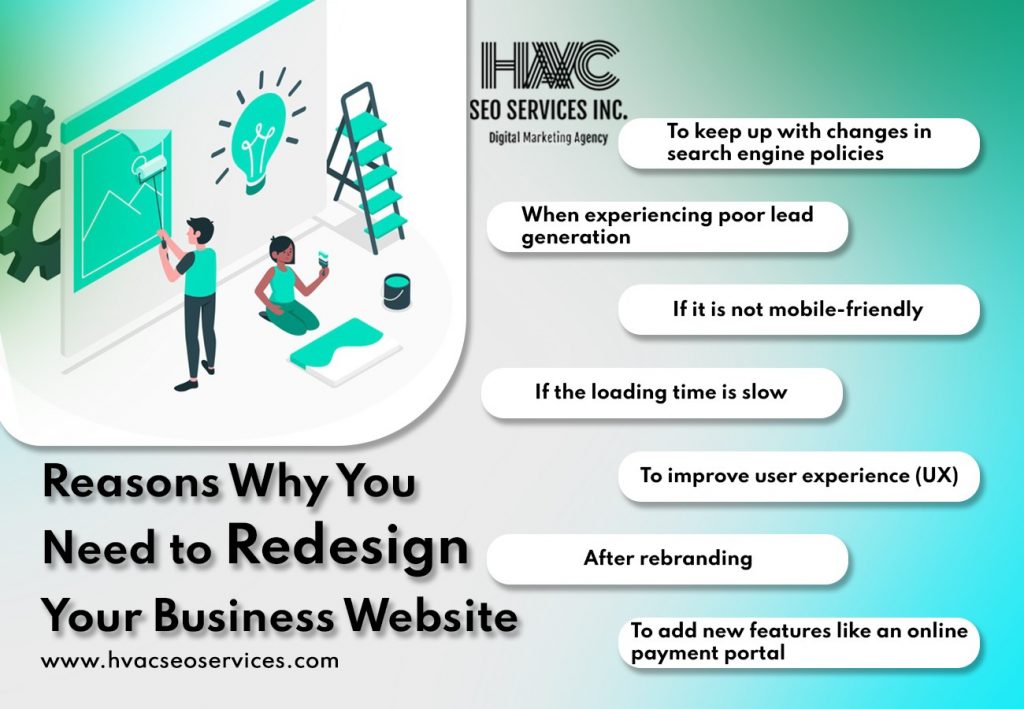 Do I need to redesign my HVAC business website?
Though you may not need to redesign your HVAC business website every other day, you have to do so at some point. Think about the many things that have changed since the time you published your website.
Here are the things that should make you redesign your website:
Changes in Search Engine Policies
You may not have changed your business model since you published your website, but search engine policies may have changed.
For instance, sometimes back, keyword stuffing was acceptable, but your site will rank poorly if you do it today. This is because, currently, search engines prefer valuable content with proper keyword optimization.
You need search engines to display your website to potential leads, and they need you to provide valuable content to searchers. To remain relevant to them, redesign your website to keep abreast with their policies.
Often, the policy changes will only require minimal changes on your HVAC web design, such as updating your content, search engine optimization for a cooling and heating website, buying SSL certificates, or tweaking the web speed.
Poor Lead Generation
If your website's lead generation is low, contract a web developer to evaluate if the HVAC website design is a hindrance. The expert will advise you if you can redesign a section of the web or overhaul the entire website.
You may realize the site is not optimized, so it does not rank well on search engines. In this case, an HVAC SEO expert will tweak it out to gain visibility and attract more traffic.
Not Mobile-Friendly
Redesign to make the site mobile-friendly to take advantage of smartphone growth as the primary device. Most searches for HVAC business are done on mobile digital devices like iPads, mobile phones, and laptops. If your website is not designed to be found by searchers using these devices, redesign it to make it mobile-friendly so that it can effectively facilitate your HVAC marketing strategies.
Slow Website Speed
If your loading speed goes beyond 3 seconds, your bounce rate may be high. Analyze your web speed to detect what is causing the slow loading speed. It could be the kind of plugins that you have or images that are not optimized.
When evaluating your site speed, do not leave out your web page's loading speed as it impacts the efficiency and ranking of your site.
Failure to do so will make you miss the highest percentage of customers searching for heating, ventilation, and air conditioning business in their localities. Your site will also not rank on SERPs as Google policies now use mobile-friendliness as one factor that determines website ranking.
Dynamic Customer Preferences
You exist to serve your customers, so you cannot be rigid when their preferences are dynamic. For example, some clients prefer watching videos and demonstrations over reading longer content.
If you want to convert them, you have to accommodate their preferences by uploading some videos on your website.
Poor User Experience (UX)
A poor UX presents your business as unreliable and unprofessional. It may result from low-quality content, a design that makes it hard for users to navigate the website, or unoptimized images and plugins.
Your UX may improve if you include a navigation bar with drop-down tabs to guide visitors. The tabs should be easy to click even when the user is accessing the site from a mobile phone.
Remember UX is as significant as customer care. It determines if your customers will remain loyal or not. An incredible UX also drives more leads as your customers will easily refer their peers to you.
Rebranding
If you have rebranded your business, the changes should also reflect your customer touchpoints. The look on your website should be consistent with the look on your physical office, branded vehicles, social media pages, and promotional merchandise.
This consistency will win your customers' loyalty and increase demand for your services. The opposite is also true that inconsistencies will dilute your brand. Avoid them by outsourcing your branding and HVAC marketing services to a credible HVAC marketing agency.
Adding New Features
You want to keep up with trends in web designs. The most popular feature currently is the online business functionality as more customers are making orders and paying for services online.
Visual content is also gaining popularity as a way of driving traffic and keeping visitors on a website for longer. You can redesign your site so that the graphics, videos, photos, and infographics do not affect your web speed and ranking. Optimize them before uploading.
If your website does not have a call-to-action, it is not providing a signpost for visitors to know what to do next. Guide visitors to commit by subscribing to your email list, calling to make an order, leaving a review, or signing up for an HVAC-related webinar.