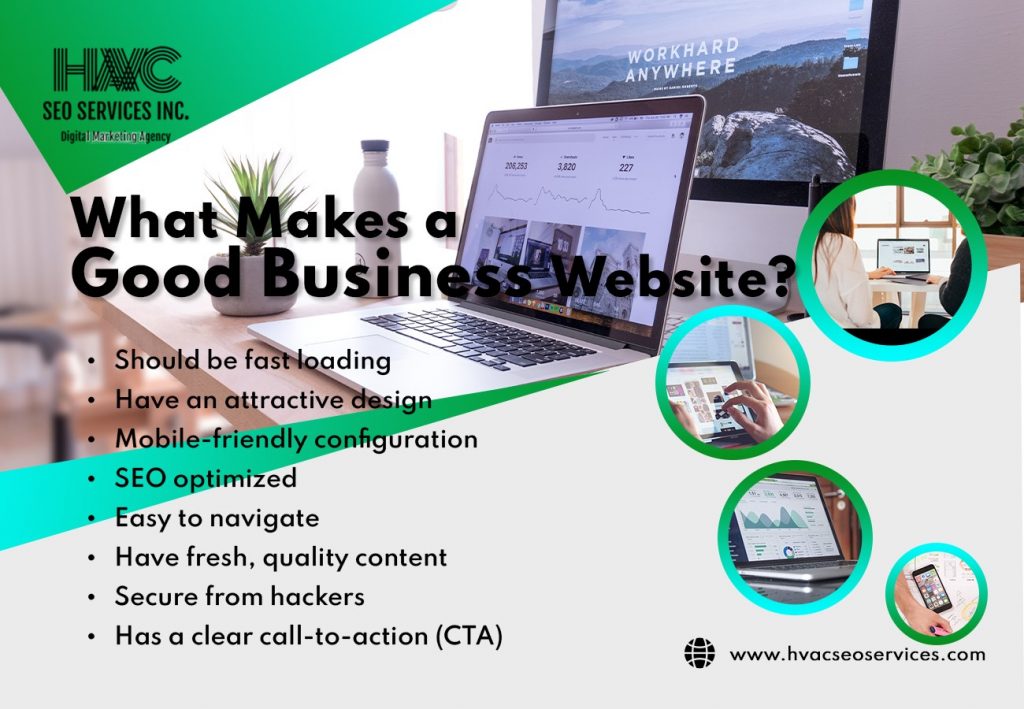 What makes a good HVAC business website? Are you wondering how to make your website work for your HVAC business? Here is how:
Work with a Digital Marketing Agency
Digital marketing is complex and time-consuming. Outsource it to experts for professionalism and increased effectiveness of your website. Your digital marketing agency will be in charge of your online presence on your website and social media.
You will get a professional web design from your digital HVAC marketing services experts, who will also work on your search engine optimization for a cooling and heating website. Besides, you will get expert advice for your HVAC marketing strategies.
Website Appearance
Your customers will notice the front-end of your website first. The color, user experience, aesthetics, and whitespace are some of the factors that will make them leave or stay on your site.
Configure your HVAC web design to be responsive even on mobile devices, especially since most heating, ventilation, and air conditioning customers do their searches on these devices.
Website Functionality
Regardless of how good your site looks, it will be ineffective if it fails the functionality test. Your visitors deserve a good user experience. They are investing time and money to search for your kind of business. The least you can do is provide a functional website for them.
So, what constitutes a functional website? It should have the information they are searching for, and they should access it effortlessly. Do not make your site so static that visitors take eternity to figure out where to find information.
Organize it for them, and include a content guide on your web pages. That way, you will reduce your bounce-back rates and earn your visitors' loyalty.
Always remember your user experience equates to customer care. If you are keen on giving incredible customer experience to your brick and motor business customers, do the same to your online customers, and you will get leads from their referrals and retain them for longer.
Web Loading Speed
Check your website speed to ensure it does not exceed 3 seconds. Most visitors will leave your site unless it loads promptly. The truth is they probably move their search to your competitor's website. Optimize, reduce sizes of images and limit plugins to raise the loading speed.
Engaging Content
Visitors come to your site searching for heating, ventilation, and air conditioning-related information. When they find it, they will stay on and keep coming back for more as you will have impressed them as a credible resource.
But this takes more than just posting content on your website. It must be good enough to keep visitors on the site for longer. Upload engaging, valuable HVAC SEO content, bearing in mind content quality is among the top 3 things that determine if your site will rank on the first page of SERPs.
When crafting your web content, have the end-user, your visitors, in mind. Is the content informative, entertaining, educative, or insightful? Be flexible and innovative with your content choice as long as it is relevant to your audience.
Links
Your links provide a network of related businesses to benefit your customers and increase your ranking. Identify credible websites to link to, and ask them to link back to your site.
You can also earn organic links from clients who consider your site a valuable resource for their audiences. The links may also come from social media platforms where your brand is mentioned.
Include Relevant Pages
About us, contacts, blog, and service pages are important as they ease navigation on your website. Create separate pages for your services, and your site will rank better. Upload relevant content on each page on your site and optimize them.
The pages should be scrollable and easy to read as they impact the performance of your entire website.
Add Testimonials
Testimonials are an excellent way of building your visitors' trust in your services, especially if they are first-time visitors. Include those that give more details about your business than what is on your site.
Call-To-Action (CTA)
Use your CTA to direct your visitors to the next level of commitment, where they either signup for your services, subscribe to your email list, make an order, or book an appointment. Make the CTA concise and clear.
And in case your CTA involves contacting your office, be responsive when contacted. You may not have ready answers for all the queries you receive, but be prompt to acknowledge receipt and let the customer know you will get back to them.