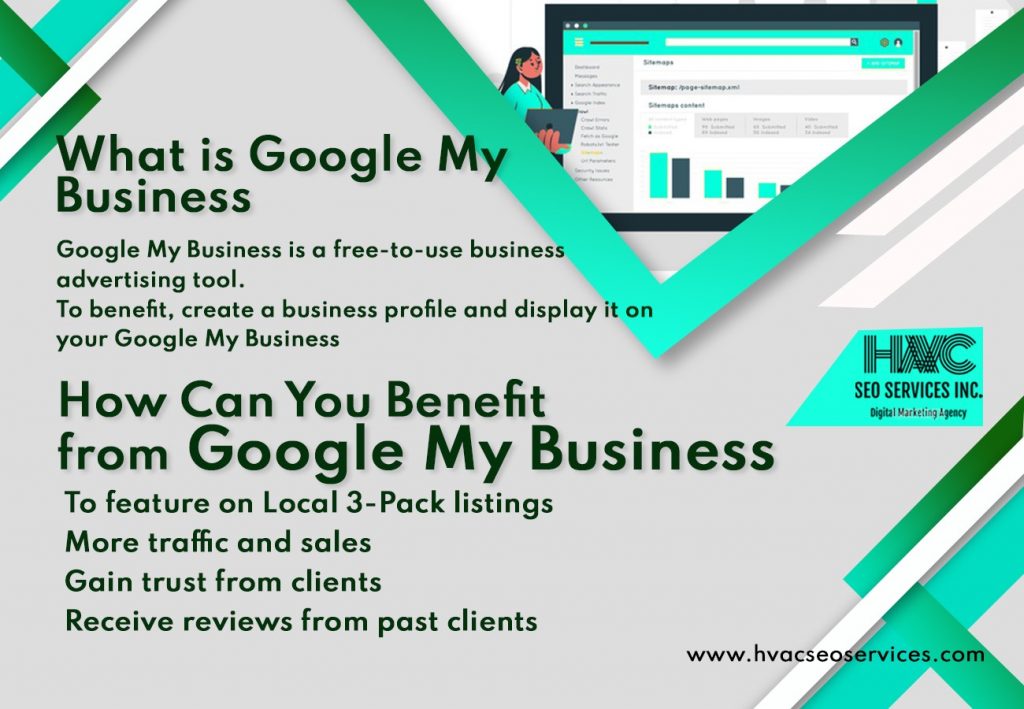 What is google my business?
Do you wish to benefit from the rising number of potential customers searching for the services you offer on Google? Then, create your Google My Business Profile. Maybe you are not sure what Google My Business is. Read on to learn about it and how you can benefit from it.
You must admit that your business depends on other companies to grow. One of those companies is Google. It facilitates your communication with customers and partners and is now opening marketing avenues for your business.
Google My Business (GMB) is one of Google's techniques to help businesses expose their brands to potential customers. Find out more about it here:
What is Google My Business?
Google My Business is a free-to-use business tool helping businesses to increase visibility on locality-specific searches. Google also offers you the opportunity of advertising using Google Ads, but this comes at a cost and demands more time than building your GMB profile.
Your GMB profile contains the business data you want to display to your customers to help them choose your brand over your competitors. This may include your business name, contact information, address, hours of operation, and a website link.
You may generate this information, but Google allows you to claim your profiles created by other people. Through this profile, customers can find your company and verify its authenticity. This tells you that you have to provide accurate information on your GMB profile.
Google stats show that 46% of Google searches are from customers looking for nearby companies. Your Google My Business profile positions you where you can be displayed on such search results.
Unfortunately, most businesses are not taking advantage of this free Google business advertising platform. That tells you if you create your GMB profile, you will get an advantage over your local competitors as your business will be found faster than theirs.
Your GMB profile increases your business visibility on locality-specific searches, like Google Maps. It also determines your listings on Google Searches and Google Maps. And don't forget, you pay nothing and spend a short time creating your profile. It is the only sure way to get a cheaper and effective way of increasing your brand awareness.
How Can You Benefit from Google My Business?
Local 3-Pack Listings
Only lucrative business appears on Google's 3-pack listings. A GMB account is your gateway to this special club. But what is all this talk about the 3-pack? You are about to find out.
When a search is initiated in a particular locality, Google selects the top three businesses in the area and displays them first to the searcher. So, on the first page of SERPs, you will notice Google Ads and then the first three companies that Google considers the best for the searcher.
This should be enough reason to make you create your GMB profile if you do not have one. How can you miss the cost-free opportunity that positions you next to businesses that have paid to advertise using Google Ads?
And for your information, Google reports that ranking on local 3-packs boosts clicks by about a whopping 700%.
More Traffic and Sales
Google findings show that companies that pop up in local searches and have high listings attract 70% more traffic. Out of these, 50% search to purchase. Your GMB profile will therefore drive leads that are easy to convert.
These customers are likely to make you their go-to service provider. They can trust you more than your competitors who are not appearing on their search results. And because they are location-specific clients, you will have a steady flow of orders as you establish yourself as an authority in your industry.
Gain Trust from Clients
Today's customers scrutinize businesses before transacting with them. To gain their trust, you have to let them know as much as possible about your company.
Upload enough information on your GMB profile that can help them chose to do business with you. Including reviews and testimonials from your past customers helps boost their confidence in your services.
Clients are aware that Google vets business strictly before ranking them highly on SERPs. Your customers will trust you more after viewing your GMB profile and Google Maps listings.
Receive Reviews from Past Clients
Google My Business lets customers leave reviews. This is good as potential customers can use the reviews to determine the quality of your services and credibility.
Positive reviews are a testimony of the quality of your services. They can give you a competitive edge over similar businesses in your locality.