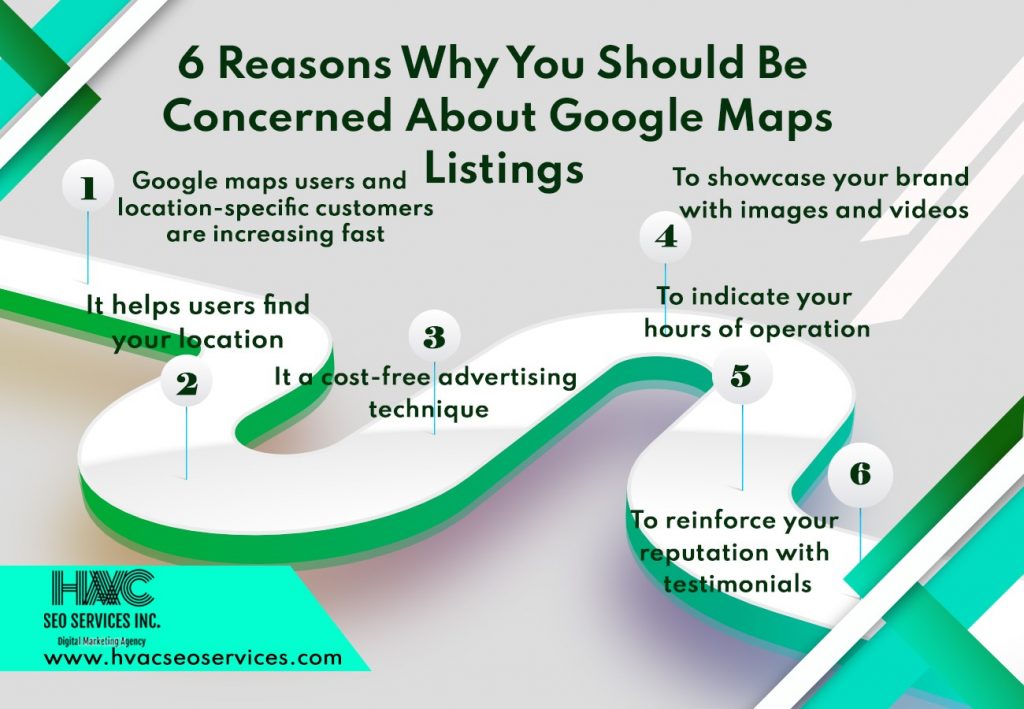 Are you wondering if you should be concerned about Google Maps listings for your business? Keep reading to learn more about it.
Let's begin by stating some facts here. Google Maps dominates the navigation industry, with about 67% of smartphone owners using it to trace local businesses. This means you have a higher advantage over your nearby competitors if you are listed on Google Maps.
Google Maps listings are one of the cost-effective HVAC marketing strategies for businesses targeting customers with high purchase intent. And as a business, your priority is to market yourself using techniques with a potentially high return on investment. Google Maps listings is one of the methods.
The investment is relatively small, but it can spike your conversions. Here are more reasons why you should be concerned about your Google Maps listings.
Growing Number of Google Maps Users
Google Maps are becoming popular with customers using mobile devices to search for businesses in their locality. Reports show that nearly 4 billion people own smartphones which they use to search for business-related information.
Your Google Maps listings will determine if your site will appear on such search results or not. When you are found, it allows you to provide solutions to more people and earn more revenue.
Increased Leads through Google maps listings
A third of mobile searches are location-specific, with stats showing that they are growing 50% faster than desktop searches. In most cases, customers doing mobile searches for local businesses have a high purchase intent.
They visit the businesses they find online to make a purchase or call for an online transaction. They do so usually within hours of completing their search.
Cost-Free Advertising
Take advantage of Google Maps listings and increase your brand awareness with a significantly low investment. Once you list on Google Maps, you will attract targeted traffic without the hassle that comes with marketing campaigns.
Additionally, your Google Maps listings are a one-time investment that will keep driving traffic to your business, unlike other HVAC marketing strategies that you have to keep funding.
Consultants in HVAC marketing services advocate for businesses to be keen on Google Maps listings as it is among the effective marketing strategies for heating and air conditioning companies.
Rising Number of Online Location-Specific Customers
70% of today's customers prefer initiating a connection with a business through the click-to-call icon on an online platform. These will make an order and pay for services online after approving the company's credibility.
With searches for local businesses having grown by over 500% in recent years, any company eager to attract more customers has to position itself as the 'near me' solution provider. Google Maps listings will help you do this effortlessly.
Helps Users Find Your Location
Google Maps help your customers find directions to your offices or confirm your location before initiating a transaction. Most of these are new leads doing a random search on Google Maps. If you have quality SEO for HVAC, your business will rank well on Google Maps, and potential clients will find it easily.
Once the searchers see you operate in their locality, they will choose you over others not so near to them.
Showcase Your Brand with Images and Videos
Images and videos give customers a sneak peek of your brand, the services you offer, and what kind of a business you are. Notably, the customers will compare what you are offering against what they can get from your competitors, and you may win them if they are more impressed by what you display.
This is particularly good since you can market yourself to customers who prefer visual presentations of brands as opposed to long prose content.
Sometimes, customers will search randomly for businesses. If the images and videos on your Google Maps listings are impressive, they may entice the customers to choose your business, the same way your HVAC web design attracts and keeps traffic on your site.
Indicate Your Hours of Operation
Have you ever been disappointed to find a store or office closed when you needed to procure a service or product? Your customers do not have to go through this ordeal. If you are listed on Google Maps, they can check out your business hours and schedule their visits accordingly.
Reinforce Your Reputation with Testimonials
Testimonials and reviews on an online platform are what word-of-mouth is to a brick and motor business. They help to reinforce your reputation. Google Maps listings ensure that potential clients see them on your Google Maps profile, which may entice them to open a conversation with your business.