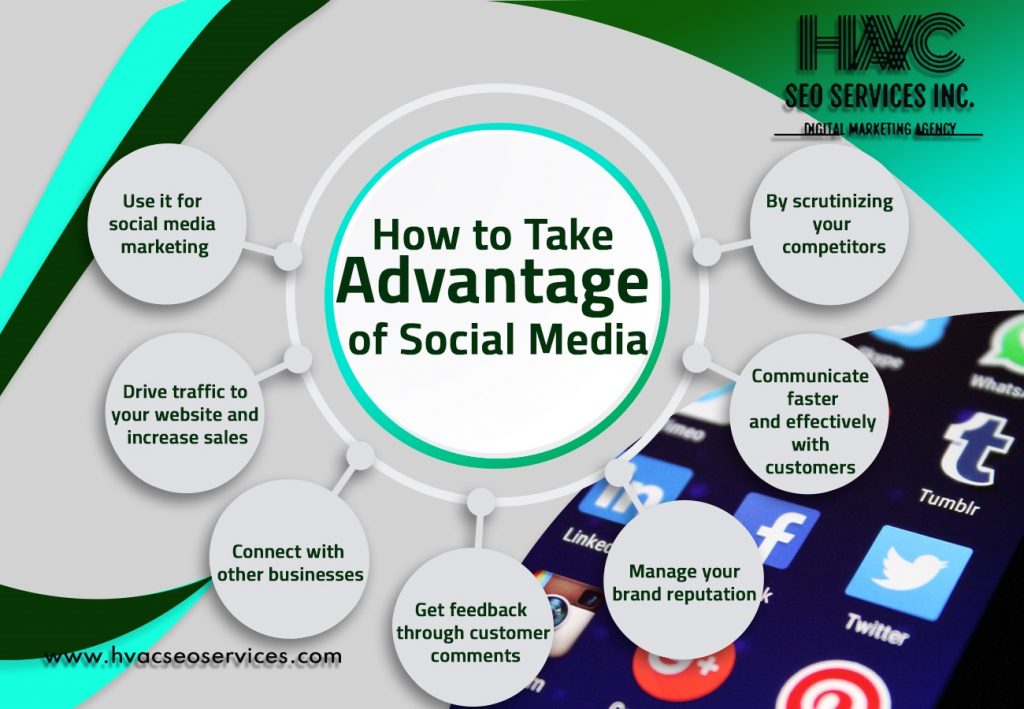 Social media is slowly evolving from a social connection platform to a marketplace and a platform for increased business connections. Do you know there are more than 5 billion social media users every day? With all this potential, how can you take advantage of social media?
Among them are those in your locality searching for HVAC companies to contract. You can take advantage of this to grow your business. Here is how:
Use Social Media Marketing
Social Media marketing is less expensive than traditional marketing. You can get brand exposure using organic content to generate leads and increase sales. You can run targeted HVAC marketing strategies campaigns on social media platforms like Facebook, Twitter, and Instagram with paid ads. If you take advantage of social media ubiquity, you can not only control the conversation but also control sentiments and brand appeal.
While paid ads will cost you to run, the ROI is reportedly high. This is because of the high number of conversions they bring. Targeting your ads correctly puts your message across to customers with high purchase intent for the service or product you are offering.
For instance, home improvement businesses marketing on LinkedIn may reach more homeowners with a high purchasing power.
Drive Traffic and Increase Sales
Social media content is widely shared if the users consider it valuable. Some of the users will hear about your brand for the first time on social media sites, which may lead to them visiting your website or office for more details on your services.
Avoid disappointing these leads by ensuring your website has perfect SEO for HVAC so that they can enjoy a great user experience on your site.
Connect With Other Businesses
Sometimes you may need to collaborate with other businesses and partners. These could be your suppliers or consultants for the services you outsource, like digital HVAC marketing services agents or other companies that impact your operations.
Using social media to reach out to them is convenient and inexpensive. You can post the information you want to relay to them and check their response later at your convenient time.
To get the value for money with your social media marketing, consult a HVAC web design expert who will ensure the HVAC SEO on your site can support the increased traffic that the campaign will drive.
Valuable Feedback
Comments and reviews on social media are a great pointer to how people view your business. Unlike solicited reviews, your social media community is likely to give you more reliable feedback. Take advantage of social media to collect and disseminate feedback.
You can also use social media to conduct cost-free surveys and get better results by seeking clarifications from respondents about their views.
Give a Better User Experience (UX)
Your customers will reach out to you with general industry-related queries or specific questions about your services. Be responsive to help them solve their problems to earn their trust as an industry leader. Customers also use responses, including the time you take before responding, to rate your reliability.
You can even create a private Facebook group to hook up with people with whom you share interests. The information shared on such groups remains private unless one member shares it with people not in the group.
Manage Your Brand Reputation
Your customers will praise you when they are pleased with your services. However, you will also receive negative reviews from disgruntled customers. Sometimes the customer may not be honest or may conceal some facts to paint you as a bad brand.
Respond to both positive and negative reviews in a polite way to save your brand reputation. In some cases, you may only need to give factual explanations for your followers to know you are honest and reliable.
Easier, Faster Communication
It is now easier and faster to communicate with customers and business partners than ever. For instance, thousands of customers can view a photo that takes seconds to upload.
Use your social media accounts to share important news with your community and update them on new products, services, or discounts.
Humanize Your Brand
Your customers will trust you more if they see the human side of your business. Take photos and videos of yourself at work or attending local events and share them on social media.
If you are involved in charity events, let your customers know and tell them how they can get involved. It will be a perfect way of cementing your relationship.
Scrutinize Competitors
With businesses sharing more information about themselves on social media, it is now easier to know what your competitors are up to. With the information about other industry players, you can gauge where you stand and whether you are keeping up with industry trends.
If you get access to their customers' feedback, use it to design better products and probably win over some of their clients.