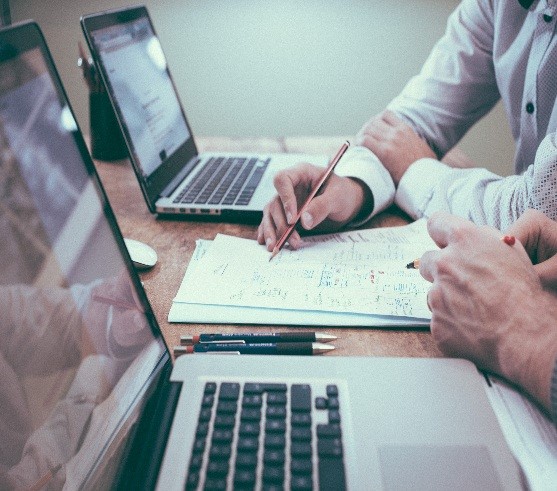 A HVAC landing page highlights the specific service you offer. The main aim of having a landing page is to get leads. If you have been wondering how to get HVAC leads, having a high quality landing page will help you do so. Consumers get to the landing page by clicking a hyperlink on an AD, so they can view the service and hopefully make a booking. When potential customers click on your AD they arrive on the landing page set for that specific AD.
Here is a summary of what to learn here.
The features of a good HVAC landing page
A clear and compelling headline: This should grab the visitor's attention and convey the main benefit of your HVAC services.

A professional design: A clean, modern design with a consistent color scheme and easy-to-read typography can help establish trust and credibility.

Strong calls to action: Make it easy for visitors to take the next step by including prominent calls to action such as "Contact Us" or "Free Estimate" buttons.

Testimonials: Including customer testimonials can help establish trust and credibility with potential customers.

A clear and easy navigation: Visitors should be able to easily find the information they are looking for, such as a list of services offered or contact information.

Responsive design: Make sure the website adapts to different screen sizes, to provide a great experience for visitors on any device.

Contact Information: Make sure that your contact information is easy to find and prominently displayed on the landing page.

Social proof: Include customer reviews, ratings, awards, or certifications that demonstrate your company's reputation, quality of service, and expertise.

A clear value proposition: Highlighting the unique benefits of your services and how they set your company apart from the competition can help build trust and credibility with potential customers.

A clear and easy contact form: A contact form that is easy to find and easy to fill out can help increase the chances of a potential customer reaching out to you.
Should you create a landing page?
One of the most reliable HVAC key performance indicators is whether your landing page is generating leads or not. The lead generation form communicates volumes about whether people are excited about your brand or not. A landing page is a must have tool in your HVAC marketing plan on how to get HVAC leads. The landing page helps you achieve the following.
Get potential customers' contacts and increase sales
The lead generation form enables you to gain a list of potential clients who leave their contact information. You can follow up with them through emails or phone calls. These are generated leads with high potential of turning into real customers. You can have more than one HVAC landing pages to maximize the number of generated leads, but also to focus on one service at a time and tailor the landing page to target a specific audience.
Create brand awareness with a landing page.
Your landing page highlights the services you provide. It makes people aware about what you offer, why you offer it, the process of your service delivery, and where and how they can find you. Furthermore, it is a chance for you to explain to your audience why they should get HVAC services from your firm. You highlight the benefits they receive working with you. This convinces clients to choose your company over the other existing HVAC companies in Brooklyn because they understand the value you offer. You can make your brand memorable using your HVAC landing page to ensure people remember you when they need HVAC services even in future.
Reach your target audience
A landing page is just what your target audience needs to understand the scope of your services. It explains that they can get the services they need from you and also methods they can use to book them, contact you, or go to your physical location. Focus your advertisement on the people you want to communicate with.
What's a good HVAC landing page?
The following are characteristics of a good landing page. These are tips you should use to create a lead generating landing page.
The focus is on the target audience
Your landing page is effective if it generates leads. Do not make it about advertising your services only. Focus on your potential consumer and the problems they face without HVAC systems working properly and present yourself as the solver of their HVAC problems.
If it is a landing page about repairing air conditioners, you can include the disadvantages of a faulty air conditioner, the advantages of a well working air conditioner, or when to tell an air conditioner needs maintenance or repair. Conclude by explaining why your services are the go to choice in ensuring clients enjoy the aforementioned benefits of having a well-functioning air conditioner.
Make your landing page easy to read
Do not write long prose especially when highlighting what consumers stand to benefit by working with you. Always include information about available discounts and offers because these encourage people to book a service. Focus on one service at a time to avoid having a very busy looking landing page, which discourages readers from staying on the page. Focusing on one service will enable you to be informative but concise.
You can use HVAC stock photos from HVAC pictures for free sites and your own pictures taken during a job to communicate clearly. The HVAC pic or more that you choose should stay relevant to the topic or service you are describing. If you want to include a logo, use appropriate HVAC logo images for HVAC logo design Pick a HVAC pic your target audience can relate with, for example you could show them how an unmaintained AC looks like on the inside and why maintenance is important.
Maintain consistency between the AD and landing page
Whatever you include in your AD you should expound on your landing page. The potential customer clicked on the AD because something caught their attention. For instance, you can create winter slogans for marketing but ensure the message the slogan passes across can be found on the landing page as well.  
Do not hyperlink the AD to your HVAC blogs or homepage because the consumer will get confused and possibly get tired looking for the specific information they saw in your advertisement. Having a landing page creates a smooth transition for the consumer from the moment they notice your brand to the moment they book a day with you.
Good website design
Good HVAC websites are important when creating effective HVAC landing pages. You can host your website with us. We have HVAC website templates you can check out before choosing a suitable one for your company.
We offer services such as logo design and website maintenance, which are important if you want to have an effective HVAC logo and a HVAC ranking website in Brooklyn.
Add testimonials on the landing page
Another way to improve your website's recognition and authority is to have an Angie's list HVAC profile. An Angie's list HVAC profile enables you to have the much needed reviews in confirming your credibility as a HVAC service provider in Brooklyn. Reviews are one of the essential HVAC promotional ideas.
People who seek service providers want the best. If you can provide testimonials on your landing page for instance from Angie's list HVAC most of the people who click on your AD will end up working with you. You can take a picture of the reviews and include it on the page.
Research on landing page designs and seek a consultant's advice
Just as catchy HVAC names are important for your business and company website, a compelling landing page is essential to drive sales. Get inspiration about templates, designs, and illustrations for your landing page on dribble. You can make informed decisions about the appropriate HVAC stock photos to include in your HVAC blogs and most importantly your landing page. You will also view strategic areas to place your HVAC logo, and the contact form icon. HVAC business consultants such as HVAC design companies, can help you create a high ranking landing page.
Google webmaster is informative on SEO. They point out areas that need strengthening on your website. You can apply the same when you form your landing page. Google webmaster provide guidelines you can incorporate to improve search engine optimization, making it a resourceful platform for HVAC business consulting.
Google webmaster guide you on how to write and organize your website to rank highly on Google. Other areas you will master are listed below.
Tips on website design and the best website hosting sites
Finding and using keywords
Creating marketing campaigns
Content creation
Mastering local search engine optimization
Since HVAC business consulting is crucial, Google webmasters provide guidelines for you if you want to hire a SEO expert instead of doing it yourself. Your website ranking is a good HVAC key performance indicator for your online efforts at marketing, whether it is through your efforts or with the help of HVAC business consultants.
How do you conclude your HVAC landing page?
One simple HVAC tagline may not be enough for the potential customer to book a service, but you can use it alongside the following.
Call to action
Summarize your landing page by telling your readers what you would like them to do after reading about the service. It could be filling in the contact form and awaiting further communication, booking a service, joining your mailing list, or making a call. The number of people taking those actions will determine whether your advertisement campaign and the landing page are a success or you need to make some changes.
You need to be convincing by putting the needs of your target audience first for them to finally make a decision to call you or book a service. Encourage them to request for a service or emphasize the benefit they get when they call you. You can tell them to,
Request a quote
Get a free estimate
Get your AC fixed to reduce your electricity bill
Book an appointment with us
Call us to book
Explain what a service from you looks like
In a few words inform the potential customer what happens when they book you or contact you requesting for a quote. Explain the payment procedure, and assure them the price you decide on is the final price and there are no hidden costs. Tell them how long the installation, repair or maintenance procedure usually takes and how many people will be at the customer's premises. This lets the potential customer know they are part of the process.
How successful your HVAC AD campaign is, may be determined by how effective your HVAC landing page is. A high quality landing page helps you gain your money's worth for the cost you spent on the advertisement campaign. Always include your awards, or recognition as a HVAC technician on the landing page. This can be a mention of five star ratings on major review sites like yelp.
The important thing to do is to build credibility, and make potential customers aware they can trust you enough to work with you. Reach out to us for quality content for your landing page.