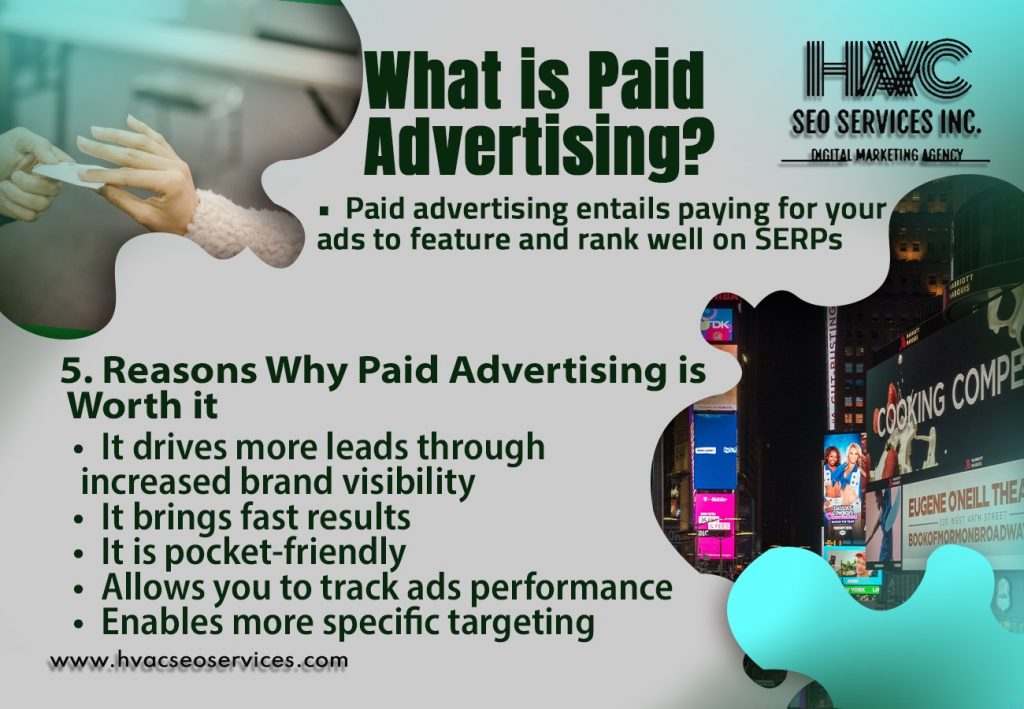 What is paid advertising? How can you benefit from it when you are a HVAC business owner? Want to know what paid ads are and if they are worth the chase? Keep it here, and we will unravel it for you.
Paid ads require you to pay for your brand to be given prominence on SERPs. It pays off as your site receives more traffic that can rocket your sales. Your company will feature at the apex of search engine results pages for relevant keywords with paid ads.
Like HVAC SEO, paid ads depend heavily on keywords and location to rank your website. And as you already know, ranking at the top of searches impacts the performance of your online marketing campaigns.
SEO for HVAC helps you to build your website's authority for Google to regard it as essential. This may take you some time, and it does not guarantee results. For a business looking to drive traffic and increase conversions faster, paid advertising is inevitable.
Paid advertising can increase your traffic and conversions faster than your search engine optimization for cooling and heating website strategies. Here is what paid advertising does:
Brings Fast Results
While organic content will raise your brand awareness, use paid ads when you want quicker conversions. Paid ads give instantaneous results since the content is targeted and the leads qualified.
Facilitates Pocket-Friendly Advertising
Although the actual cost will differ on the type of ad and the campaign duration, the overall cost of paid ads is pocket-friendly.
Allows You to Track Ads Performance
You can measure the effectiveness of your paid ads. Some of the metrics measured are the number of likes, comments, shares, clicks, and conversions. Weigh the cost of your ads against the conversion rate.
Your paid ads analytics will give you market insights to help you design future ads. It is also an excellent way to benchmark against your competitors and establish best practices in paid ad use.
Enables Specific Targeting
Paid adverting allows you to reach specific visitors interested in your brand. Consider the location of your business, age, interests, and keyword to craft your targeted ads.
Is Paid Advertising Worth It?
Customers are increasingly turning to online platforms to identify businesses to connect with.  About 80% of them use mobile devices for their searches. Being quick-scrollers, they will hardly go past the top page in search engines.
Your paid ads will place your brand where they can see it. If they notice your brand regularly, they will start to recognize it and become curious. This will translate to more clicks and conversions.
Paid advertising allows you more control over your marketing budget. You can choose the marketing model that best suits your brand.
You can also choose the platform that assures you better results and share marketing content across platforms. Tracking the ad performance will help you determine which platform is better for your business to advertise on and if you need to pay more for your ads.
Records show that paid advertising has a higher return on investment than traditional HVAC marketing strategies. However, to get the most out of it, you must have a superb advertising strategy. Using a digital HVAC marketing services agency guarantees you better results.
What Should You Do Before Engaging in Paid Advertising?
At the very least, know what it entails.
Do a Long-tail Keyword Search
Your paid ads will pay off if you optimize them for the right keywords. Search for suitable long-tail keywords. These are the phrases your customers are likely to input when initiating a search for your HVAC brand and services. When you add them together, they account for most search-driven traffic and conversions.
Know Where to Buy Your Ads
There are several sites selling ads, with each having its merits and demerits. The biggest are Google and Facebook, but there are others like Bing, Yahoo, and StumbleUpon.
Since you are targeting a particular audience, find out the social media they hang out most and post your adverts there. You can also test a few ads before settling on the ones to invest in heavily.
Prepare to Track the Ads
Get your tracking tools and schedule when to analyze the data they generate. This will help you decide if you should adjust your adverts or prolong the marketing period.
Create a Dedicated Landing Page
You can customize your message for incoming traffic and push them towards a specific action. You will also track the visits and their conversion rates better than when they land on your home page.
Besides, check that your HVAC web design is optimized to enhance the visitors' user experience.
Set Your Budget
Do not expect to get a quick-fix solution with your paid ads. Dedicate a budget that will give you room to launch, review and tweak over time. Your cumulative results will help you figure out what works for your brand.