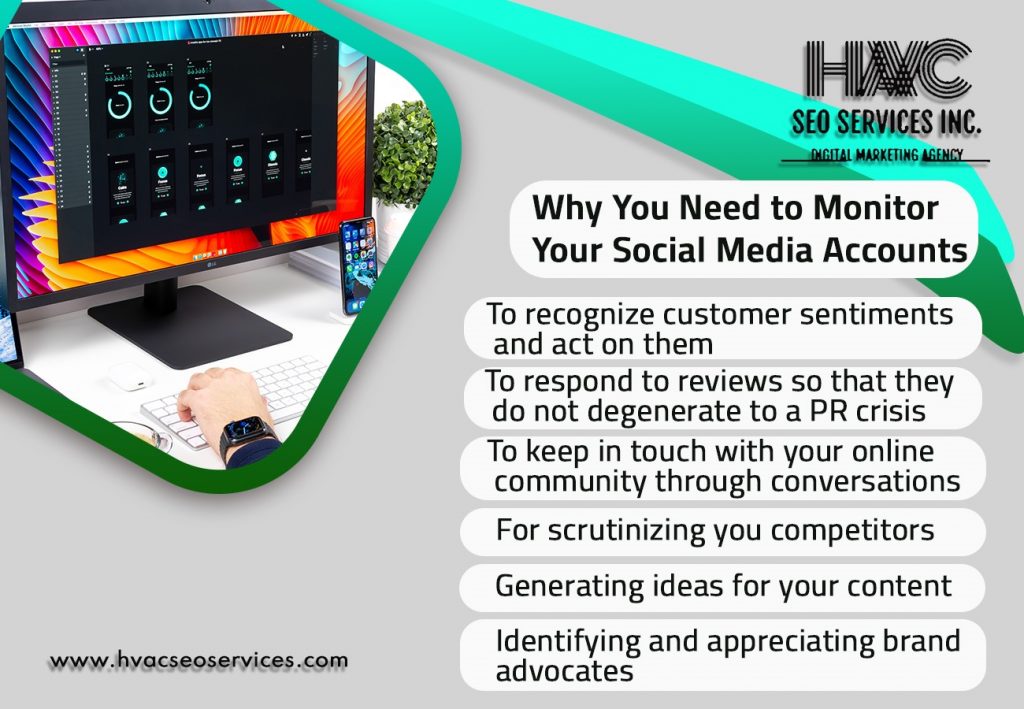 Why you should monitor social media accounts for your HVAC business.
You cannot evade monitoring your social media accounts and expect overwhelming returns. There are no shortcuts to it; thus, you need to monitor your social media accounts for;
Service Improvement
A lot of information concerning your business circulates on different social media platforms. You should monitor what users are saying about your business to gauge your customers' satisfaction.
Some of the comments provide crucial feedback to help you improve your services. Find out what is being said about your competitors and use the information to beat them at their game.
You can also predict future trends from your social monitoring results. This is good as it will help you prepare for any changes in customer preferences and expectations.
Customer Relationships
A fast response time will create loyalty to your brand. You may not always have ready solutions to customers' queries, but letting them know you have taken note reduces anxiety and may deter them from giving you a negative review. Unresponsiveness will also drive customers to your competitors.
Prevention of PR Crisis
Monitoring your accounts helps you influence users' sentiments and perceptions. Not all the mentions on social media are favorable.
Sometimes you need to correct a wrong perception by providing the correct information. And if a disgruntled customer leaves a negative review, counter its effect by offering them compensation, probably with a complimentary service.
Too many negative mentions can lead to a crisis with your loyal customers not knowing if the negative publicity is justified and new customers hesitating to connect with you. Thanking a user for a positive mention is also useful for your PR.
Identifying Customer Sentiments
Once you know the common concern among clients, you will seek a way of helping them. It could be a customer care related complaint, an industry-related concern, or dissatisfaction with the quality of one of your services. Use the pain points to design solutions for your customers.
For Competitor Analysis
Extend your social media monitoring to analyze your direct competitors. If you see an opportunity to market your brand as an alternative to what they are offering, jump into the conversation and present your brand.
You can also avoid making losses by learning from your competitors' past mistakes. Spying on your competitor can also point you to gaps that you can fill and also help you to anticipate their moves.
Identifying Brand Advocates
Your brand advocates may be unknown to you, but you should reach out to them when you spot them. Some may turn out to be influencers with huge followings on social media that you can benefit from.
You may even consider engaging them on a more structured social media influencer marketing for your brand.
Tracking Backlinks
You want to know which sites link to your website to gauge how they impact your brand exposure. Backlinks are useful for your HVAC SEO and contribute to your ranking in SERPs.
Ask your HVAC marketing services provider to guide you in tracking your backlinks to establish those that may diminish your brand's value.
Engaging in and Sustaining the Conversation
The conversational nature of social media helps it to humanize brands. Connect better with your customers by participating in their conversations, especially those about your brand or industry.
You can also initiate conversations to pick their minds on particular issues, such as policy changes. Besides, you will gather ideas that you can incorporate in your future HVAC marketing strategies.
Generating Ideas for Your Content
When you know what customers are saying about your brand, you will get ideas about the issues to address in your content. You can pick your customers' pain points and craft content that addresses them. This will reinforce your position as a voice of authority in your industry.
Social Monitoring versus Social Listening
Social media monitoring is often confused with social listening. While the two are about tracking social media, they do so for different reasons and in different ways.
Social media monitoring tracks conversations and mentions to understand users' opinions, counter negative comments, and identify problems you can help them solve. They also do it to keep their connections with customers conversational.
You may find this contradictory, but the fact is social media monitoring extends to any online place where users share information. You can use it to know the industry's top-ranking SEO for HAVC keywords.
Social listening differs in that it uses tools to analyze industry trends and brand mentions to inform your future marketing strategies. Social signals are also helpful for social listening as they give feedback that is useful to make business decisions. They include likes, pins, shares, subscriptions, and the number of downloads.