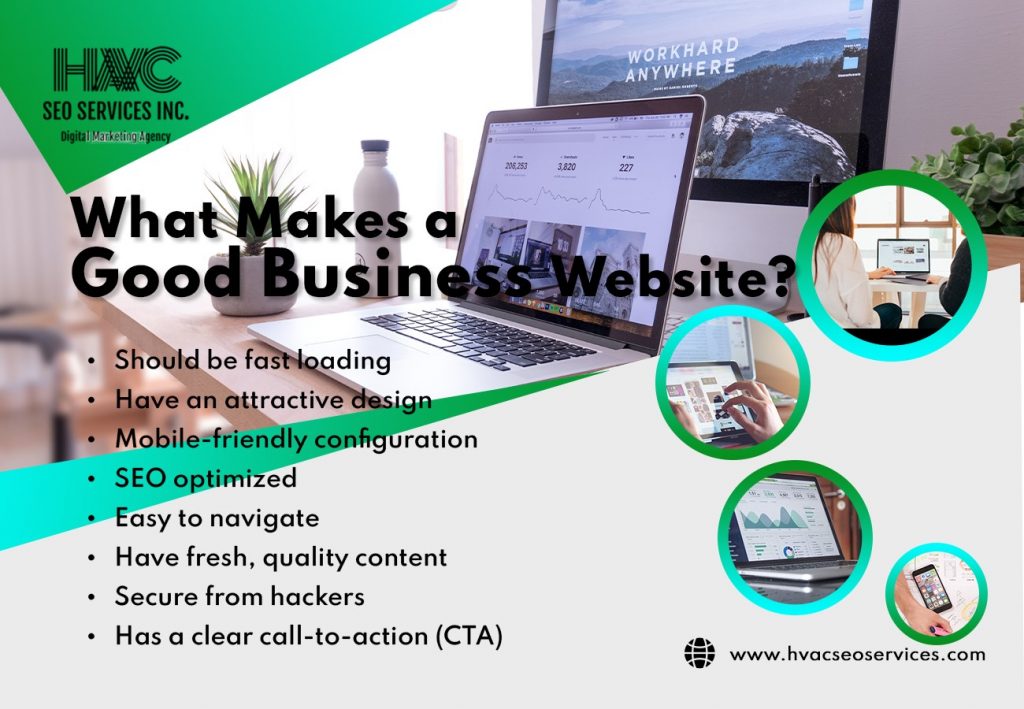 A lot has been said about how a good business website generates traffic and creates an impression on customers. But what is considered a good business website? Keep it here as we unravel what it is all about.
Fast Loading
When your website pops up on a search, the visitor clicks on it and hoping to find valuable information or a solution to their HVAC problem. If it delays opening beyond 3 seconds, the visitor abandons the search in favor of the following website. And as fast as that, you miss the opportunity to make a conversion.
Internet users are impatient. They want quick answers at the click of a button. Meet their expectations by optimizing your web speed.
Moreover, your web speed impacts your site ranking on search engines like Google. These companies want to give a good user experience to their clients.
They, therefore, rank websites with a high speed on the first page so that the customers can access what they are searching for quickly and conveniently. Ensure your site speed is high to avoid compromising your chances of ranking on top pages in SERPs.
Attractive Design
About 38% of visitors to a site leave if they find it unattractive. Ensure your HVAC website design is appealing when accessed from any device.
Take your time to test your themes and select the most functional for your website. Choose themes that are configured for both desktop and mobile devices so that your visitors are not limited to accessing it from only one type of device.
Have some original photos, graphics, videos, and images on your website. They capture your visitors' attention and keep them on your page longer.  You can also use them to present summarized information to impatient visitors.
But you should not struggle to design your website as you may not have the know-how and time needed to come up with the top-of-the-range web that your customers expect.
Hire an HVAC marketing services company, and your site will be up in no time. An expert web designer will include all the necessary features and optimizations for a cooling and heating website.
Make Your Site Mobile-Friendly
Have you observed people in traffic or a bus park? Most of them are glued to their phone screens, and they could be searching for the services you offer. Your website should be optimized to be pop-up on mobile device searches.
Over 50% of HVAC searches happen on mobile devices. The best you can do is improve your content's readability by making the fonts visible and scrollable.
Also, make the icons and fonts large enough to be clicked on with ease. View the site as a tool to facilitate some of your digital HVAC marketing strategies.
SEO Optimized
Build your site to rank high on search engines. Most visitors do not search beyond the first page. Make your site easy to find by including HVAC SEO content as it counts when websites are ranking on SERPs.
Easy to Navigate
Develop your website with the end-users in mind. I am sure you have ever come across a static website that made you wonder why the owner made it so hard to scroll it and read its content. As if that is not enough, the site has no explanation of how the visitors can engage further with the business.
If that is your website, you are giving your visitors a terrible user experience. Help them to navigate the site using a dropbox content guide and sub-headings for your web content.
Have Fresh, Quality Content
Your content forms part of your HVAC marketing strategies. It should help you to build your social community to boost your online presence. This is important as a foundation for your paid ads as you will have a ready audience to target.
Security
The security of your site should concern you, especially when there is so much news about site hacking. Having encryption-enabled Security Sockets Layers (SSL) will protect your credit card transactions, logins, client data, and accounts. Consult an HVAC marketing services agency to know the best security features for an HVAC web design.
If you do not have security features on your site, it will not rank high even if you have optimized all other components. Google is now alerting users about unsecured sites as they try to give internet users a great and safe customer experience. Remember to update your security plugins regularly.
Clear Call-to-Action (CTA)
Your website exists to generate leads for your business. You can only do this if you have a clear call-to-action, guiding the visitors on what to do. You may ask them to subscribe to a service, signup for an event, call to book an appointment, or make an order for a particular service.